October Updates from The Nonprofit Institute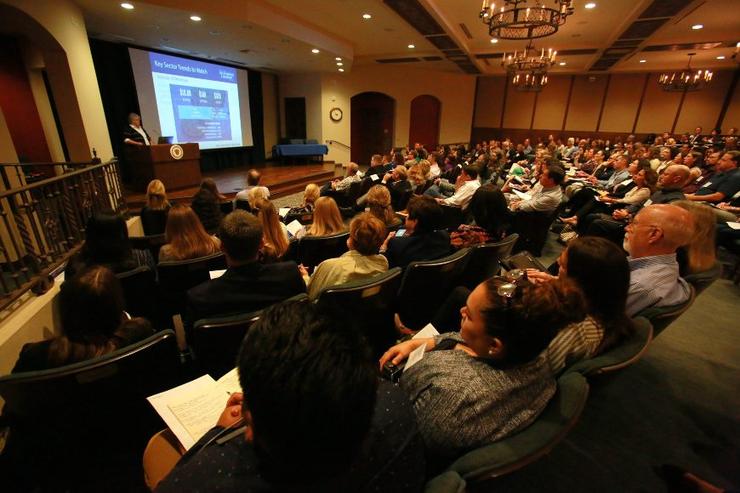 Happy Halloween! We hope you've been having a "spooktacular" month. We are excited to share a number of updates, which you can find below.
We've started a new blog series! We are releasing a new blog post every month. Check out the blog posts from
September
and
October
.

The State of Nonprofits and Philanthropy Summit was held on Friday, October 18th at SOLES with over 250 individuals in attendance. The theme for the 2019 report was Trust and featured a variety of workshops from SOLES staff and faculty, as well as community partners. A new feature this year was Bridge Talks, informative talks of 10 minutes that presented research findings and implications for practice. This year's speakers were Hans Peter Schmitz, Associate Professor, Leadership Studies; Marcus Lam, Assistant Professor in Leadership Studies; Sue Carter Kahl Ph.D. '19; and Adriana Loson-Ceballos, Ph.D. Student.

We are pleased to report that a paper published by The Nonprofit Institute, entitled "Sample Advisory Board Invitation Letter/Email" is the number one most downloaded item in the university's institutional repository- Digital USD. There are approximately 25,000 items in Digital USD and, as of October 18th, our paper has been downloaded 20,643 times!
Community Consulting Team Updates
The City of San Diego Nonprofit Academy Fall Workshop Series continued in October. The Five-Part Program Design Academy series, which ended on October 2nd, had 20 attendees representing 15 organizations complete all five sessions. Through October, Karen Henken, Professor of Practice at the Kroc School, taught two workshops on, "An Introduction to Social Enterprise". In addition, Colton Strawser, Doctoral Research Assistant, and Laura Deitrick, Associate Director at The Nonprofit Institute, hosted a workshop at City Heights Library on, "Considering Starting a Nonprofit?".

The Small and Emerging Accelerator Program hosted Module 5 on October 8th and October 10th. Day One, led by Karen Henken, Professor of Practice at the Kroc School, facilitated a discussion on Design Thinking for Social Impact. Day Two, led by Dr. Zachary Green, Professor of Practice and Director of Leadership and Diversity Initiatives at The Nonprofit Institute, facilitated a discussion on VUCA Leadership (Volatility, Uncertainty, Complexity, and Ambiguity) and Change. The next and final module is scheduled for November.

Conscious Leadership Academy Updates
The CLA offered two workshops at the State of Nonprofit and Philanthropy Summit on BRAVING Trust, encouraging leaders to explore the way they develop trust with others and build trust within themselves.

CLA coaches continued with Rady Children's Leadership Academy with a session on issues and challenges stemming from generational differences.

The 2019-2020 USD Collaborative Leadership for Change cohort began their 9-month program with the first session on The Real Work of Leadership. The group of 25 campus leaders were nominated by Deans and VPs and will complete the certificate at the end of the academic year.

Lorri was a facilitator at the Adaptive Leadership (ALN) Network Ripples Conference. The ALN is a network of high-level global leaders from the Harvard Kennedy School. The ALN is interested in the way the CLA has furthered the work of adaptive leadership both in design and in the integration of group relations theory. There is talk of the CLA helping to move forward a west coast ALN affiliation.

Environment Initiatives Hub Updates
The inaugural Outdoor Leaders Summit took place on October 17th with great success! We hosted 71 leaders and advocates for our region's great outdoors and explored such topics as: science of awe and nature's benefits to well-being, kindness, happiness and creativity; rebuilding connections between children and nature; quality of life issues; and the new Thrive Outside efforts that are underway in San Diego and other major metropolitan regions across the country focusing on getting kids and families back outdoors.

San Diego Regional Climate Collaborative has been awarded a $45K grant from The San Diego Foundation to advance its climate, water, and equity programming.

The San Diego Regional Climate Collaborative hosted an Energy Efficiency Network Meeting in early October. Participants enjoyed several engaging presentations and explored the connections between energy efficiency, communication, and behavior change.

San Diego Regional Climate Collaborative Fellow, Darbi Berry, has been invited and will accept a position on the Integrated Regional Water Management Board. She will serve as an alternate to Julie Kalansky. This is an exciting opportunity for her and for the Collaborative to be part of the leadership for this agency.

Leaders 2020 held its monthly Bites & Bigwigs luncheon at The San Diego Foundation with David Ferran, Founding Member & CEO of the Torrey Project. Leaders 2020 also presented on the Equinox Project's Quality of Life Dashboard at the San Diego Taxpayer's Association's "Policy @ the Pub" event on October 30th. Next month's Bites & Bigwigs will feature Tim Lacey, GIS/Technical Advisor for Tree San Diego.