Trust and The Nonprofit Sector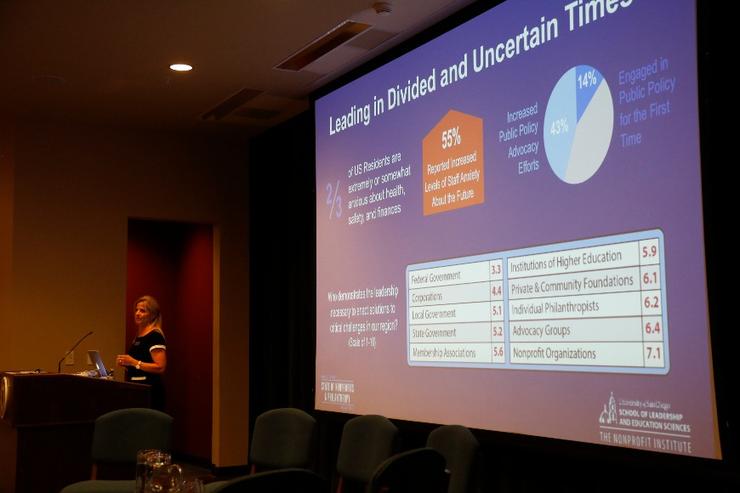 This is a big week for The Nonprofit Institute. Once each year, we release our State of Nonprofits and Philanthropy report at our annual Summit. This year's report includes the local data on the size and financial health of the sector, giving and volunteering rates, and the major trends among nonprofit leaders, but it also has a special theme, Trust.
Our research finds that San Diego County nonprofits are highly trusted. In fact, residents have more confidence in the nonprofit sector than local government and corporations. Despite this high level of confidence, many residents are not aware of the vast number, reach, and impact of nonprofits on our local economy and quality of life. Our quarterly survey of San Diegans found that when residents are asked if they have "benefitted from a nonprofit", the majority (73%) say, "no". However, when residents are asked if they have benefitted from specific types of nonprofit services, the majority (53%) say "yes".
Did you know that in San Diego…
1,072 Nonprofits Connect Us to One Another through artistic and cultural resources such as museums, festivals, and theaters?
816 Nonprofits Take Care of Us through community clinics and hospitals? Did you know that our largest hospital systems (Kaiser, Scripps, and Sharp) are nonprofits?
501 Nonprofits Help Us Raise the Next Generation through after-school programs, child care programs, sports leagues, and summer camps?
573 Nonprofits Steward Our Natural Environment to keep our air, water, land, and beaches clean, and provide us with access to enjoy the natural outdoors?
2,408 Nonprofits Enrich Our Spiritual Lives through churches, temples, mosques, and other religious institutions?
121 Nonprofits Protect Our Democracy through civil rights and advocacy organizations?
It is crucial for nonprofit leaders to engage in practices that sustain trust. This means assessing the needs of communities, communicating transparently and often, and ensuring communities who have historically been excluded are included in decision-making.
We invite you to attend The State of Nonprofits and Philanthropy Summit on October 18, 2019 and come find out about the major trends within the nonprofit sector. After the event, you will be able to read our 2019 State of Nonprofit and Philanthropy Report on our website.
Best,
Tessa Tinkler, Senior Research Associate at The Nonprofit Institute, USD
Laura Deitrick, Associate Director at The Nonprofit Institute, USD
Colton Strawser, Doctoral Research Assistant at The Nonprofit Institute, USD