Torero Tidbits: Grad Student Welcoming; Welcome Black Week; Construction; Sunday Mass Changes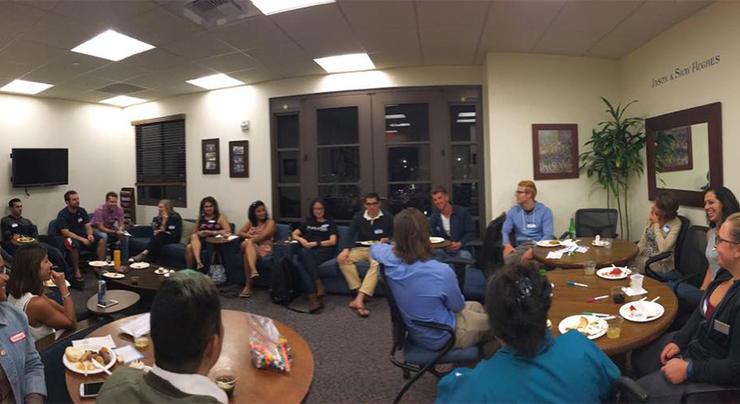 University of San Diego administrators, faculty, staff and fellow Toreros are spending a lot of time this Labor Day weekend getting undergraduate students settled in on campus and devoting time to share awareness of resources on campus to help with the transition to college.
But undergrads aren't the only ones beginning a new phase of their academic life. This distinction is also happening for those who are entering or continuing in a master's or doctoral program, too.
The best place to start if you're a graduate student who needs support, wants to attend events, meet other grad students or just needs a pick-me-up is the Graduate and Law Student Commons, Room 401 in the Student Life Pavilion. The GSLC has everything from a free bagel breakfast (bagel, coffee, orange juice and fruit) on Sept. 4 starting at 8:45 a.m. (these are held throughout the semester) to its participation in a Welcome Home Open House from noon to 2 p.m. on Sept. 6 covering all offices on the third and fourth floor of the Student Life Pavilion. One of the organizations it supports, the Graduate Student Council, will be hosting a Start of the Semester Celebration, also Sept. 6 from 6-8 p.m. in O'Tooles, which is located within the La Gran Terraza. Check out the GSLC Calendar for more events in September and follow the GLSC on Facebook and Instagram.
SOLES Welcome Week Events, Sept. 9-13
The School of Leadership and Education Sciences is preparing for a Welcome Week, Sept. 9-13. Most events and themed days will be contained within Mother Rosalie Hill Hall, except for a TGI Friday Welcome Back Picnic along the shoreline of Mission Bay (Playa Pacifica II, 2590 East Mission Bay Dr., San Diego, 92110).
The other themed days are Mentor Monday, Touring Tuesday, Wiggles for Wellness Wednesday and Tribe Thursday. For complete information go to the SOLES Welcome Week webpage.
Welcome Black Week is Sept. 5-11
The Black Student Resource Commons hosted a welcome event on Aug. 31 during OLÉ!
Weekend, but was just the beginning for ways in which the BSRC supports students. As school begins, the BSRC and Director, Dr. Ashley Barton, want to extend the welcoming to first-year, new transfer and continuing students during Welcome Black Week, Sept. 5-11.
Building a supportive community is important and Welcome Black Week is a celebration with several fun activities. Open to the entire campus community, the BRSC provides students with information and opportunities for engagement, leadership and community building.
Activities include a semester-long series called Black & (different topics). The first one, "Black and Rich," will be held on Sept. 5 from 12;30-2 p.m. in SLP 410. The BSRC will participate in an all-SLP Open House on Sept. 6 from 12-2 p.m. A pool party takes place from 12-2:30 p.m. on Sunday, Sept. 8 at USD's Sports Center pool. Visit the BSRC booth at the Alcala Bazaar on Sept. 10 between 11:30 a.m. and 2:30 p.m. at Paseo de Colachis. Also, on Sept. 10 is a Black faculty, administrators and student dinner, Taco Tuesday, from 4:30-6 p.m. in the SLP's Third Floor courtyard. Black Trivia Night from 5-7 p.m. in the BSRC (SLP 410) on Wednesday, Sept. 11 closes out Welcome Black Week.
For more information, contact the BSRC by phone, (619) 260-4173 or stop by the office at SLP 410.
Construction Forces Roadway Changes for School Year
As the university prepares for the upcoming academic year, Ky Snyder, USD's Vice President for University Operations, announced that further adjustments to the roadways around campus will take place during the 2019-20 academic year. The construction of the Learning Commons and renovation of Copley Library are well underway. Learn more about these projects at www.sandiego.edu/facilities/facilities-services/planning-design-and-construction/featured-projects/.
As of Aug. 26, Manion Way became a one-way eastbound lane of traffic to The Immaculata. This will remain in effect for the entire year. Access to the Mother Rosalie Hill Hall (SOLES) parking structure will return to entering on the north side of the building, as the south side becomes exit only again.
Additionally, the pass through that had been in effect during the summer on Colachis Plaza — from The Immaculata west parking lot to Hughes Administration west parking lot — is now closed to vehicular traffic.
Time Change for Sunday Night Masses at Founders Chapel
The daily mass remains at 12:15 p.m. and the Wednesday night Mass for Peace remains at 9 p.m., but there will be two new times for the traditional Sunday Night Masses at Founders Chapel, effective Sunday, Sept. 8.
Sunday evening Masses will now be at 6 and 8 p.m., a change from 7 and 9 p.m. Students and regular attendees have often stated that the Sunday night Mass is either a great way to end the week or the perfect way to prepare for a new week. Either way, attending Sunday night Mass at Founders Chapel is a Torero Tradition. Both will now just happen an hour earlier.
— Compiled by Ryan T. Blystone