June Updates from The Nonprofit Institute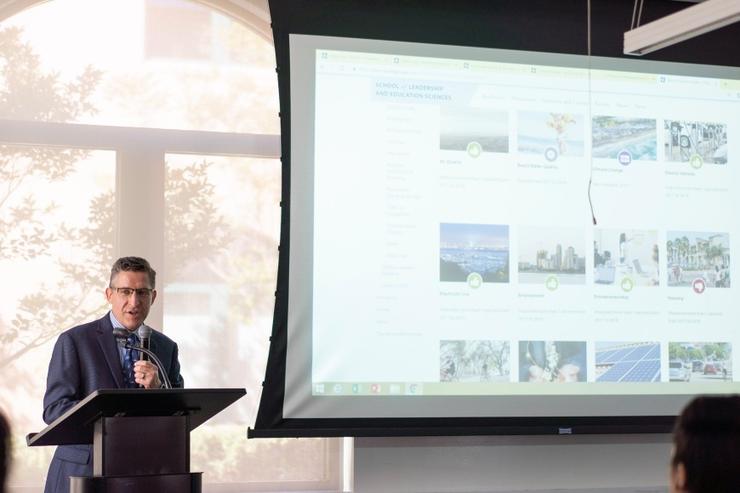 From being on the news to hosting all kinds of events, we have been very busy here at The Nonprofit Institute. Please see our updates below.
Community Consulting Team Updates
The Spring City of San Diego Nonprofit Academy had 162 individual attendees with an average of 78% first-time attendees. As the May Academy ended, the team has begun planning the next Academy on August 20th and August 21st. Registration will open in the middle of July.
The Governance Program has two components: the Board Members Certification Program and the Board Chair's Roundtable. The Board Chair's Roundtable, launched May 2019, has 18 board chairs and is held once a month at USD. It is designed to support chairs in their duties, create a space of learning, and provide resources to help their board thrive. The Board Members Certificate Program is designed to help passionate and talented professionals use their skills and experience to make an impact on our community. Beginning in July, each cohort is three consecutive weeks including pre- and post-assessments to earn your certificate. All three cohorts are sold out with a fourth one being finalized.
The Small and Emerging Accelerator Program launched in May with 10 nonprofit organization. The June sessions included taking and reviewing the DiSC assessment, program design and development, and logic models. Lyn Corbett, Director of Governance and Community Programs, and Laura Deitrick, Associate Director of NPI, meet with organizations 1-on-1 for coaching and assistance with program logic models.
Caster Center for Nonprofit & Philanthropic Research Updates
We delivered our final program evaluation report to ElderHelp: Tinkler, T., Walker, L., & Schumann, M.J. (2019). Improving the Lives of San Diego County Seniors Through Stable Housing: An Evaluation of ElderHelp's HomeShare Program. San Diego, CA: The Nonprofit Institute, University of San Diego.
We also delivered a topline summary of findings from Phase 2 of the Veterans Transportation and Community Living Initiative, a federally-funded grant awarded to SANDAG, 2-1-1 San Diego, and FACT for coordinated local partnerships to improve access to transportation for veterans, active duty service members, and their families.
Mary Jo Schumann and Kim Hunt's last day was on June 28th and we wish them both the very best in their new endeavors.
Conscious Leadership Academy Updates
The West Coast Conference (WCC) held it's annual Student-Athlete Leadership Summit at USD. The Conscious Leadership Academy (CLA) was honored to run the 2-day leadership content. 30 student-athletes from all of our WCC schools were present, representing almost all sports from rowing to baseball to cheerleading. The student-athletes engaged together and explored ways to address mental health issues in athletics, how to create cohesion among their team, how to effectively communicate during a high-pressure season, and other leadership topics.
CLA ran the Rady's Children's leadership workshop, focusing on their Leadership Circle Profile and continuing their work to address the challenges faced in the healthcare industry.
CLA completed the Gender Equity Report for the Kim Center for Social Balance. This report highlighted the review of literature that identified core metrics used to address gender equity and offered recommendations specific to San Diego and the goal of integrating these metrics into efforts to improve gender equity.
Environment Initiatives Hub Updates
We had a successful press event for the 2019 San Diego Regional Quality of Life Dashboard, which measures and benchmarks several environmental and economic trends throughout the region to ensure San Diego County is on a path to greater health, wealth, comfort and sustainability for current and future generations. The Dashboard was featured on KUSI News, KPBS Radio, and Channel 10 News. View the Dashboard here-
sandiego.edu/dashboard
The Leaders 2020 network hosted the Quality of Life Dashboard Release Party two weeks after the press event, which drew a crowd of 60+ emerging and established sustainability leaders in the region. We had several young regional leaders and an elected official speak on the importance of the Dashboard when making informed decisions.
The Outdoor Leaders Initiative held its first learning and leadership module on June 27th. This module, "Public Lands, Tribal Lands, and Green Access Part 1 - Federal Public Lands" featured speakers, Susan Wynn from the Fish and Wildlife Service, and Wendy Carey from Seirus Active Accessories.