Law, SOLES, PCE Kick Off USD's Commencement Season This Weekend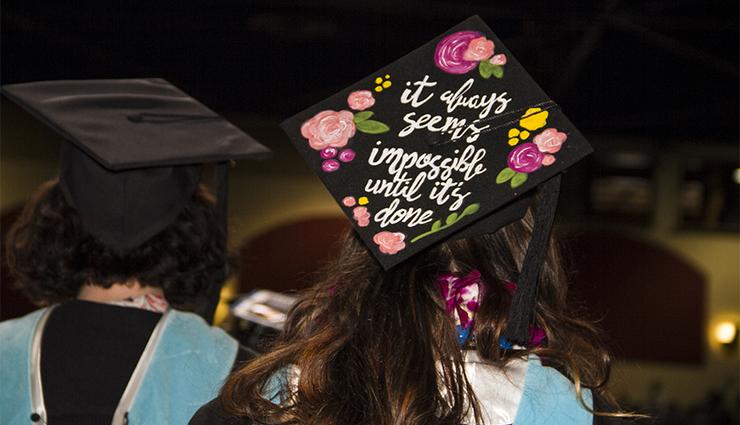 The University of San Diego's 2019 Commencement ceremonies — with some 2,600 graduating students — will take place over two weekends, beginning Saturday, May 18, at 9 a.m. with the School of Law ceremony in the Jenny Craig Pavilion.
Four other commencement ceremonies will follow, including:
Graduate Ceremony 1: Sunday, May 19, 10 a.m., School of Leadership and Education Sciences and Professional and Continuing Education. (No tickets required)
Graduate Ceremony 2: Saturday, May 25, 10 a.m. – College of Arts and Sciences, School of Business, Shiley-Marcos School of Engineering, Hahn School of Nursing and Health Science, and the Joan B. Kroc School of Peace Studies. (No tickets required)
Undergraduate College of Arts and Sciences: Sunday, May 26, 9 a.m. (Tickets Required)
Undergraduate School of Business and Shiley-Marcos School of Engineering, Sunday, May 26, 2 p.m. (Tickets Required).
For the 62nd School of Law Commencement Ceremony, alumnus Shaka Johnson, '03 (JD), will address more than 250 School of Law degree candidates and their family, friends and faculty as the School of Law Commencement speaker.
Currently, Vice President Associate General Counsel for Sony Electronics, Johnson graduated from USD School of Law in 2003. As head of Sony's legal department, Johnson and his team are responsible for all traditional legal affairs for the Sony Electronics business in North America. Prior to rejoining Sony Electronics, Johnson spent three years as an Associate General Counsel at Facebook, leading the Global Sales and Marketing legal team for the company's AR/VR group, including Oculus VR.
The undergraduate valedictorians for the College of Arts and Sciences, School of Business and Shiley-Marcos School of Engineering have been selected to represent their respective schools at the May 26 ceremonies. They are:
• Kristina Kimsey, a 4.0 GPA student, is receiving her bachelor's in Liberal Studies from USD's College of Arts and Sciences. After graduation, Kimsey will attend USD's School of Leadership and Education Sciences where she will pursue a master's degree in curriculum and instruction and teacher's credentials.
• Gregory Gibson, School of Business, is receiving his bachelor's degree in Finance and Business Economics. Gregory, who will graduate with a 3.96 GPA, has accepted a position with Software Equity Group in San Diego as a software mergers and acquisitions analyst.
• Maddy Horn, a Shiley-Marcos School of Engineering graduate, will receive her bachelor's degree in Industrial and Systems Engineering. Maddy, who has maintained a 3.98 GPA, will join G2 Ops, Inc., a technology and cyber security firm.
A few highlights of USD's class of 2019 are that seven McNair Scholars will continue their studies in doctoral programs; 18 graduates — 11 Naval NROTC and seven Marines have completed the U.S. Naval NROTC program and will be commissioned as Ensigns in the Navy or Second Lieutenants in the Marine Corps; three students accepted appointments with the Jesuit Volunteer Corps; five graduates will be joining the Peace Corps; and one student, Zani Moore, a women's cross-country and track standout and behavioral neuroscience major, earned a Fulbright Scholarship and will serve as an English teaching assistant in Latvia for one year.
Official data will not be available for several months, but many graduating students have accepted career-track positions, including appointments at companies such as Amazon, Boeing, Dell Technologies, Northrop Grumman and Qualcomm.
For additional information about USD's 2019 Commencements, please visit the website. To view a livestream of each graduation ceremony, along with the May 24 NROTC Commissioning Ceremony and the May 25 Baccalaureate Mass, go here.