SOLES 2nd Annual Diversity, Inclusion, and Social Justice Excellence Showcase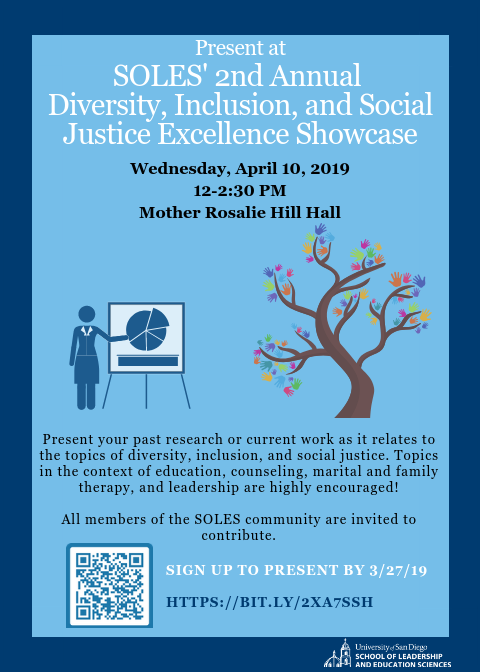 begin quote

Present at the SOLES 2nd Annual Diversity, Inclusion, and Social Justice Excellence Showcase
Last year, SOLES hosted its inaugural Diversity, Inclusion and Social Justice Excellence Showcase. The event included 38 projects related to diversity, inequality, social justice, multiculturalism and historically under-represented populations. These projects were presented by SOLES students, faculty, and stuff across all departments. To see examples from 2018's showcase please follow this link.
We are happy to announce SOLES 2nd Annual Diversity, Inclusion, and Social Justice Excellence Showcase on April 10, 2019 from 12 - 2:30 p.m..
All members of the SOLES community are invited to contribute.
Does your work/research relate to diversity, inequality, multiculturalism, and historically under-resourced populations? Present your work/work in progress in order to help create an opportunity to discuss these topics within the context of education, counseling, marital and family therapy, and leadership.
Deadline to submit this participation request form will be March 27, 2019.
Download Attachment (pdf)