January Updates from The Nonprofit Institute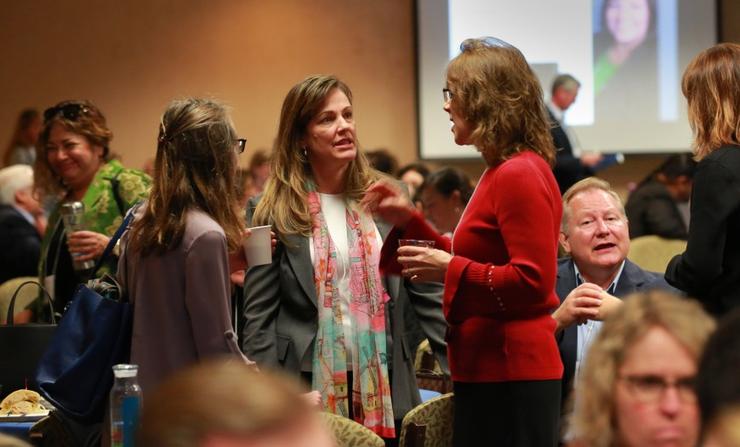 In the past month, The Nonprofit Institute has continued to further leading-edge research, mission-driven diverse leadership, and champion the vital role nonprofits play in our region and the importance of giving back.
Below are The Nonprofit Institute's
updates
from
January
.
NPI General

Updates

:
The 15th Annual Nonprofit Governance Symposium was held on
January
24th and 25th with over 400 individuals in attendance over the two days. It was a successful and inspiring two days with many of our own team members and advisory board members leading workshops.
NPI's Community Consulting Team launched the City of San Diego Nonprofit Academy Spring Workshop Series. The workshops include: Considering Starting a Nonprofit; So You Started a Nonprofit, Now What?; Marketing Fundamentals & Storytelling Strategies; Strategic Planning; and a four-part Program Design Academy. Registration and additional information can be found online at
www.sandiego.edu/npacademy
The Board Chairs' Roundtable/Co-Learning Group, led by Lyn Corbett, NPI's Director of Governance & Community Programs, begins in February where members will have a unique opportunity to gain greater insight and awareness of their own impact, learn from the experiences and knowledge of others, and give and receive peer support as they work on developing strategies for personal and organizational success. The roundtable format provides 8-10 members with a supportive, team-oriented environment to share their insights and gain practical solutions, while supporting one another in elevating their role as board chairs.
Caster Family Center for Nonprofit & Philanthropic Research

Updates

:
The Caster Center is launching a new workshop series this spring,
Evaluating and Visualizing Impact
. This workshop series, designed by Tessa Tinkler and Kim Hunt, will move nonprofit leaders beyond the basics of program design and teach skills and techniques for analyzing your data and communicating your impact. Experienced nonprofit evaluators will lead all sessions and provide personal support in a small group setting for a fraction of the cost of private consultation or third-party evaluation.
The Caster Center's research on San Diego County local childcare needs and barriers was cited in
The San Diego Union-Tribune
.
The Caster Center completed a 12-month project for the San Diego Military Family Collaborative and the San Diego Veterans Coalition. The report, entitled "Pathways and Intersections in the Military Lifecycle: How San Diego Supports the Military and Veteran Connected Community" will be released Feb 1.
Michelle Schneider (formerly Ahearne) presented a workshop ("Investing in People: A Win-Win for Nonprofit Leaders and Organizations") at NPI's Nonprofit Governance Symposium. She will also be presenting research on our Clare Rose Sabbatical Program Evaluation at a Fieldstone Leadership Academy event in February.
Conscious Leadership Academy

Updates

:
CLA is putting on its first annual SHExperience event May 4-5th, 2019. Planning has really taken off and we are so excited to have a "SHE Suite" of women on board to help bring energy and organization into the new year. Cristina Schaffer, a current Masters student, is leading the charge for this event alongside Lorri Sulpizio.
CLA will offer a Women's Group Relations Conference April 12-14 which brings focus to the complex experience of women and those who seek to understand the realities of women's lives and gender dynamics in the organizations and social systems in which we live in the US (and beyond). The unique opportunity offered by this conference is to work with an all-woman staff who have different racial-cultural identities. Attendees will explore what arises when the entire staff of a temporary institution are women, while those who join as members of the conference represent diverse communities and reflect a range of gendered and social identities.
https://sarda1.wixsite.com/wlgrc2019
The CLA is developing a Mindful Self-Compassion Intensive workshop to be held in the Summer of 2019. Hoping to target educators, leaders, and counselors, MSC combines the skills of mindfulness and self-compassion to enhance our capacity for emotional wellbeing.
Environment Initiatives at The Nonprofit Institute:
We held a highly attended launch event for our Outdoors Leaders Initiative with attendees from conservation nonprofits, outdoor industry, and government agencies. This is a new outdoor leadership program to cultivate a larger community of concerned stakeholders that are working together to protect the health and vitality of our region's open space and natural lands.
The San Diego Regional Climate Collaborative held its
January
kickoff event focused on leadership and emerging professional development in the climate space. This meeting featured speakers from the San Diego County Regional Airport Authority and San Diego Leaders 2020, a local young professionals civic engagement group.