SOLES Alumnus' Organization Gives Cordeiro Excellence in Leadership Awards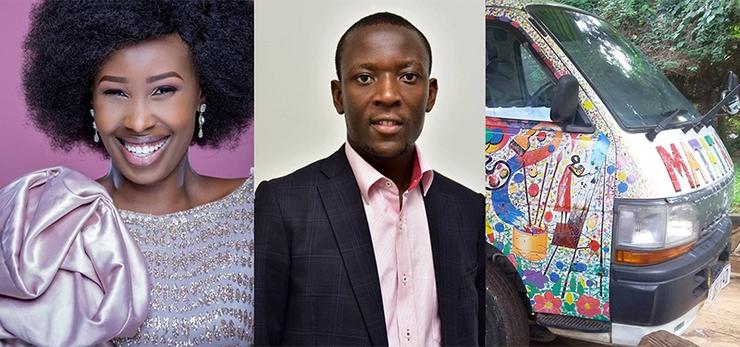 Three Excellence in Leadership Awards given in honor of former University of San Diego School of Leadership and Education Sciences Dean and current professor, Dr. Paula Cordeiro, were presented at the AidChild Leadership Institute (ALI) in Entebbe, Uganda, on Dec. 13.
AidChild's Chief Executive Officer, Dr. Nathaniel Dunigan, who earned a PhD in Education and Leadership from SOLES in 2014 as the Dammeyer Fellow in Global Education Leadership, shared news of the 2018 Cordeiro Excellence in Leadership Award winners.
The three award winners are: Barbara "Barbie" Itungo Kyagulanyi, founder and executive director of Caring Hearts Uganda who is also an author, a girl-child activist and a social worker; Silver Kayondo, Esq., a lawyer who is currently leading a constitutional court challenge against a social media tax imposed by the government of Uganda; and Art of a Child — Uganda, a mobile, all-in-one structure that delivers art to children's doorsteps, even in places where there is little infrastructure, equipment, services or facilities.
The awards, presented by Dr. Dunigan and ALI senior interns, are given to individuals and organizations which have shown a commitment to changemaking through empowerment, education and a fight for increased civil liberties. This is the second straight year AidChild has presented the Cordeiro Awards, which is expected to be an annual event.
Cordeiro, who is the Dammeyer Distinguished Professor of Leadership and Education in SOLES, was the school's dean from 1998 to 2016. She is currently on leave from USD working internationally in Africa and South America in education development and micro-lending. Dunigan and Cordeiro worked in close contact when Dunigan attended USD.
Dunigan founded AidChild in 2000. It is now a largely self-sustained organization that has cared for 3,000 children living with HIV/AIDS in East Africa. AidChild was the first to provide free antiretroviral therapy for children in Uganda. ALI's interns and novices are provided quality psychosocial support and holistic guidance to foster their continued development. In addition to a traditional education, ALI offers specialized tutoring in languages and the arts, leadership coaching, job skills training, nutrition-and-wellness support, and exposure to global citizenship. ALI's goal is to become a model of leadership development in the work of fostering an HIV-free generation. ALI also hosts the organization's regional headquarters offices.
In addition to his USD doctoral degree, Dunigan has a master's degree in education from Harvard, specializing in human development and psychology. He was a Reynolds Fellow at the Harvard Kennedy School and winner of the 2010 Harvard HDP Marshal Award. A former Deputy Director of the Office of the Governor of Arizona and director of Education at Leadership, Inc, Dunigan has also testified before the U.S. Congress as an expert witness in the identification of best practices of care for orphans and vulnerable children in Africa. He is also author of We Are Not Mahogany: Three Stories about the Male African Life.
— USD News Center
Photos via AidChild Institute Facebook page post