SOLES-Giving Donated 1,469 Items!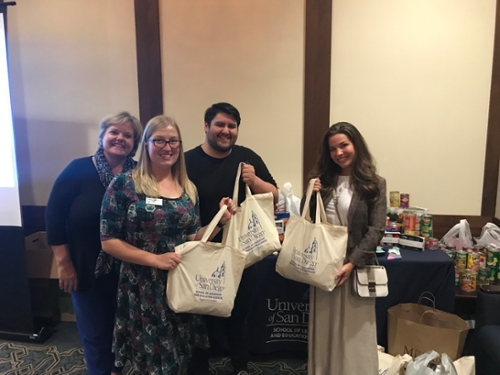 The School of Leadership and Education Sciences organized SOLES-Giving, a collection drive that benefited two organizations who are making a difference in the San Diego community: Monarch School and Homeless Outreach Student Transition (H.O.S.T.). Between October 15 and November 15, students, faculty and staff donated 729 pairs of socks and 740 non-perishable items for a total of 1,469 items donated for SOLES-Giving. This collection drive featured some competitive spirit between departments with a pizza party at stake. The Department of Leadership Studies won with their donations totaling about 50 percent of the overall donations. Congratulations!
Monarch School helps homeless K-12 students break the cycle of poverty through education. Their program addresses social growth, emotional support, academic growth, and life skills. When contacted initially to arrange a collection drive for their benefit, Monarch was eager to have SOLES do a sock drive. Socks are a basic necessity to the homeless community that no everyone thinks about and the school often runs low on. SOLES collected a variety of socks to suit the student population favorites which include include tall black or white crew socks for the males, ankle socks for the females, and colorful ankle socks for the elementary students.
Because Monarch School had their Thanksgiving event the same week as the SOLES-Giving Celebration, the donations were picked up at a later time. Brittany Jackson, Monarch School's Volunteer Program Associate and alumna, came to SOLES to pick up the sock donations. She was pleased to see two giant boxes filled with socks for the students and expressed her gratitude to the SOLES Community for putting this together.
Homeless Outreach Student Transition (H.O.S.T.) serves the student population of the University of San Diego. In addition to the free food pantries on campus address food insecurities (seen in the SOLES Graduate Student Lounge), this student run organization assists students find solutions to address housing insecurities. The program is open to all USD students. H.O.S.T. thrives on their no questions asked policy. This group is a resource for those who need it without shame. H.O.S.T. joined the SOLES-Giving fun at the celebration event on November 16: Robert Arca, President & CEO; Linda Baracks, H.O.S.T. Advisor; and Morgan Miller, H.O.S.T. Student Representative. These individuals said SOLES-Giving inspired H.O.S.T. to maybe incorporate this competitive spirit with their annual drive next year.
To celebrate this very successful collection drive, there was a culmination event on November 16 in the Reading Room. SOLES community witnessed amazing live performances from their own students and staff members.
First to the stage was Daniel Reza who is in the MA in Counseling, Clinical Mental Health program. Next was Christian Perez who is in the MA in Higher Education Leadership program. The final performer was Shannon Patino, who is the SOLES Admissions and Outreach Adviser. Everyone sounded great and taught SOLES that we are a talent-filled community.
SOLES-Giving created the opportunity to come together from all departments and roles to serve the San Diego community. Thank you to those who participated and made this all possible!