SOLES Adds Tribal Flag Display to Honor Tribal Nation Alumni and Students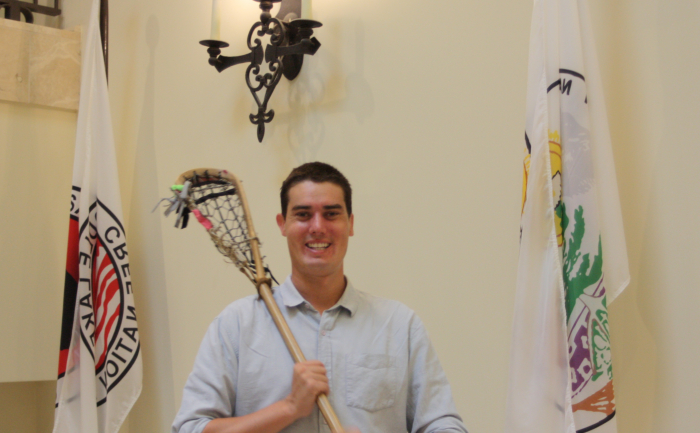 begin quote

Thomas "TJ" Reed, SOLES PhD student, honors Indigenous tribes with movement to recognize Native American alumni with Tribal flag Installation at USD.
You might have noticed the new flags displayed on the landing next to Bert's and the Student Lounge. The flags displayed represent the Tribal Nations of ancestral origin among SOLES students and alumni. Included as of September 2018 are:

Cherokee, John Loggins '12
Oneida Nation of Wisconsin, Thomas J Reed '21
Saddle Lake Cree Nation, Patricia Makokis '00

We also recognize the San Diego area Kumeyaay Nation of which we share stewardship with and the land on which we have built our University.
The Story Behind the Project:
As a Freshman at his undergraduate university, Thomas "TJ" Reed saw what he described as a "grand display of international flags" in the cafeteria displaying countries from near and far. However, what truly caught his attention was the absence of the Oneida nation's tribal flag; A flag that Reed not only had close connections to but one that his grandmother was an elder for. Despite being met with a "no" at the university when suggesting the Oneida Nation's tribal flag be added to the display, Reed saw the potential for universities to "act as leaders in creating a place where Tribal sovereignty is recognized for Indigenous nations."
Fast-forward to a decade later, TJ saw an opportunity for USD to take the lead in recognizing its Indigenous alumni during an annual pow wow in which the tribal flags of alumni were displayed. Inspired by this experience, Reed believes that a permanent tribal flag installation similar to one held at the Native American Hall of Nations on campus in "the spirit of reconciliation, in recognizing the wisdom and stories of those people before us on this continent" would best honor these Tribal nations, whose contributions have had a lasting impact on the San Diego area and beyond.
USD, whose campus was built upon Kumeyaay land, currently honors the Kumeyaay nation in the form of a garden and art installation located north of the Hahn University Center. However, Reed believes that the presence of having a prominent tribal flag display would be symbolically powerful; not only recognizing the alumni who have made an impactful contribution to the university but also provides a welcoming environment in hopes of inspiring Native Americans of all ages and heritages to continue contributing their knowledge and wisdom at a university that actively promotes the inclusion, respect, and recognition of the Indigenous tribes that came before.
If you would like your tribal nation represented, please contact the SOLES Dean's Office.