Subscribe to our Newsletter
Sign up for Kroc School News and Events
Join nearly 10,000 Changemakers when you subscribe to the Kroc School's monthly e-newsletters. Subscribe
First Step of the Toreropreneur's Journey: USD's Legacy Entrepreneurship Conference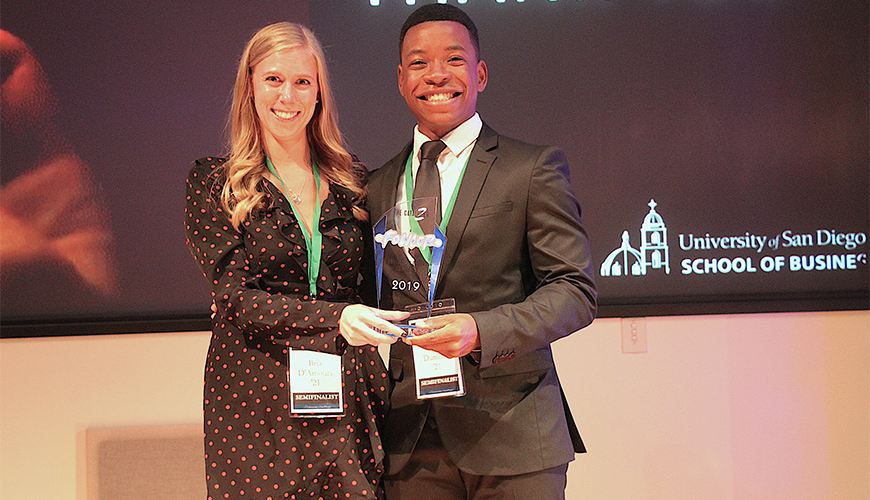 It didn't take long, actually the first question, for the first knowledge gift bestowed by four people — Andrew Feghali, Brian Freeman, Carl Olivier-Dumesle and Bria d'Amours — who've been there, done it and benefitted from it.
They were asked what advice they'd give to their 18-year-old self about entrepreneurship.
Feghali's recipe: Maintaining a healthy attitude, to not stress out or overthink things, trust the process, stay disciplined and believe that good things will happen. He is a 2015 MS in Executive Leadership alumnus and is in the final year of his PhD in Leadership Studies. He is the CEO of AMF Foods, Inc., which has Little Caesars' Pizza and Dave's Hot Chicken franchise restaurants among its assets, and was recognized in a 40-under-40 spotlight by the San Diego Business Journal.
Freeman, a 2008 business administration undergraduate alumnus and CEO/Founder of Heartbeat, an influencer marketing company, considers himself a late bloomer to technology, but his advice was about the importance of getting out there and experimenting with whatever interests you. "That idea you have? Go do it. And find a mentor in the area that you're passionate about."
Dumesle and d'Amours are current MBA international students — Dumesle from Haiti, d'Amours from Canada — and together, they won the 2019 Fowler Business Concept Challenge with HUGS, stands for Housing for Undergraduate and Graduate Students, which is a platform that makes finding housing for international and out-of-state students easier. Their advice may seem opposite, but really, it goes hand-in-hand. Take your time. Believe in your idea. Dumesle emphasized taking things slow. "Don't rush it. There's a million things at once, you need to learn to dial it back a little bit." D'Amours doesn't care what others think. "If you like your idea and you believe in it, you can make others believe, too."
These were the first of many questions answered at the ninth annual University of San Diego Legacy Entrepreneurship Conference (ULEC) Sept. 3 on a virtual platform called Accelevents that gave host USD School of Business' Innovation and Entrepreneurship Catalyzer a 90-plus-minute chance to showcase USD entrepreneurship at its best.
Describing ULEC as a great opportunity for students, alumni and the global community to network with fellow Torero entrepreneurs who are changing the world with innovative ideas and an entrepreneurial spirit is accurate.
The four-person panel was interviewed by Andrew Davidson and Kelly Gardner, who are current USD students and president of the USD Entrepreneurship Club and Net Impact Graduate program, respectively. The panel shared stories, successes, challenges, and offered advice to more than 300 registered participants. Later, a Q&A was followed by a one-on-one networking session.
For the 2020-21 academic year, ULEC is a starting block for the USD entrepreneur culture that has been steadily growing. It invokes a mindset that uses the mission of USD, a Catholic university, as a base to build with social innovation and engagement, resources and fosters a Changemaker attitude among its students, faculty, administrators, alumni, programs and mentors, tests it academically with the Torero Venture Labs and competitions such as the Changemaker Challenge, Fowler Business Concept Challenge, The Brink's San Diego Angel Conference, Venture Vetting (V2) Pitch Competition, and the Fowler Global Social Innovation Challenge.
The ULEC is the perfect starting point. Undergraduate and graduate students attend. Students from all USD schools can participate. You can listen to alumni who know what you're thinking. You can get good advice from those who've been stuck before and found a way out. You can see the passion someone has and it can become contagious.
"Our mission is to train students to think like entrepreneurs, to think creatively, be pro-active and make them comfortable when dealing with uncertainty, ubiquity, and change. Just look at the world around us today. These are the key skills that are critical for the future of work. Employers highly value these skills," said Priya Kannan, PhD, professor and chair of innovation and entrepreneurship and founding director of the Catalyzer. "No matter what stage of your career, whether you start your own venture, work in companies like Starbucks or Amazon, or you're a changemaker who wants to make a positive impact on the world. The entrepreneurial mindset is indispensable and that's what we focus on at the Catalyzer."
Along with the Catalyzer's expert direction, School of Business Dean Tim Keane believes USD's program provides a little something extra that others might not.
"We embed stewardship into our thinking and that's a little different than what most other business schools do — most focus on leadership. Stewardship is more intentional, it requires businesses, particularly small businesses, to zero in on protecting and caring for society. 'Will it work for them? Will it work for shareholders and the community in which they operate? These stewardship-focused principles are really the foundation of entrepreneurial thinking. As you begin thinking about the world and how you fit in it, how it revolves around you, your goals will become clear. We're here to help you."
Alumni, current students with some entrepreneurial experience and budding students who are in the finding-out stage all participated in this event. The ULEC is really the first step in what the Catalyzer has coined as the Toreropreneur's Journey. On this night, the journey's highlight was, indeed, asking panelists about how they got started in this arena. But as the weeks, months and years go by and knowledge, experiences, quick failures and inspired successes can add up to the building of a top-quality entrepreneur when graduation arrives, that's when one will remember what the ULEC and the start of a wonderful journey is all about.
"We hope you are now more inspired than before to become even more entrepreneurial," said Amitkumar Kakkad, PhD, strategic advisor for the Catalyzer and a clinical professor of operations management in the School of Business. "As we heard, successful entrepreneurs do not become successful on day one. It takes creativity, risk-taking, resilience, dealing with ambiguity, critical thinking, problem solving and pro-activeness. Most of all, it takes determination and perseverance. Entrepreneurs have an eye for opportunity; an opportunity to do something in a better way than it is currently being done."
Time to get on the pathway, Toreropreneurs!
— Ryan T. Blystone
Map
5998 Alcalá Park
San Diego, CA 92110