Subscribe to our Newsletter
Sign up for Kroc School News and Events
Join nearly 10,000 Changemakers when you subscribe to the Kroc School's monthly e-newsletters. Subscribe
Dean's Message: This Journey Towards a More Peaceful and "More Perfect Union" Never Ends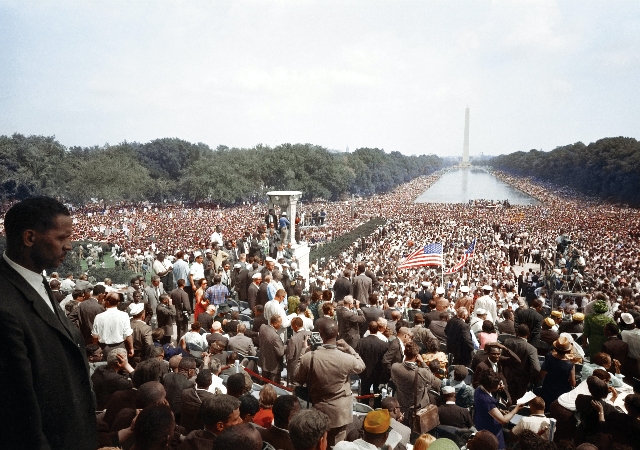 The following post was contributed by Patricia Márquez, Associate Provost for Academic Planning and Innovation and Dean of the Joan B. Kroc School of Peace Studies.

Welcome, students, to the new academic year 2020-21! At the Kroc School we are ready to provide a rich and exciting learning experience. The year will offer a set of new experiences for all of us.
Here at the Kroc School, we spent our summer enthusiastically preparing for remote and hybrid teaching, designing new co-curricular activities focused on career development, community building and social entrepreneurship. Leveraging our enhanced expertise in the use of technology and new ways of learning, we are attempting to bring to the virtual classroom a wider set of real-life cases which include a greater set of global changemakers eager to share with you their stories and leadership best practices. We anticipate ongoing explorations and discussions about the current state of the world. As always, we seek to nurture the moral imagination to envision better solutions while celebrating the courage required to lead change.
We can hardly wait to see what is ahead.
It is clear to us this year will continue to be filled with questions and uncertainty. Yet we are comfortable navigating this environment, because changemaking is inherent to our organizational culture. You will find empathy and strength in our outstanding team of faculty and staff as we face together the challenges posed not just by the coronavirus, but also the various health, socio-economic, environmental and political crises that are either interconnected to the pandemic or overlapping with it. As we are well aware, in this country alone, millions of people have lost their jobs. All kinds of inequities in society are bubbling on the surface in ways that continue to shock us because we thought we were better than that, while simultaneously being confronted by how little is truly being done to overcome them.
On top of all this, we start the new semester in the wake of another senseless shooting of a Black man by the police, Jacob Blake. Our streets are filled with outrage, protesting, advocacy, and yet violence against Black people in this country continues to happen with regular frequency. As citizens it is our duty to reflect on: What will it take for things to change? How can I be part of that change? What must I learn to do differently?
Perhaps, some of the answers may come to us as we consider this summer marked the 100th anniversary of the ratification of women's right to vote in the United States. This was a great achievement for women changemakers in this country. And let's remember the decades, the efforts, and the pains it took to achieve what now, 100 years later, might seem incredibly obvious. The Seneca Falls Convention, considered the first women's voting rights conference in the history of the nation, occurred in 1848. Achieving the right to vote required a dogged 77-year effort of strategizing, planning, speaking, marching and argument by a determined set of women changemakers.
The story does not end there. It wouldn't be until another 45 years after that – in 1965 – when President Lyndon Johnson signed the Voting Rights Act that the federal government took further steps to guarantee Black Americans the right to vote. Once again, this new achievement in changemaking took much organizing, marching, pain, frustration, commitment and sacrifice. Furthermore, we must always keep in mind that change achieved is not static, positive change is not necessarily permanent. We must not take social progress for granted. Securing those changes requires alertness and ongoing engagement in civil society to protect the rights that we have so painfully gained.
My goal is not to impart a history lesson. As this new academic year begins, I simply want to remind ourselves that as much as the world, this country, and our local community begs for positive change, the path is often tortuous and long, frustrating and uncertain. Indeed, changemaking requires passion, commitment, and resilience to bounce back from setbacks and challenges over extended periods of time. It also requires understanding complex situations, a capacity to manage conflicts and mobilize people and resources, as well as many other important leadership and organizational skills. This journey toward a more peaceful and "more perfect union" never ends.
And no matter the situation or the problems, the pledge of the Kroc School remains: to train extraordinary professional changemakers with the knowledge and capabilities required to "move the needle" in the upcoming third decade of the 21st century.
Map
5998 Alcalá Park
San Diego, CA 92110