Subscribe to our Newsletter
Sign up for Kroc School News and Events
Join nearly 10,000 Changemakers when you subscribe to the Kroc School's monthly e-newsletters. Subscribe
The Kroc School Makes an Impact in Sinaloa, and Draws a Crowd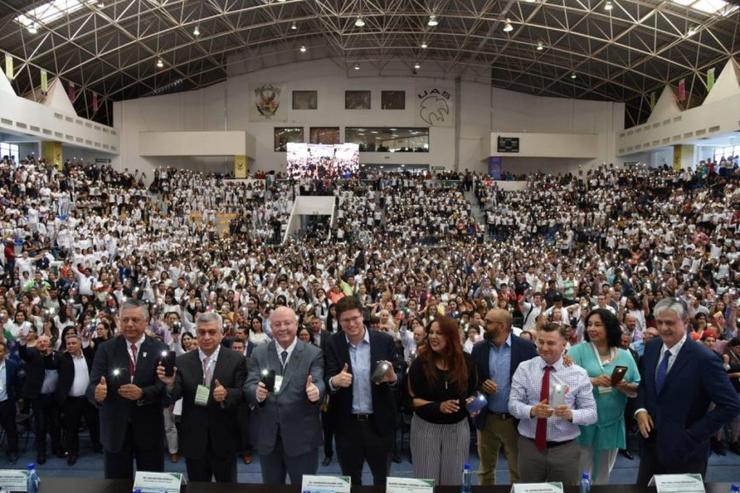 begin quote

"The younger generation didn't create this mess. We did and we owe them."
The unveiling of the 2019 Mexico Peace Index (MPI) in Culiacán, Sinaloa last week felt like the culmination of five years of hard work by Kroc School faculty, students, and community partners. Led by Kroc School Professor of Practice and Trans-Border Institute Director Ev Meade, Kroc School certificate programs have trained hundreds of local activists, public officials, and entrepreneurs in peacebuilding and social innovation. A series of public events surrounding the peace index showed that the most important stakeholders in Sinaloa now use the language and methods of peacebuilding, and they have reached a truly mass audience.
So, how do you get 10,000 university students to show up for a discussion about peacebuilding? How do you get government officials, journalists, and educators in a place beset by violence to use the language of peace? How do you bring law enforcement, human rights activists, and the business community into a common peacebuilding effort?
In Culiacán, Sinaloa, the epicenter of Mexico's decade-long drug war, the answer would seem to be twofold: 1) clear and compelling data; and 2) independent interlocutors. Stakeholders need to understand how violence affects their interests (not just their ideals), through a combination of transparent, easily comparable metrics, and illustrative examples that demonstrate a deep local engagement. And they need trusted interlocutors with the expertise and independence to explain the data and mediate how best to apply it between the various interests involved.
The Kroc School has tried to play this dual role as intellectual infrastructure and trusted interlocutor by helping to bring together high-end quantitative data like the MPI, with in-depth interviews and qualitative data that build a local context around the numbers, and by creating spaces that encourage civil society, academic, and government sectors to apply this knowledge collaboratively. Our partners at Construyendo Espacios para la Paz [Building Spaces for Peace] used the launch of the 2019 Mexico Peace Index as a vehicle to convene stakeholders and take stock of our peacebuilding efforts.
The three-day whirlwind began on Wednesday evening, in the patio of the renovated mansion that serves as headquarters for Fundación GC1, the philanthropic arm of the Coppel Corporation, along the riverfront in downtown Culiacán, Sinaloa. The Kroc School's principal partner in Culiacán, Construyendo Espacios para la Paz, convened an intimate dinner for local civic leaders to review the results of the 2019 Mexico Peace Index. Carlos Juárez, Mexico Director for the Institute for Economics and Peace which produces the report, walked the group through the major quantitative findings, and then Professor Meade followed with a qualitative analysis, based upon the Kroc School team's research in Sinaloa this spring and the broader work we have spearheaded there since 2014.
There's much to lament in the data. At the national level in Mexico, peace declined by 4.9% in 2018. A 14% spike in homicide produced the highest rate in recent Mexican history, driven largely by organized crime and related gun violence. The lead up to the July 2018 national election produced unprecedented levels of political violence – there were 850 attacks on officeholders, candidates, and campaign workers in the six months preceding the election, 175 of them fatal. The IEP calculates that this violence cost Mexico $268 billion in 2018, a whopping 24% of GDP.
Sinaloa, however, is one of the bright spots in the report, one of the three most improved states, along with Baja California Sur and Sonora. Homicide and violent crime declined dramatically, and Sinaloa finds itself outside of the five most violent states in the country for the first time in more than a decade. In April, there was a two-week period without a single murder in the state for the first time in more than 25 years. Any related celebration was muted – it was also the second anniversary of the assassination of beloved local journalist and Kroc partner Javier Valdez Cárdenas, whose death marked a recent peak in violence. Peace is wonderful, but still fragile. Whatever happens with the intensity of violence, the harm already done is enormous, and it will take decades to heal.
On Thursday morning, the same team presented the 2019 MPI results to a large public audience and the media at the Instituto MIA, a theater just off the main plaza in Culiacán. A panel discussion with educators, municipal officials, newspaper editors, and law enforcement officers followed. The tone was upbeat, but measured. There was broad agreement that we need to focus less on the gyrations in the homicide rate and more on building community resilience. We may not be able to completely prevent the next spasm of violence from organized crime, but we can limit its social articulation and the harm it causes.
After the main event, participants broke into small groups for workshop-style discussions covering each of the eight "pillars of positive peace" — the structures, attitudes, and institutions which have proved most important in preserving sustainable peace over time. Professor Meade took on "The Free Flow of Information." His group reviewed the terrible data about the murder of journalists and activists in Mexico. But the conversation quickly pivoted away from overt acts of censorship and intimidation and towards the myriad forms of self-censorship that govern how information is shared or not, especially on social media. A handful of local high school students joined the conversation and their perspective was striking. They perceive social media almost uniformly as a threat. They related local examples that ranged from bullying, embarrassment, and blackmail, to kidnapping, human trafficking, and murder — all facilitated by social media.
Later in the day, the team ate lunch with security officials, police commanders, and prison administrators, and again presented the 2019 MPI results. In the afternoon, the team met with a group of cadets who will soon graduate from the Sinaloa Police Academy. It was an amazing experience. Most of the cadets come from humble backgrounds, and they spoke earnestly about their desire to make their families proud by wearing the uniform and serving with honesty and integrity. We talked about the fact that almost every one of these young police officers knows someone from their childhood who now works for organized crime (many of whom have been killed or incarcerated). And we also discussed what strategies they will employ to avoid being sucked into the vortex of corruption, once they are out of the protective shell of the academy.
The week culminated with a panel discussion on Friday morning in front of some 10,000 university students and professors at the Universidad Autónoma de Sinaloa (a large public university). Two cabinet secretaries, the public prosecutor, and representatives from the United Nations, UNESCO, and the federal government of Mexico joined the rector of the university in the formal inauguration of the event. The occasion was an annual conference on preventing violence and addiction. Professor Meade and Dr. Juárez abandoned their original formal lectures in favor of a more dynamic and conversational presentation. In an indoor sports arena with challenging acoustics and a constant echo, they took questions from the crowd and reflected together on how we can mobilize the next generation of peacebuilders, rather than seeing the young people of Sinaloa as targets for admonishment, indoctrination or rehabilitation. As Carlos Juárez is fond of reminding us: "The younger generation didn't create this mess. We did and we owe them."
But, a crowd of 10,000?
Students finishing their degrees in a variety of different departments and schools attended the conference as a sort of end-of-the-year ritual to inspire them to go out and do good in the world. In this sense, they were a captive audience. But, the decision to make "peace" the central focus of the event and to feature Professor Meade and Dr. Juárez was a significant innovation and a terrific opportunity. It shows that years of effort from the Kroc School, our partners in Culiacán, and the local leaders we have trained have helped to make peace a priority, a force to be reckoned with in the most important public events in the state. If the metrics and methods of peacebuilding have become mainstream, then we have indeed made progress.
What's next?
Planning is in high gear for the 2020 version of the Kroc School's Certificate Program in Peacebuilding in Culiacán. The program will be a partnership between The Kroc School at USD, Construyendo Espacios para la Paz, and the Public Security Ministry of the State of Sinaloa. We hope to mobilize more than 100 volunteers to document peacebuilding success stories in Sinaloa, as part of a collaborative research project. The idea is to reconstruct, analyze, and publish the stories of local leaders and projects that have triumphed over violence and corruption so that these stories can inspire and guide others. Stay tuned for more!
How can I get involved?
Check out our academic programs – Kroc School students have been involved in every aspect of our work in Sinaloa over the last five years, and a variety of students from all three of our master's programs will participate in next year's certificate program in order to fulfill their field-based requirement. For the same cost as a standard course, they will get to travel to Sinaloa six times during the spring semester, take a proven peacebuilding course in Spanish alongside local leaders in Culiacán, and participate directly in a large-scale collaborative research project.
Give to the Trans-Border Institute – we depend upon donations to support our work, and to make our programs available to Spanish-speaking students, in particular, through scholarships and grants.
Map
5998 Alcalá Park
San Diego, CA 92110