Subscribe to our Newsletter
Sign up for Kroc School News and Events
Join nearly 10,000 Changemakers when you subscribe to the Kroc School's monthly e-newsletters. Subscribe
Kroc School's TBI Helps to Collect Powerful Testimonies in Mexico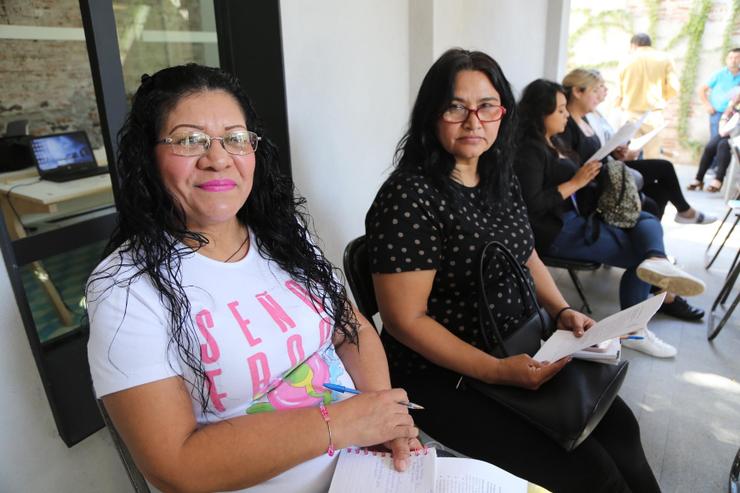 begin quote

This is what applied peace research is all about – the most important "results" will be the long-term effects produced by the process of collecting this data and building the community necessary to make it happen.
The Citizens' Commission on Historical Memory in Culiacán, Sinaloa is officially underway. This pioneering oral history project was co-designed by Kroc School Trans-Border Institute (TBI) Director Ev Meade and a group of emerging leaders in Culiacán and is being carried out in partnership with the non-governmental organization Construyendo Espacios para la Paz [Building Spaces for Peace]. The project seeks to document and analyze the everyday experience of violence over the last decade in the epicenter of the drug war in Mexico. A group of six graduate students from the Kroc School are participating in the project alongside about 80 local volunteers. It's a huge endeavor.
In the first two rounds of testimonials, the project has collected some incredibly powerful stories. We've heard from the spouses and mothers of the forcibly disappeared, survivors of kidnappings and sexual assaults, the widows of fallen police officers, and many other witnesses to and victims of acts of violence. We have also learned lessons large and small about doing this kind of work ethically and effectively.
From the minute we launched the public call for participants, managing our role as outsiders has proved to be a significant challenge. Our social media posts and newspaper ads inviting people to share their stories have been met with questions about our motives, our connections to the government (or even organized crime), what privacy protections we offer, and what we plan to do with the stories we collect, many of them freighted with preconceptions about the United States and foreign institutions. Much of the challenge of responding to these concerns is simply a matter of patience and redirection to the public description of the project. As a matter of fact, the project is a partnership, all six of the team leaders and the vast majority of the volunteers (76 out of 81) are local, and the results belong to the local project, not to us. We rigorously protect the privacy of the participants, and we have nothing to do with the criminal justice system or any other official investigations. Explaining these details over and over again in plain language is a key part of building the trust necessary to do this work. Humility pays off; it just takes time.
Fear and suspicion have also proved significant obstacles to recruitment. We have repeatedly stressed that there is a big difference between an oral history and an accusation or a criminal complaint. Indeed, we do not collect, record, or publish accusations of criminal acts made against specific individuals and we are quite explicit about this in all of the documents related to the project, including the interview protocol. There are two simple reasons for this policy: 1) we seek to protect our interview subjects and ourselves from liability or libel (which operates on a very different standard in Mexico than in the U.S.) or being compelled to provide information to police or prosecutors; and 2) The point of the project is to capture the subjective experience of violence at the everyday level, not to investigate or prosecute criminal offenses.
Indeed, the way we conduct our interviews is designed to avoid not just legal entanglements, but also most of the ethical concerns raised by survey-based research or other kinds of interactions where the manipulation or exploitation of human subjects is a major concern. Our teams conduct long-form oral histories, where the individuals who come forward to share their stories set the agenda, the limits, and the intensity of their testimony. After a rigorous informed consent process, our volunteers listen actively, asking follow-up questions and acknowledging the experiences shared by the participants, but there's no script, no survey, and no experimental manipulation. We have mapped the general structure of a life history to serve as a guide, and we've found that it can help participants to structure their stories, and organize their thoughts and feelings such that they leave the interview feeling that they have expressed what they wanted or need to express, but we do not impose.
This human touch is really important, and it's not necessarily something stressed in the research community. Sometimes it's a matter of small things — bring tissues, offer water and food, put a hand on a shoulder (when appropriate). Sometimes, the issue is bigger. Many of our local interviewers have decided that they can't ask others to share experiences without a willingness to share something of their own. Indeed, the process of carrying out these interviews, of coming to a fuller human understanding of their fellow citizens (and re-examining their own histories) may be as important as the formal results of the project. This is what applied peace research is all about — we will publish some quality data and compelling stories, but the most important "results" of the project will be the long-term effects produced by the process of collecting this data and building the community necessary to make it happen. For the Kroc students, this is what an applied peace education is all about — getting into the field, guided by a scholar-practitioner, and learning by doing. Stay tuned!
What's next?
The next module in the certificate program will take place on March 15-16. Meanwhile, the research continues apace, and our students will be helping to take new testimonies, transcribe existing interviews, and analyze the results as they come in.
How can I get involved?
Check out our academic programs — Kroc School students are directly involved in all of the work we do, including all of the programs we have offered in Sinaloa. We are also happy to share and replicate our research and methodologies in other places and for other audiences. Please contact transborder@sandiego.edu for more information. And we depend upon grants and donations to make this work possible. Please consider supporting us.
Map
5998 Alcalá Park
San Diego, CA 92110