Subscribe to our Newsletter
Sign up for Kroc School News and Events
Join nearly 10,000 Changemakers when you subscribe to the Kroc School's monthly e-newsletters. Subscribe
Kroc School Team Leads Historic Truth Commission in Sinaloa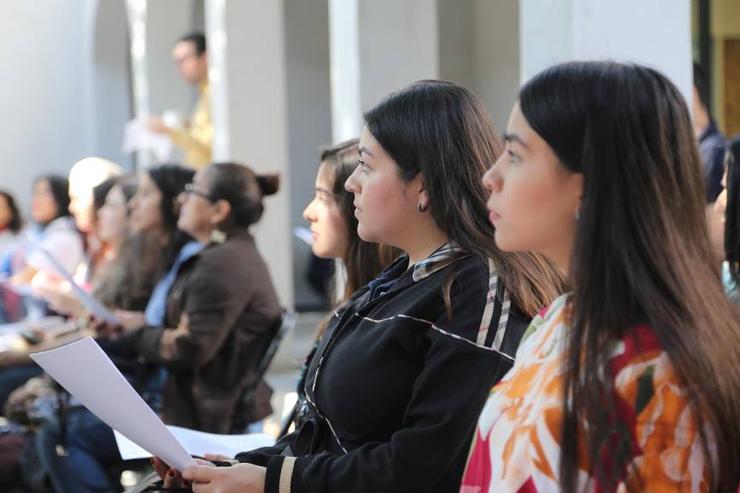 begin quote

"We all have a story. Silence hurts and divides us. It's time to share."
First, you have to listen. Violence has a way of simultaneously silencing those it touches and creating stories that need to be told. In situations of chronic violence, building a peaceful future requires a reckoning with the recent past – finding those stories before they fester and bubble up in fear, anger, and further acts of violence. This semester, Professor Ev Meade and six graduate students from the Kroc School are helping to direct the first-ever Citizens' Commission on Memory in Culiacán, Sinaloa. Along with 100 local residents, they will be documenting the experiences of the wave of violence that has battered the city since 2007.
We will collect long-form testimonials from victims, witnesses, their family members, and those who advocate on their behalf through a series of weekend sessions this winter and spring. We will present preliminary results and public policy recommendations the first week in May, and then a final report including edited versions of select testimonials the first week in October. The goal is to produce a project and a book that will spark the same kinds of conversations and collaborations as those provoked by truth commissions throughout Latin America in the 1990s and early 2000s, but this time as a citizens' initiative, independent of any judicial proceedings or multi-lateral investigations.
We will not be alone. The Kroc School and the Trans-Border Institute have been working in Culiacán for five years, and we have built a terrific network of local activists, academics, entrepreneurs, and other concerned citizens through the courses we have offered. We started with a seminar series in the Universidad Autónoma de Sinaloa in 2014, which grew into a full-fledged certificate program by 2016, and then moved to the Sinaloa campus of Instituto Tecnológico de Estudios Superiores de Monterrey in 2017. In 2018 we offered a special version of the certificate program to young and emerging leaders, through the Casino de la Cultura, the educational branch of the state culture ministry. One of the organizations that we helped to catalyze in the 2017 program — Construyendo Espacios para la Paz [Building Space for Peace] — has partnered with us on the latest version of our certificate program: Peacebuilding and the Active Accompaniment of Victims of Violence, Culiacán, 2019.
In each version of the certificate program, we have carried out some kind of collaborative research project, workshop series, or kick-starting initiatives to capture and channel the talent and experience of the participants beyond the confines of the program. This year, we are embarking upon the most ambitious collaboration to date. Participants in the certificate program will serve as researchers on the Citizens' Commission on Memory, a long-form interview project co-designed by Professor Meade and a group of six graduates of prior versions of our certificate program.
The team represents a variety of disciplines and perspectives — we've got a biologist, a newspaper editor, a law professor, an activist, a PhD candidate in Education, and a teacher. The idea was to create a project that wouldn't require much-specialized knowledge, but rather would emphasize a collective self-exploration among fellow residents of Culiacán, the documenting of stories that affect almost everyone in the city in some way or another, but which often go unacknowledged in the bigger flash and bang of the drug war. The headline for the recruiting effort captures it perfectly: "We All Have a Story. Silence Hurts and Divides Us. It's Time to Share."
On Friday evening, we kicked off the certificate program with the first module: Ser Humano, Tener Derechos [Be Human, Exercise Your Rights], which explores the human side of human rights, and the origins of empathy and violence in particular, from a wide variety of disciplinary perspectives. Interspersed with sections on evolutionary biology, social psychology, cultural studies, and history, we provide the participants with opportunities to reflect and relate the material to their own experiences. In Culiacán, this often means harrowing personal stories of violence, and Friday was no exception. The mother of a forcibly disappeared son related how she had witnessed the assassination of a fellow activist who was walking down the street next to her. Others related the kidnapping or killing of classmates, family members, and friends. There were a lot of tears, but there was also a great feeling of solidarity in the room. While the content of the certificate program might appear a bit abstract when compared to the specific work of the research project, this sense of community and the creation of a common language among the participants will serve them in carrying out the project and beyond.
On Saturday, we gathered at the offices of Construyendo Espacios para la Paz and its umbrella organization Fundación GC1 (a TBI underwriter) to teach the particular protocol we have developed for conducting ethical and effective interviews for this project, break into teams of interviewers, and introduce the six local team leaders who will coordinate much of the work. By the middle of the afternoon, all of the patios and many of the offices in the beautifully renovated mansion along the riverfront park were buzzing with earnest discussions, what-ifs, and role-playing exercises.
Despite an idyllic setting, the training was intense from the very first minute. Just as Professor Meade was presenting a general introduction to the goals and structure of the project in front of the full group in the rear patio, a woman in the front row stood up an interrupted him. Shaking with pent-up fury and righteous indignation, she related her experience in living next door to a clandestine methamphetamine laboratory, which she claimed operated with the full knowledge of the police. "If I try to report this," she claimed, "they will kill me." "They are poisoning us," she accused, "and all of this stuff you are talking about won't make any difference." She went on to attack the project for failing to address the corruption of the authorities and ignoring the ubiquity of organized crime in Culiacán.
Professor Meade worked to deflect her criticism, calmly admitting that the project could not resolve her specific situation nor could it fix the broader problem of organized crime in one fell swoop. Time and again, he tried to acknowledge the depth of her feeling and redirect her to a central focus of the project — giving people like her a place to tell their stories and vent their frustrations to their fellow citizens without fear of reprisal.
Her intervention was aggressive and it threatened to sour the mood. But, it also offered a perfect lesson to a group about to embark on long-form interviewers with survivors of violence. They have to listen actively and humbly, and they should expect survivors to be frustrated, angry, and even suspicious. We're there to document and acknowledge their experiences, not to judge them, and whatever trust they give us, we will have to earn. It was also an excellent reminder of the importance of not creating false expectations. We cannot solve the underlying causes of violence, nor can we document or investigate specific allegations of criminal activity. We can listen to their stories, collect and categorize them as evidence of broader phenomena, and put them into a broader public dialogue safely and responsibly. And we can welcome them into a broader community of survivors and peacebuilders.
This project is sure to face many challenges, but it's off to a great start.
What's next?
The next module in the certificate program will take place on February 8-9. Stay tuned for updates! Meanwhile, the research continues apace, and our students will be helping to take new testimonies, transcribe existing interviews, and analyze the results as they come in.
How can I get involved?
Check out our academic programs – Kroc students are directly involved in all of the work we do, including all of the programs we have offered in Sinaloa. We are also happy to share and replicate our research and methodologies in other places and for other audiences. Please contact transborder@sandiego.edu for more information. And we depend upon grants and donations to make this work possible. Please consider supporting us.