TBI Director Ev Meade Talks Positive Peace with 300 Future Leaders in Sinaloa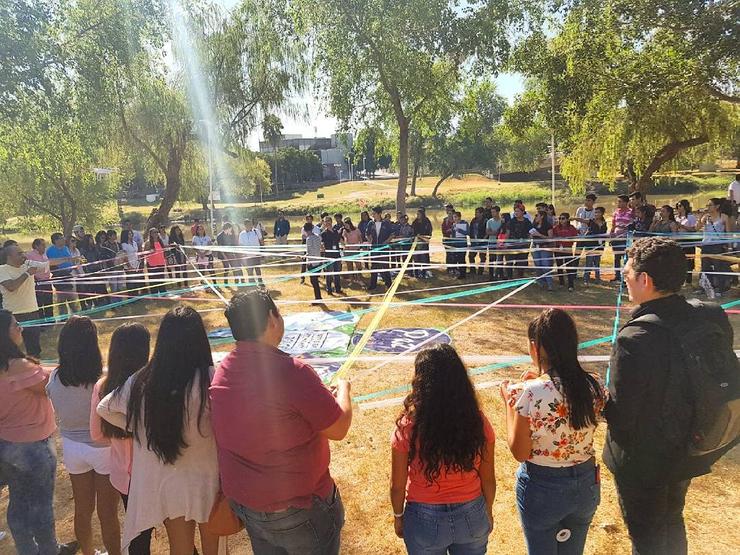 begin quote

Just like you can't choose your family, you can't choose your place of origin — you'll always carry Sinaloa with you. The challenge is to embrace its bounty and make it accessible to your neighbors and colleagues.
Over Thanksgiving weekend, Kroc School's Trans-Border Institute (Kroc TBI) Director Ev Meade served as a master teacher and mentor to 300 young people from across the state of Sinaloa in a forum organized by the local Rotary International and Rotaract chapter in Culiacán. The idea behind the conference was to bring together a set of future leaders and challenge them to mobilize local resources to reduce violence and build sustainable peace in a state synonymous with drug trafficking and engulfed in violence for a generation.
On Friday, Dr. Meade and Carlos Juárez, Mexico Director for the Institute for Economics and Peace set the stage with presentations on the nature of the violence and the idea of positive peace in a large public gathering in the Ayunatmiento (the municipal government). Their presentations emphasized the gap between negative and positive peace in Sinaloa and in Mexico more broadly, and the opportunities it presents to ambitious and creative young leaders. Whereas Sinaloa ranks near the bottom of Mexican states when it comes to violence and insecurity — 30 out of 32 in "negative peace," it ranks 11 out of 32 in positive peace, or the institutions and phenomena necessary to sustain peace over the long haul. The challenge is how to mobilize these resources towards the resolution of the problem of violence.
To that end, the young leaders were divided into 8 groups, and each group participated in 8 workshops, one for each of the 8 pillars of positive peace:
A well-functioning government
A sound business environment
An equitable distribution of resources
An acceptance of the rights of others
Good relations with neighbours
Free flow of information
A high level of human capital
Low levels of corruption
The workshops were led by a diverse array of local practitioners, including teachers, activists, entrepreneurs, lawyers and artists The sessions took place in various institutions across downtown Culiacan, making the city itself a part of the experience. Indeed, in order to pique all of the senses and to give the visiting young leaders a more holistic experience, the forum included a callejonada — parade behind a marching band throigh the streets at night, a picnic, a play and a concert.
The young leaders inspired their teachers and coaches as much as the other ways around. Their energy and commitment were palpable, as was their frustration with the lack of progress made by current leaders when it comes to stemming the tide of violence and corruption. A common theme running through their commentary was the infamous reputation that their state has across Mexico and the world. No matter how successful they are in academics, science, business or the arts, they're first and foremost seen as people from a drug capital, the home turf of El Chapo and the Sinaloa Cartel. Just like you can't choose your family, you can't choose your place of origin — you'll always carry Sinaloa with you. The challenge is to embrace its bounty and make it accessible to your neighbors and colleagues.
In order to drive home the complexity and chaos of the kinds of relationships that make positive peace work, rather than imposing a false sense of simplicity, the organizers staged an outside ritual in which each of the 8 groups represented one of the pillars of peace, and formed a circle around a matt identifying each pillar in a broader circle. Then, at a signal, one member of each group unrolled a ribbon connecting their pillar to the other pillar which they found most related. After repeating this 5 times, the group had constructed a complex web of relationships between the 8 pillars of positive peace, which the organizers filmed with a drone. The idea was to enact physically and demonstrate visually the variety and complexity of relationships that go into forming a strong civil society.
Like the rest of Kroc TBI's peacebuilding initiatives and non-degree programs, the point of this forum was not for us and our partners to parachute into another place with solutions to the most pressing problems, but rather to listen, learn and help to create the conditions for local people to define and resolve their own problems. And if these young leader are any indication, then the future is bright for Sinaloa.