Subscribe to our Newsletter
Sign up for Kroc School News and Events
Join nearly 10,000 Changemakers when you subscribe to the Kroc School's monthly e-newsletters. Subscribe
TBI Leads Unconventional Students on An Unconventional Journey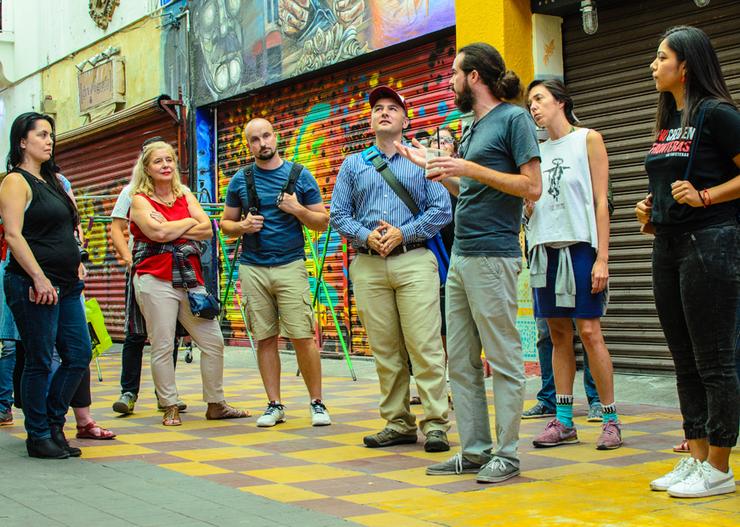 begin quote

"I just can't imagine myself without both cities."
The first ever Trans-Border Opportunities Certificate Program was a smash hit this summer. A diverse array of students – including lawyers, social workers, engineers, teachers, legislative staffers, a Coast Guard officer, and a seasoned diplomat – enjoyed a six-week immersion in cross-border politics and culture. The idea of the course was to provide working professionals with the tools and experience to better engage with the border, to help them see the border as a vibrant and dynamic space, an opportunity, rather than a crisis or a call to arms in an overheated political environment.
The content and structure of the course was divided into a series of nine Wednesday evening seminars and six Saturday field seminars (the students could pick and choose a variety of combinations to cover the required course hours).
Talking the talk
The course was designed to expose the students to high-impact practitioners who can speak about pressing cross-border issues in first person. The TBI team worked to provide relevant context and data to set the stage for our guest speakers and to relate their work to the central themes explored in the course. But, throughout the program we kept the premium on first-person testimonials. Our students engaged with practitioners who could explain their experiences and work in the cross-border region in their own words. And our guest speakers delivered.
Border Patrol Chief Rick Barlow got us off to a poignant start. He explained what it was like to patrol the San Diego-Tijuana border before there was a fence, back in the 1980s. He planted a vivid image in our minds of hundreds of people gathering at sunset on the Imperial Beach Levy, waiting for darkness to rush across. The point was not to resolve a complex issue through a personal anecdote, but rather to highlight its complexity, and the humanity of all involved. Chief Barlow also admitted that the fortification of urban border crossings in the 1990s pushed migrants into more remote and treacherous areas, leading to thousands of deaths, and he spoke eloquently of the emerging humanitarian role that Border Patrol agents assumed in eastern California and Arizona as a result.
Tijuana Innovadora funder José Galicot showed us the power of positive thinking in an unconventional context. After suffering through an extreme bout of violence that destroyed much of Tijuana's tourist industry by 2009, he and other cross-border leaders decided to create a platform for reviving Tijuana, driven by civil society and the private sector, rather than the two governments. The more that they explored the data, the more they came to realize that Tijuana's problem was as much about its image and self-esteem as it was about any underlying structural defects. Tijuana Innovadora was born as a forum to showcase Tijuana's dynamic economy, educated and passionate population, thriving creative and artistic industries, and to catalyze a new generation of cross-border entrepreneurs, artists, engineers proud of their Tijuana roots.
Other highlights of the seminar include UC Irvine professor Leo Chavez's careful examination of the gap between the empirical reality of Mexican migrants' contribution to U.S. economy and society and it's media caricature; retired California Department of Justice official Steve Duncan's boisterous re-telling of the takedown of the Arrellano Félix (Tijuana) Drug Cartel, and its many cross-border connections; former State Senator Denise Ducheny's personal reflections on the complex politics of building new border crossings and other shared infrastructure; attorney Pepe Larroque's account of the building of the Smart Border Coalition, and the personal relationships and collaborative ethos that get things done in the cross-border environment, without the need for litigation, legislation, or other onerous and conflictive processes; David Peguero's story of the creation of Tijuana's first hub for start-ups and the need for spaces that encourage collaboration and experimentation; Miguel Marshal's social innovation experiments and successful redevelopment of Estación Federal, a mixed use space immediately adjacent to the border crossing where social and entrepreneurial goals are mutually interdependent; USD professor Daniel López Pérez's sweeping and brilliant review of the defining challenges of modern architecture and housing, and how they apply to Tijuana-San Diego; and Kristen Goodrich's thoughtful, data-driven exploration of the Tijuana River Valley Natural Estuarine Research Reserve and it's interdependence with Tijuana, and marginal hillside neighborhood like Canyón de los Laureles, in particular.
We ended with three guests who all emphasized the unique energy of the Tijuana-San Diego relationship in the culinary sphere. While enjoying some of Tijuana's finest craft beer, we heard Chef Melissa Mayer describe how she continues to draw spiritual nourishment from the energy found in the Baja culinary scene. For his part, entrepreneur and Telefónica Gastro-Park founder Antonio Gamboa underscored how San Diego as a good neighbor, observing the cross-border supportiveness of both restaurant industry professionals and consumers. Striking a similar note, Insurgente Brewing co-founder Damian Morales declared that "I just can't imagine myself without both cities."
Walking the walk
The field seminars were designed to allow our students to experiences some of the physical spaces that define the border and the relationships it shapes. Sitting in the front room of the Hotel del Migrante shelter in Playas de Tijuana, we were confronted with the contradictory reality of the border as a sensory experience. We spoke to a young man from El Salvador who had just braved a six-week journey riding freight trains and trudging through remote areas on his way to the U.S. border. As he related crippling fear, hunger, and cold, the Pacific Ocean gently rolled behind us, and beachgoers dodged the incoming waves and strolled down the malecón. As he told us about the deep bonds of friendship and solidarity he had formed with the other young migrants he met on his journey, and even sang us a song he had composed to keep their spirits up, the border fence loomed in the background, its rusted and graffiti-laden grill jutting out into the ocean about fifty yards behind us. Powerful stuff.
On the Mexican side of the border, we visited a number of business and cultural institutions at the forefront of Tijuana's urban renaissance. Founder Jorge Gracia and the staff at the Escuela Libre de Arquitectura showcased a new generation of Tijuana architects and designers who have developed a unique aesthetic and social vision that echoes from the physical space of the school itself (a revived space in the middle of what used to be a red-light district), through their models and completed projects around the world, all of which combine modern Mexican design with a preservationist mindset. An unbridled passion and enthusiasm for Tijuana's creative culture and potential coursed through our visit to the Pasaje Rodríguez, OneBunk Tijuana, the Centro Cultural Tijuana (CECUT), Cine Tonalá, and the Arte Contemporáneo 206 gallery. Artists, architects, chefs, brewers, entrepreneurs, and real estate developers returned time and again to the same theme – Tijuana is an incredibly dynamic place, where anything is possible, and "success" is defined by the social and cultural value one creates, more than by the profitability or scale of a particular project. And, it's not just for hipsters or the upwardly mobile. We also visited a call center that employs hundreds of recently deported people, many of whom grew up in the United States. Jorge Oros, Vice President of Call Center Services International, gave us a terrific overview of the business and the unique challenges and opportunities facing this particular new population in Tijuana.
On this side of the border, we visited a series of places that exemplify both the creativity and uneven access to cross-border resources that shape our regional society. At the Cross-Border Xpress – the new U.S.-based terminal and bridge to the Tijuana Airport – we heard an amazing story of how a group of private interests in the U.S. and Mexico built a bridge across the border at the same time that our political discourse towards Mexico hardened, and "build that wall" became the clarion call of a social movement and a successful presidential campaign. At the San Ysidro Port of Entry, the busiest land border crossing in the world, watch commanders Delgado and Kapcynski gave us an incredible tour of the new Customs and Border Protection facility there, showing us the command center and walking us through the challenges of a typical shift, and even taking us to their narcotics lab, where they showed our students a vehicle captured that morning with a large load of illegal drugs hidden in a compartment underneath he rear seats. We couldn't have asked for a more illustrative or up-close window on law enforcement at the port of entry. At Friendship Park, in the space between the two layers of border fencing, we met with other Border Patrol Agents, and then had lunch with three inspiring and impressive local advocates for the rights of immigrants and refugees: Enrique Morones of the Border Angels, Jesse Imbriano of Casa Cornelia Law Center, and Esmeralda Flores of the ACLU (who was also a student in the certificate program). While all three of them are excellent speakers and would've been great in the classroom, there's something special about having these conversations in view of the border, at this unique physical space and juncture.
The final U.S.-based field seminar took place in Barrio Logan, and it was less about the border or contemporary cross-border relationships than about the historical context that frames it, and the way in which the kinds of rapid development happening in Tijuana right now unfold over a longer sweep of history, especially in an environment of social exclusion and injustice. We began with a masterful tour of Chicano Park, led by USD professor Alberto Pulido, who has spent more than a decade working to document, protect this unique space, and preserve the memory of the social struggle that made it possible from the pressures on ongoing urban development and gentrification. We followed up this tour with lunch and a panel discussion of gentrification at Border X Brewing, with co-founder David Favela, artist Anna Stump, and SD City-Council candidate Christian Ramírez.
On the whole, the Trans-Border Opportunities Certificate Program was an amazing experience for us at TBI, and we learned a ton, both from our various hosts and guests, and from terrific and diverse group of students. This kind of experiential learning and collaboration is at the core of what we do, and we will continue to explore the opportunities of our unique and vibrant cross-border region.
Stay tuned for further information on the program, including the next version.