Listen to Our Faculty Podcasts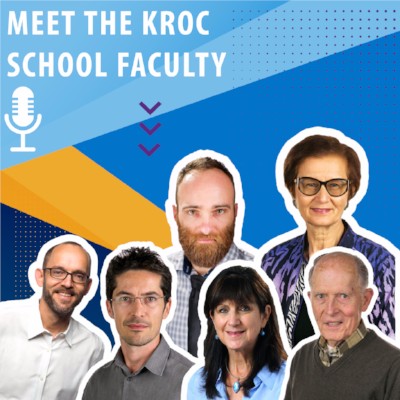 What do a Harvard-trained lawyer, Catholic priest, political sociologist, social entrepreneur, published economist and renowned peacebuilder have in common? They are all faculty at the Kroc School. Meet our community of life-long learners focused on world-changing research, immersive training and developing individuals' skills for positive social impact. Discover how we put theory to action with a profound attention to the context and lived experiences of those affected by violence and injustice. Our faculty are original thinkers, moral imagineers and social innovators who are shaping a better world for us all. Are you ready to join us in your changemaking adventure?
Listen as Dana Chavarria, an alumnus from our MA in Peace and Justice program, interviews Kroc faculty members in these 15 to 30-minute podcasts. Find out what inspired Professor McDougal to become an agent for positive social change, what Professor Choi-Fitzpatrick would have done had he not decided to go into academia, what Professor Tschirgi thinks about her greatest failure and more.