Why Does The World Need Social Innovation? Did You Know There's A Degree For That?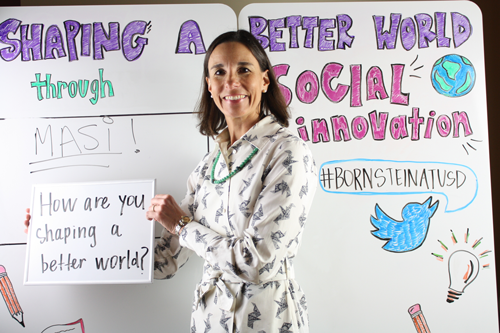 begin quote

Limiting ourselves to broken models, working in silos and persisting with "can't do" attitudes are no longer viable. We must think and respond differently.
The Peace and Collaborative Development Network (PCDN) is the go-to hub for the global change making community and recently they discussed our Masters in Social Innovation and why the world needs social innovation on their blog.
By Amit Kakkad, Center for Peace and Commerce Director
Why does the world need social innovation?
The world is undergoing a fundamental transformation, those who are focused on finding lasting solutions for the world's most pressing and intractable social and environmental challenges are still trying to leverage the existing (and nearly obsolete) structures, policies, and business models. Real power has already shifted from feudalism to nation states to multinational corporations, and a sharing economy is slowly emerging as the new dominant paradigm around the world. Social innovation, including the mindset, tools, collaborations and attitudes that create novel solutions to social problems in ways that are more effective, efficient, sustainable, or just than current solutions, is our way forward. Limiting ourselves to broken models, working in silos and persisting with "can't do" attitudes are no longer viable. We must think and respond differently.
How can this degree help individuals contribute to the need for social innovation?
The traditional boundaries between state (public agencies), market (private firms), and community is becoming blurry, and the established divide between formal and informal sector, for-profit and non-profit firms, and public vs private enterprises is slowly disappearing. Those who want to drive positive social impact now must learn to engage across the entire spectrum of entities to create sustainable solutions that not only have the potential to address the chronic challenges, but also have a strong buy-in across the board. The MASI at Kroc School at the University of San Diego provides an optimal balance of sound strategies and frameworks along with hands-on learning experiences that focus on mapping existing social issues, developing empathy for the affected communities, creating, testing, and refining sustainable solutions that can address these challenges, and creating powerful coalitions that can drive the wide-scale implementation of the developed solutions.
What is the unique value proposition of having a MASI rooted in a Peace School?
Unlike commercial innovations that focus on creating a primarily financial benefit for a private group, social innovations aim to create value for the wider community. This focus on the wider community benefit is in the DNA of the Kroc School of Peace Studies at USD, which has prepared aspiring peacemakers since 1998 through hands-on and action-oriented degree and non-degree programs. In addition, the Kroc School works closely with other academic units across USD campus (such as the Business School, School of Leadership and Education Sciences, and the School of Law, among others) to provide MASI students unparalleled access to knowledge and experience across multiple domains necessary for successfully driving social innovations across sectors, industries, and geographies.
What is the significance of offering this degree at an Ashoka U Changemaker Campus?
Ashoka Changemakers rapidly accelerates the impact of social innovators' work on critical social issues by building and nurturing networks of these leading changemakers. A changemaker campus since 2011, USD is a longstanding part of a worldwide network of entities across economies, sectors, and regions around the world that are actively pursuing positive social impact. For MASI participants, this translates into opportunities to partner with students and faculty members across multiple academic units across USD, a wide selection of impactful events, initiatives, and competitions at USD and globally, and strong connections to the global ecosystem supporting social innovation and positive social impact initiatives.
The MASI at the Kroc School also benefits from complete access to various interdisciplinary centers and institutes at USD that actively promote and support social innovation. For example, the CPC encourages students to develop and exercise innovative approaches for making a positive impact on the 4 Ps– people, planet, profit and peace. The Mulvaney Center for Community, Awareness and Social Action prepares USD students to serve with compassion, foster peace, and work for justice, through ethical conduct and compassionate service. At the Joan B. Kroc Institute for Peace and Justice, students and staff move beyond theory to address complex challenges in the field. Collectively, these centers and their expertise, initiatives, and connections add to the depth and breadth of enrichment offered by the MASI program to its participants.
To learn more about the Master of Arts in Social Innovation please check outhttp://www.sandiego.edu/peace/programs/social-innovation/. If you would like to learn more about the Center for Peace and Commerce please visithttp://www.sandiego.edu/cpc/