Subscribe to our Newsletter
Sign up for Kroc School News and Events
Join nearly 10,000 Changemakers when you subscribe to the Kroc School's monthly e-newsletters. Subscribe
TBI Director Ev Meade Discusses Cross-Border Relations on "Politically Speaking"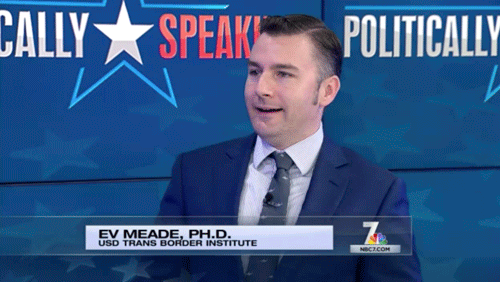 This week, leaders from the U.S. and Mexico met face-to-face to promote the Cali-Baja region. San Diego Mayor Faulconer talked about a deal he made with Tijuana's former Mayor to strengthen infrastructure on both sides of the border. He said he plans to make a similar agreement with Tijuana's new mayor. Neither Mayor even mentioned President Trump, nor talk specifically about NAFTA or free trade, but you hear the undertones that the national conversation is on their minds right now. NBC 7's Greg Bledsoe speaks with Ev Meade from the Trans Border Institute about the future of cross-border relations.
In particular, they discussed the complexity of the supply chain on the border and the importance of considering what trade was like before NAFTA. Some 60% of NAFTA imports are components for U.S. manufacturing, many of which cross the border multiple times before a product is complete. Any increase in import duties would thus hurt U.S. manufacturing. The same goes for duties the other way. Before NAFTA, Mexico's tariffs on U.S. good were more than twice as high on average than U.S. duties on Mexican goods, and involved a great deal of red tape. A return to this reality would be bad for business to say the least.
Watch video here
Original Source: NBC San Diego. Published 02/12/2017