Subscribe to our Newsletter
Sign up for Kroc School News and Events
Join nearly 10,000 Changemakers when you subscribe to the Kroc School's monthly e-newsletters.
Subscribe
Mexico Journalist Covers Empathy Amid Country's Violence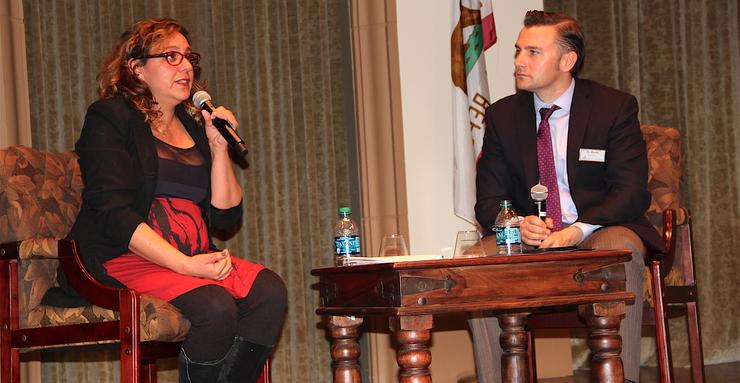 Marcela Turati spent March 8, which was International Women's Day, talking with two different University of San Diego audiences about a sobering reality — the horrific drug war and corruption-influenced violence that has been happening in Mexico for several years.
"For me it is difficult to talk about this because I'm supposed to report on this, to be invisible and to not be in front, but I think the circumstances of what's happening in Mexico is pushing people like me to speak about it," Turati said.
Turati was the featured speaker for the 13th annual International Women's Day Breakfast hosted by the Joan B. Kroc School of Peace Studies (KSPS) and, in the evening, the 20th annual Sister Sally Furay Lecture put on by KSPS' Trans-Border Institute. Her talks differed slightly, but both reflected on her work as a journalist covering the effects of the violence in her native country. More than 100,000 have been killed, more than 26,000 people are unaccounted for through forced disappearances, and thousands more have been displaced. More than 100 journalists in Mexico and Central America, including some of Turati's acquaintances, are among the statistics.
Turati is one of the leading investigative reporters in Mexico. She's a correspondent for Proceso, a weekly news publication based in Mexico City, and is founder of Periodistas de a Pie (Journalists Standing Up for Themselves), which is a collaborative that advocates for transparency and accountability. She's received many awards for her commitment to her work. Her advocacy has put pressure on the Mexican government to take new measures to protect journalists, has raised the profile of vulnerable local journalists and activists and has brought a global spotlight on the suppression of the freedom of expression in Mexico.
Reporting on the Victims, Survivors
It was after the escalation of violence in Mexico in 2006 that Turati became one of the first reporters to stop the "ejecutometro" type reporting that focused mainly on the growing body count.
"Ciudad Juarez was becoming the national factory of death, and the newspapers kept a running daily tally known as 'el ejecutometro,' or the kill-o-meter, which tracked the daily number of cadavers as if they were goals in a soccer match," Turati said during her morning talk.
As she became more entrenched in writing about what was happening, she turned her attention to reporting on the individual violence victims' families and survivors. She sought to tell stories, many of which were often about wives and mothers of the missing, about the struggle they endured along with a resiliency to seek answers.
Turati spoke about witnessing the work of these courageous women firsthand: "Disappearances reached such an epidemic level that every tenth of May, the day we celebrate mothers, they organize a march in Mexico City that requests, requires, demands that they be returned those who should be celebrating them."
"I became a collector of female voices," she continued. "My notebooks, like music boxes, were filled with the voices of women, victims who suffered the weight of the violence, or rebelled against the state, or rescued the tragedy. All of them, protagonists."
Turati's life forever changed as a journalist. Devoting her time to the empathy side of the story was critical. It fueled her passion to provide not only the story of everyday victims of violence, but also to advocate for fellow journalists and to be part of a resourceful network that stands its ground against those who want their work and their words silenced.
"People often ask me about the choices I've made focusing on the victims of violence, including journalists," she said at the evening lecture. "I don't chose to cover a war. The war took over my country and I became a war correspondent without at first knowing it. Many other journalists made the same choice. What I and other journalists know is that whatever the circumstances, we need to go on reporting and we need to find better ways to use journalists to witness and record the impact of violence, to hold the powerful accountable, and to affect change. This is the most important lesson I have learned in my almost two decades as a journalist."
Mexico's Violence and U.S. Impact
Turati spoke, too, about how the violence in Mexico affects the United States. She cited reports indicating that drug cartels are present in more than 200 American cities "and keeps growing." She urged the Furay Lecture audience to push American media members to write about Mexico policies that cost people their lives and forces journalists, and others, into exile. Many of those forced to leave Mexico are in the U.S. and are among a growing number of people who've sought asylum. Turati also advocated for the U.S. Government to cease aid to Mexico "conditioned to human rights-set rules."
"We in Mexico know that the only thing that makes our government respond is international criticism," Turati said.
— Ryan T. Blystone
Be sure to visit and learn about the Trans-Border Institute's Freedom of Expression Project, which aims to protect local journalists in Mexico by showcasing their work and struggles to a broad English Language-speaking audience. Also, a book, which is connected to the project, is a partnership between TBI and Nuestra Aparente Rendicion, called "Voices from the Other War: The Struggle to Report the Truth in Mexico."