Subscribe to our Newsletter
Sign up for Kroc School News and Events
Join nearly 10,000 Changemakers when you subscribe to the Kroc School's monthly e-newsletters. Subscribe
Toreros Abroad: Researching and Learning Across the Border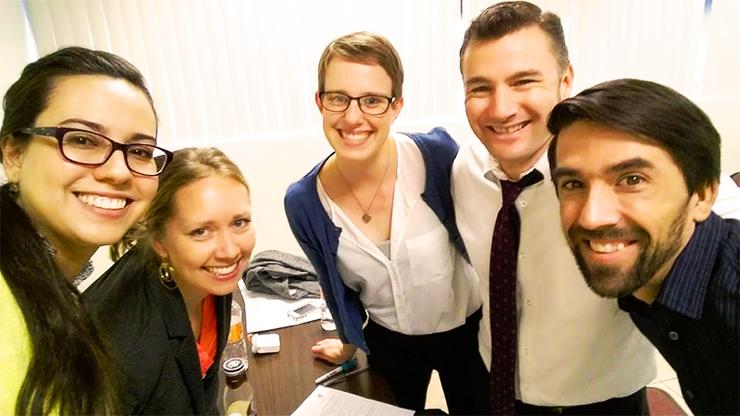 Kaitlin Meyer is currently a senior at the University of San Diego. Majoring in Political Science with a minor in Peace and Justice Studies, Meyer has been an active member of the USD community through the Honors Program, Phi Beta Kappa, USD Habitat for Humanity, as well as interning with both the Women Peacemakers Program and the Trans-Border Institute. The following reflection is Meyer's reaction to her December 4-5 trip to Mexicali as a part of Dr. Everard Meade's peacebuilding seminars in Mexico. This is her second installment.
A Shared Existence
"Without the Colorado River, we would not be here."
This proclamation, made by a local historian in Mexicali, was thought-provoking, showing how intricately our lives are tied to the world around us — our humanity combined in a shared existence.
On December 4, I found myself again crossing the United States/Mexico border into Mexicali. The anxiety and nervousness I had felt during the first trip was replaced with anticipation and excitement. I was returning to a place I had already been, to visit people who, in November, had gone out of their way to welcome me into their community, and I was once again able to immerse myself into Mexicali life.
The trip began early in the morning, with us leaving the University of San Diego campus before classes had started. We found ourselves making good time through the California desert. Though not new to me, the desert seemed just as unique, imposing, and mystical as it had a month before.
Historical Connection
We crossed into Mexico around 11 a.m. and made our way to Casa de la Cultura de Mexicali, the city's cultural center. Describing the interconnectedness of Mexicali life, local historians referenced the community's connection to nature and the border. The cultural center, a former school built in the early twentieth century, was filled with history. Its walls were covered in pieces of original artwork, photographs of early Mexicali, and land maps of the surrounding area.
One photograph, in particular, was fascinating. It was a panoramic image of the border in 1911. The border, a thin line flanked by Mexicali and Calexico on either side, seemed small and unimposing compared to today's border. Remarkable though, was that these two cities, although still separated by a larger border, have survived because of each other's existence; a mutually beneficial link, even though they are separated by a physical divide.
Community Immersion
This seminar, the last of the three in Mexicali, was again held at the Instituto de la Judicatura, the training branch of the Baja judiciary. This seminar was centered on the idea that understanding history is a means to create sustainable peace, to recognize human rights, and to construct an active citizenry.
Another focus of the seminar was on the corruption survey, which we had administered during our November visit to Mexicali. This time we conducted community surveys, which we did while exploring local museums and the Mexicali zoo and interacting with members of the public.
A New Path
As I was walking through the city, interviewing members of the public, and interacting with local leaders, I was inspired. Seeing the Trans-Border Institute's direct impact on the community is an indescribable experience. USD and its emphasis on the Changemaker identity and a social justice commitment were evident in all aspects of the trip. The influence of these pillars within my Mexicali trip has further reinforced my love for the Trans-Border Institute. This organization has given me a multifaceted education pertaining to social activism, allowing me to see the intricacies of research and the tangible impact of community involvement and interaction.
I'm a USD senior and am constantly reminded that in a semester I need to have an answer to the question, "What do you want to do after graduation?" That is why experiences like working at the Trans-Border Institute and attending the seminar are so impactful. They have grounded me in my education, reinforced the passion I feel for human rights, social justice, and peacebuilding, and have encouraged me to pursue a career focused on immigration and the fulfillment of human rights.
A New Home
It is difficult to compare both of my seminar experiences. I was in the same city, at the same institute, and working with some of the same people. Yet, both seminars were vastly different in their impact on me. The November seminar was an introduction to Mexicali, an immersion into a different realm of community involvement, and a step outside my comfort zone. This time, I was seeing Mexicali as it really was, learning the identity of this border city, and connecting with diverse members of its society.
Driving around Mexicali and seeing its true character, I felt happy. I was content and at peace, knowing I had found an avenue for my passion. This trip reinforced my belief in the power of societal interconnectedness. I was able to interact with people, in the community and in the seminars, with both being transformational opportunities.
Crossing the border back into the U.S. was bittersweet. I fully realized that this time I had opened my heart and my mind to Mexicali and had left part of myself there. The thought of finishing up the seminars was exciting and sad. I'd enjoyed the immersion and the opportunity, and even though I plan on continuing with TBI's seminars in Mexico, I wonder when I will be able to visit Mexicali again.
Even though I have returned to San Diego, I am reminded of what the hotel concierge said to me before I left Mexicali.
"Mexicali is now your home too."
— Kaitlin Meyer '16
Map
5998 Alcalá Park
San Diego, CA 92110