USD School of Law to be Honored with an International Tribute Award
USD School of Law to be Honored with an International Tribute Award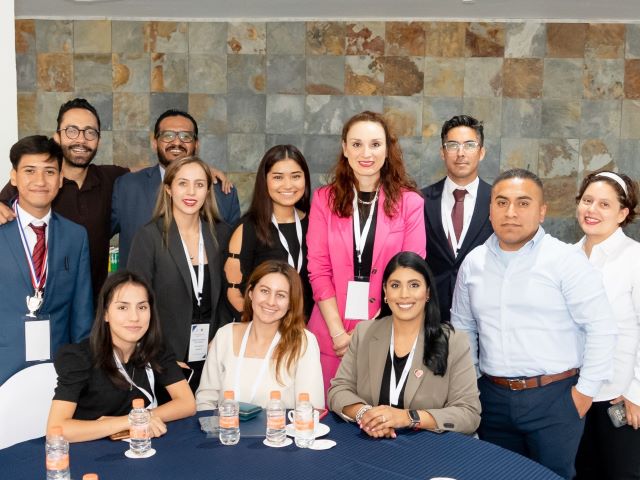 SAN DIEGO (November 16, 2023) – The University of San Diego (USD) School of Law is being honored by the San Diego Regional Chamber of Commerce with the 2023 Cross-Border Collaboration Award. This award honors individuals and businesses who have made a substantial contribution to the binational initiatives bridging the U.S. and Mexican economies.
In 2023, USD School of Law received nearly $3 million in grant funding from the U.S. Department of State through its Bureau of International Narcotics and Law Enforcement Affair to train Mexican law professors and students on effective trial and mediation skills with a goal of preparing the next generation of Mexican lawyers and prosecutors for a successful career in criminal justice. This grant offers an opportunity to share the School of Law's legal expertise with our neighbors in Mexico, helping to prepare lawyers with the experience and tools they need to continue to provide the highest level of service to their communities in a rapidly evolving legal environment.
With the grant, USD School of Law – led by Dean and C. Hugh Friedman Professor of Law Robert Schapiro – took on a tremendous opportunity to improve the justice system in Mexico through advanced legal education and hands-on advocacy training. The program serves as an important example to continue advancing the university's mission of contributing towards humanity's urgent challenges and working for justice not just in San Diego, but also on the other side of the border.
As a global institution located in a gateway to Latin America, USD School of Law is always looking for ways to strengthen partnerships with local and cross border communities. We are very fortunate to have assembled a team of individuals who understands the challenges and necessities of the legal community south of the border led by two very talented academics:
Dr. Karen Sigmond

, Senior Director of Graduate, International and Certificate Programs of USD Law who is an experienced law professor with binational roots and a comprehensive knowledge of the United States and Mexico's legal systems.

Professor Justin Brooks

, the founding director of the California Innocence Project who brings to USD an extraordinary passion for justice and the rule of law, and he has achieved remarkable success in advancing criminal justice reform both in the United States and around the world.
The annual International Tribute Awards will be held Wednesday, December 13, 2023 from 5-7:30 p.m. at the Mingei International Museum in Balboa Park. Attendees will have the opportunity to network with leaders from both sides of the border. Registration is now open.
About the University of San Diego School of Law
Each year, USD educates approximately 800 Juris Doctor and graduate law students from throughout the United States and around the world. The law school is best known for its offerings in the areas of business and corporate law, constitutional law, intellectual property, international and comparative law, public interest law and taxation.
USD School of Law is one of the 84 law schools elected to the Order of the Coif, a national honor society for law school graduates. The law school's faculty is a strong group of outstanding scholars and teachers with national and international reputations and currently ranks 30th nationally among U.S. law faculties in scholarly impact and 41st nationally in past-year faculty downloads on the Social Sciences Research Network (SSRN). The school is accredited by the American Bar Association and is a member of the Association of American Law Schools. Founded in 1954, the law school is part of the University of San Diego, a private, independent, Roman Catholic university chartered in 1949.