Professor of Law Laurence Claus Elected to The American Law Institute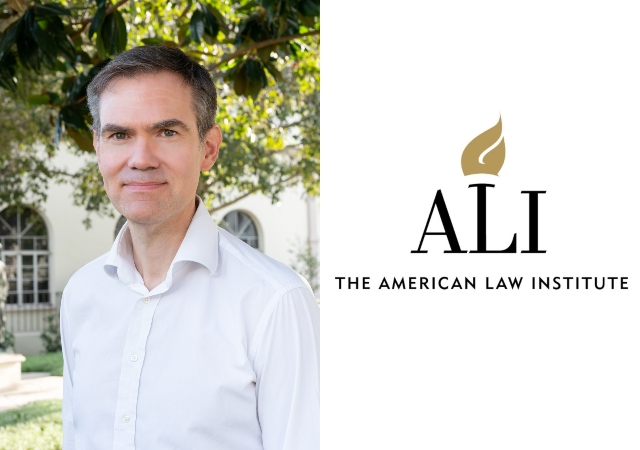 SAN DIEGO (July 29, 2022) – University of San Diego (USD) School of Law Professor of Law Laurence Claus, was recently elected to The American Law Institute. He is the seventh USD School of Law Professor to be elected to the Institute.
The American Law Institute (ALI), founded in 1923, is the leading independent organization in the United States producing scholarly work to clarify, modernize, and otherwise improve the law. ALI and its members continually work on a range of legal projects and releases a yearly report detailing the legal innovation the Institute has discovered. ALI research is regularly cited in congressional proposals and Supreme Court Cases.
Other USD School of Law faculty members to have been inducted to ALI include Dean and C. Hugh Friedman Professor of Law Robert Schapiro, Warren Distinguished Professor of Law Roy Brooks, Warren Distinguished Professor of Law and University Professor Orly Lobel, Professor of Law Herbert Lazerow, Lyle L. Jones Professor of Competition and Innovation Law David McGowan, and Professor of Law Mary Jo Wiggins.
On his election to ALI, Professor Claus said, "For generations, the ALI has contributed invaluably to our law's coherence and dynamism. I am grateful for this opportunity to participate in its future endeavors."
Learn more about the American Law Institute here.
About Professor of Law Laurence Claus
Professor Claus teaches Comparative Constitutional Law, Constitutional Law, Contracts and Animal Law. He writes about public law and legal theory. In recent years, he has consulted for the American Bar Association Rule of Law Initiative on constitutional reform projects in the Middle East and North Africa. USD awarded Claus a University Professorship in 2013-14. He received the Herzog Endowed Scholar Award in 2007 and 2011 and won USD's Thorsnes Prize for Outstanding Legal Scholarship in 2008 and 2013.
About the University of San Diego School of Law
Each year, USD educates approximately 800 Juris Doctor and graduate law students from throughout the United States and around the world. The law school is best known for its offerings in the areas of business and corporate law, constitutional law, intellectual property, international and comparative law, public interest law and taxation.
USD School of Law is one of the 84 law schools elected to the Order of the Coif, a national honor society for law school graduates. The law school's faculty is a strong group of outstanding scholars and teachers with national and international reputations and currently ranks 30th nationally among U.S. law faculties in scholarly impact and 28th nationally in past-year faculty downloads on the Social Sciences Research Network (SSRN). The school is accredited by the American Bar Association and is a member of the Association of American Law Schools. Founded in 1954, the law school is part of the University of San Diego, a private, independent, Roman Catholic university chartered in 1949.