USD School of Law National Trial Team Wins Association of Business Trial Lawyers Championship Competition
National Trial Team Wins Association of Business Trial Lawyers Championship Competition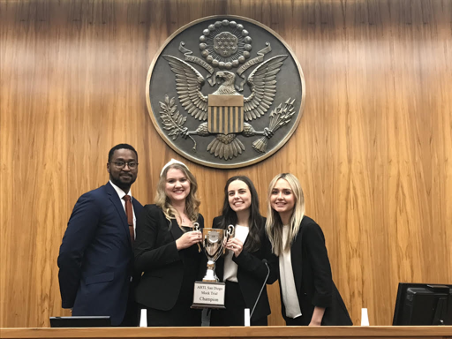 SAN DIEGO (Janurary 12, 2022) - University of San Diego (USD) School of Law's National Trial Team of 3L Carys Davies, 3L Chris Dugan, 2L Madison Henry, and 3L Katie Mefford, recently competed in and won the Association of Business Trial Lawyers (ABTL) mock trial competition. The team was coached by USD School of Law alumna Brittany Boiko ('19). The ABTL competition is an annual business litigation mock trial competition which pits two teams from each San Diego law school against one another in a round-robin style tournament with the top two teams advancing to a final round after the completion of the round robin. Each round was judged by a sitting San Diego Superior Court or Federal Magistrate judge. The Honorable Kenneth J. Medel judged the final round in which USD's team prevailed over a team from Cal Western School of Law.
This year's ABTL competition case was a class action data privacy matter based on a company's use of cookies to track the location and purchase data of its customers. USD's team handled the complex case masterfully. As stated by Frankie DiGiacco, USD National Trial Team Head Coach, "The judges in the final round have watched this tournament for several years and said this was the best round they had ever seen. While [USD's] opponents were excellent at every turn, our team was outstanding! From start to finish, USD's performance was exemplary."
About USD School of Law's National Trial Team
USD's National Trial Team trains students for regional and national mock trial competitions. USD's teams compete in five major tournaments each year, as well as a varying number of other competitions. The National Trial Team program is dedicated to teaching the art of trial advocacy and molding strong future litigators. Members are selected through participation in a spring intramural competition. Each team competing in interscholastic competitions is coached by seasoned attorneys with both mock trial and real-life litigation experience. Competing members can receive academic credit.
About the University of San Diego School of Law
Each year, USD educates approximately 800 Juris Doctor and graduate law students from throughout the United States and around the world. The law school is best known for its offerings in the areas of business and corporate law, constitutional law, intellectual property, international and comparative law, public interest law and taxation.
USD School of Law is one of the 84 law schools elected to the Order of the Coif, a national honor society for law school graduates. The law school's faculty is a strong group of outstanding scholars and teachers with national and international reputations and currently ranks 30th nationally among U.S. law faculties in scholarly impact and 28th nationally in past-year faculty downloads on the Social Sciences Research Network (SSRN). The school is accredited by the American Bar Association and is a member of the Association of American Law Schools. Founded in 1954, the law school is part of the University of San Diego, a private, independent, Roman Catholic university chartered in 1949.