USD School of Law Dean and C. Hugh Friedman Professor of Law Robert A Schapiro Authors Article in Daily Journal
USD School of Law Dean and C. Hugh Friedman Professor of Law Robert A Schapiro Authors Article in Daily Journal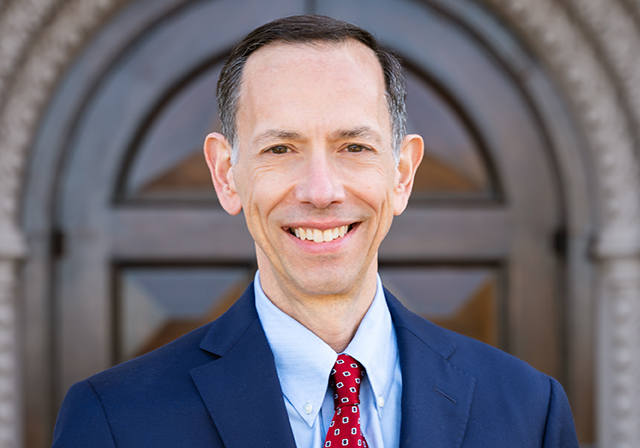 SAN DIEGO (September 13, 2021) – University of San Diego (USD) School of Law Dean and C. Hugh Friedman Professor of Law, Robert A. Schapiro, recently authored the article, "Law Students Return Amid Good News and Challenges" in the Daily Journal. The article cites positive signs for a legal education. It also states that this year's law school entering class was drawn from one of the strongest applicant pools in recent years.
Click here to read the full article.
About Dean and C. Hugh Friedman Professor of Law
Dean Robert A. Schapiro is an internationally recognized scholar of federalism who joined USD School of Law as dean in January 2021. His articles have appeared in the Stanford Law Review, Virginia Law Review, the Cornell Law Review, and the Northwestern University Law Review. He is a former dean of Emory University School of Law and served as the Co-Director of Emory School of Law's Center on Federalism and Intersystemic Governance. A graduate of Yale Law School, Dean Schapiro served as editor-in-chief of the Yale Law Journal and clerked for Judge Pierre N. Leval of the U.S. District Court for the Southern District of New York and for Justice John Paul Stevens of the U.S. Supreme Court. He is a member of the American Law Institute.
About the University of San Diego School of Law
Each year, USD educates approximately 800 Juris Doctor and graduate law students from throughout the United States and around the world. The law school is best known for its offerings in the areas of business and corporate law, constitutional law, intellectual property, international and comparative law, public interest law, and taxation.
USD School of Law is one of the 84 law schools elected to the Order of the Coif, a national honor society for law school graduates. The law school's faculty is a strong group of outstanding scholars and teachers with national and international reputations and currently ranks 30th nationally among U.S. law faculties in scholarly impact and 31st nationally in past-year faculty downloads on the Social Sciences Research Network (SSRN). The school is accredited by the American Bar Association and is a member of the Association of American Law Schools. Founded in 1954, the law school is part of the University of San Diego, a private, independent, Roman Catholic university chartered in 1949.