USD School of Law Hosts Virtual Alumni Insights Panel for Admitted Students
Featuring David Angeloff '10 (JD), Kevin Kwon '12 (JD), and Hailey Williams '13 (BA), '16 (JD)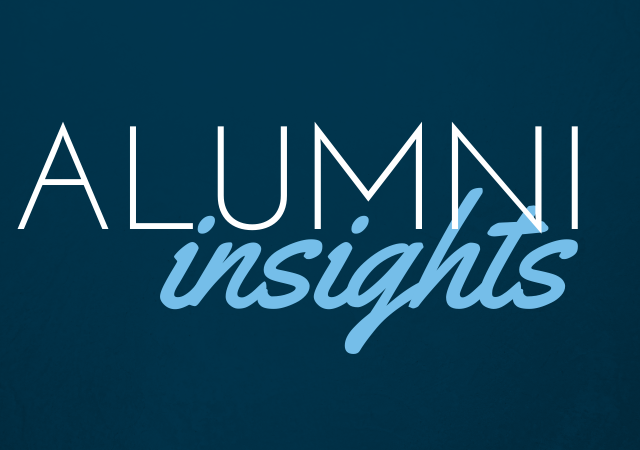 SAN DIEGO (April 14, 2021) – On Friday, April 9, University of San Diego (USD) School of Law alumni David M. Angeloff, '10 (JD), Kevin T. Kwon, '12 (JD), and Hailey M. Williams, '13 (BA), '16 (JD), served on a USD Law Alumni Insights Panel on Charting a Fulfilling Legal Career moderated by Molly T. Wescott, Esq., Assistant Dean for Career and Professional Development (OCPD) with an audience of approximately 35 admitted students.
Angeloff is a trial lawyer at Stalwart Law Group, a plaintiff-side civil and business litigation firm in Los Angeles, practicing in all areas of civil litigation, including personal injury and employment law. A member of the Los Angeles Law Alumni Chapter Board, he shared, "USD does a great job of organizing its alumni. I come across many alumni in practice and some of my most important business colleagues are USD School of Law alumni."
"The relationships you build in school follow you and showing up and getting to know your classmates is important. You build trust that will last a lifetime," said Angeloff.
Angeloff encouraged admittees to "focus like a laser on practical things" and shared that one of his favorite classes was Civil Practicum which modeled owning a civil law firm and learning how to manage a case from beginning to end including mock trial interviews, depositions, litigation skills to prosecute and defend a case from the pleading stage, through discovery and motions, and trial.
Kwon is Associate General Counsel, at Sorrento Therapeutics Inc., a biopharmaceutical company located in San Diego, focused on researching and developing diagnostic tests relating to COVID-19 and therapeutic drugs for the treatment of various diseases including cancer, intractable pain, and COVID-19. As Associate General Counsel, Kwon provides legal recommendations to senior management, assures corporate compliance, drafts and approves contracts for Sorrento and its subsidiaries, and manages outside counsel and ongoing litigation.
Kwon said, "In addition to the USD law alumni network, I found mentors in local Bar associations to help guide my career choices and I now try to give back as much as possible, working with current students and providing guidance on their paths."
Williams is a Deputy District Attorney in the San Diego County District Attorney and currently works in the general felony trial unit at the San Diego central courthouse. Since graduating, she has returned to coach USD's Moot Court team every year.
When asked about the support of the alumni network, Williams shared, "We take care of our fellow USD law students and alumni to grow and foster our community of USD alumni in government jobs wherever they are geographically."
"USD School of Law is the reason I ended up at the San Diego District Attorney's office. I got the job through USD's On-Campus Interview program after multiple agency interviews also organized by the Office of Career and Professional Development," continued Williams.
Is response to why the panelists choose USD School of Law, they summed it up as follows:
They love both the city and the school
Excellent reputation as an educational institution with diverse programming
Flexibility and access to work anywhere in the country
The panelists also shared the following tips and advice:
Treat law school like a job and leave school at school as much as possible
Get involved in competitive teams such as Mock Trial and Moot Court
Work as a graduate assistant for a professor – the one-on-one experience is invaluable
Go to professors' office hours
Pursue what interests you and not what you think you should do
As a 1L, focus on academics and do your best
In the summer after your 1L year, seek out practical work experience
Be forgiving with yourself and your classmates
Admitted students were encouraged to directly connect with the panelists, the Office of Career and Professional Development, and Alumni Relations, for any further questions they may have.
USD School of Law is looking forward to welcoming the entering Class of 2021!
About the University of San Diego School of Law
Each year, USD educates approximately 800 Juris Doctor and graduate law students from throughout the United States and around the world. The law school is best known for its offerings in the areas of business and corporate law, constitutional law, intellectual property, international and comparative law, public interest law, and taxation.
USD School of Law is one of the 84 law schools elected to the Order of the Coif, a national honor society for law school graduates. The law school's faculty is a strong group of outstanding scholars and teachers with national and international reputations and currently ranks 36th nationally among U.S. law faculties in scholarly impact and 22nd nationally in past-year faculty downloads on the Social Sciences Research
Network (SSRN). The school is accredited by the American Bar Association and is a member of the Association of American Law Schools. Founded in 1954, the law school is part of the University of San Diego, a private, independent, Roman Catholic university chartered in 1949.