USD School of Law Transgender Name and Gender-Marker Change Clinic Reaches 500 Clients Helped Milestone
Transgender Name and Gender-Marker Change Clinic Reaches 500 Clients Helped Milestone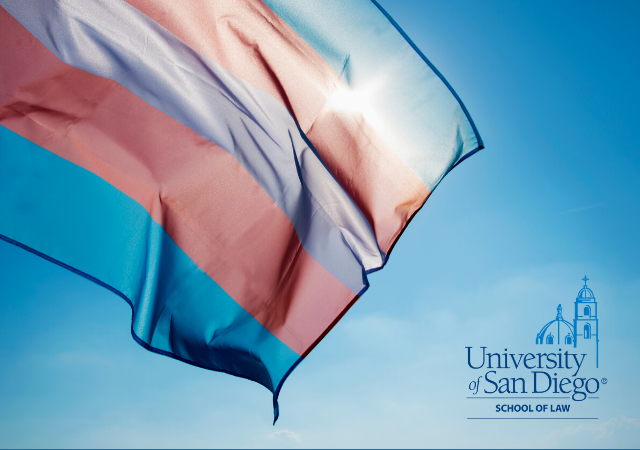 SAN DIEGO (March 18, 2021) – The University of San Diego (USD) School of Law Transgender Name and Gender-Marker Change Clinic recently celebrated assisting their 500th client. The program is a partnership between USD Pride Law and The San Diego LGBT Community Center and provides legal assistance to transgender and nonbinary individuals seeking name and gender-marker changes through the San Diego County court system. USD School of Law students, along with volunteer attorneys, assist eligible clients with completing necessary applications and help those individuals navigate both the name and/or gender-marker change process.
The idea for the program began in 2017 when USD School of Law alumnus Robert Gleason, '98 (JD), was approached by Zackory Burns, then a 2L at University of California, Irvine School of Law (UC Irvine), about volunteering for a transgender clinic in San Diego. Burns had run a transgender legal clinic in Orange County and was seeking a similar volunteer opportunity when he moved back to San Diego. With nothing formally in place despite a clear local need, they set about developing a plan to create a program in San Diego. USD law students quickly jumped on board, and in early 2018, the project was funded by donations. Vice Dean Margaret Dalton was impressed with how quickly USD students and Pride Law embraced the idea. "The students did this all on their own initiative, with support from the law school," she said. "They saw a need and addressed a void by creating partnerships within the community they hoped to serve."
Initially led by Pride Law president Ashley Fasano and USD law student Marie Shimada, along with Pride Law vice president Samantha Greenberg, the Transgender Name and Gender-Marker Change Clinic started by assisting with name change filings. Supervised by volunteer attorneys, many affiliated with the Tom Homann LGBT Law Association (including alumnus Nicholas Fox, '11 (JD), then the association's co-president), the program, then led by USD law student Helen Lockett, added gender-marker filings to its services in 2019. Students also received supplemental training on how to support the individuals they were helping by connecting them with additional services outside of their identified legal needs.
The USD School of Law Transgender Name and Gender-Marker Change Clinic provides law students with valuable experience working on real cases, including the ability to assist with the completion of required court documents and witness quick, positive results from their efforts. Attorney volunteers experience additional gratification by mentoring law students through this process. The program meets with potential clients twice a month, and after a brief pause due to the initial stages of the pandemic, has been helping individuals remotely as of October of 2020.
Attorneys and others interested in volunteering for the program are encouraged to email TransClinic.SanDiego@gmail.com to get involved.
USD LGBTQ+ Resource Guide: sandiego.edu/law/documents/admissions/LGBTQ+%20Resource%20Guide.pdf
About Pride Law
Pride Law at USD School of Law strives for a community that respects and embraces the uniqueness and contributions of every individual. The law student organization provides an opportunity for the sharing of ideas, values, traditions and history of the lesbian, gay, bisexual, transgender and queer (LGBTQIA) communities. With the LGBTQIA community in mind, it seeks to advance understanding of legal issues affecting LGBTQIA individuals and provide networking opportunities for law students in the San Diego community.
About the University of San Diego School of Law
Each year, USD educates approximately 800 Juris Doctor and graduate law students from throughout the United States and around the world. The law school is best known for its offerings in the areas of business and corporate law, constitutional law, intellectual property, international and comparative law, public interest law and taxation.
USD School of Law is one of the 84 law schools elected to the Order of the Coif, a national honor society for law school graduates. The law school's faculty is a strong group of outstanding scholars and teachers with national and international reputations and currently ranks 36th nationally among U.S. law faculties in scholarly impact and 22nd nationally in past-year faculty downloads on the Social Sciences Research Network (SSRN). The school is accredited by the American Bar Association and is a member of the Association of American Law Schools. Founded in 1954, the law school is part of the University of San Diego, a private, independent, Roman Catholic university chartered in 1949.