USD School of Law Presents Bergman Memorial Lecture Featuring Bivens v. Six Unknown Named Agents
USD School of Law Presents Bergman Memorial Lecture Featuring Bivens v. Six Unknown Named Agents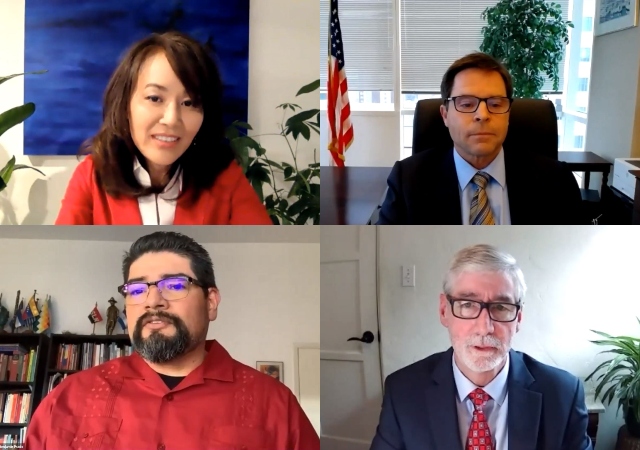 SAN DIEGO (March 16, 2021) – University of San Diego (USD) School of Law recently presented a robust panel discussion featuring the U.S.Supreme Court case Bivens v. Six Unknown Named Agents. Moderated by Julia Yoo, Partner, Iredale & Yoo, APC, and President, National Police Accountability Project, the panelists included Hon. Daniel E. Butcher, Magistrate Judge, U.S. District Court Southern District of California; Michael R. Marrinan, '76, (BA), '79 (JD), Civil Rights Attorney; and Benjamin Prado, American Friends Service Committee and former Bivens plaintiff.
School of Law Dean Robert Schapiro's opening event remarks reminded attendees that this landmark case from fifty years ago is just as relevant today as it was then. Although not mentioned on paper, Webster Bivens was a man of color who had his dignity taken away by law enforcement in front of his family.
The Supreme Court decided Bivens v. Six Unknown Agents for the plaintiff recognizing an implied damages remedy for Constitutional violations by federal officials, despite the absence of a federal statute authorizing such a remedy. The Court observed that when a federal officer wields federal power, "there is no safety for the citizen, except in the protection of the judicial tribunals, for rights which have been invaded by the officers of the government, professing to act in its name. There remains to him but the alternative of resistance, which may amount to crime."
Over the past decade, however, the Supreme Court has substantially limited Bivens' reach, not only through the qualified immunity doctrine but also through pleading standards and other jurisprudential concepts. This narrowing of Bivens' availability as a remedy for police misconduct has coincided with Americans' sharpened focus on such misconduct, widespread protests against law enforcement abuses, and calls to reform policing in America.
School of Law Alumni Carolina Bravo-Karimi, '08 (JD); Jim Crosby, '83 (JD); Kirsten Gallacher, '12 (JD); Knut Johnson, '86 (JD); Alex Landon, '71 (JD); and Katie Parker, '02 (JD) , served on the planning committee, working with the offices of Development and Alumni Relations.
About the Bergman Memorial Lecture on Women, Children and Human Rights
The Jane Ellen Bergman Memorial Lecture Series on Women, Children and Human Rights is the result of a gift from Dr. Barbara Yates, a longtime professor at the University of Illinois and a friend of the late Bergman. Past panelists at this event have included the Hon. Gonzalo P. Curiel and Hon. Cathy Ann Bencivengo, both judges from U.S. District Court for the Southern District of California.
About the University of San Diego School of Law
Each year, USD educates approximately 800 Juris Doctor and graduate law students from throughout the United States and around the world. The law school is best known for its offerings in the areas of business and corporate law, constitutional law, intellectual property, international and comparative law, public interest law and taxation.
USD School of Law is one of the 84 law schools elected to the Order of the Coif, a national honor society for law school graduates. The law school's faculty is a strong group of outstanding scholars and teachers with national and international reputations and currently ranks 36th nationally among U.S. law faculties in scholarly impact and 22nd nationally in past-year faculty downloads on the Social Sciences Research Network (SSRN). The school is accredited by the American Bar Association and is a member of the Association of American Law Schools. Founded in 1954, the law school is part of the University of San Diego, a private, independent, Roman Catholic university chartered in 1949.