Celebrating Student and Alumni Success, Lunar New Year, Black and Women's History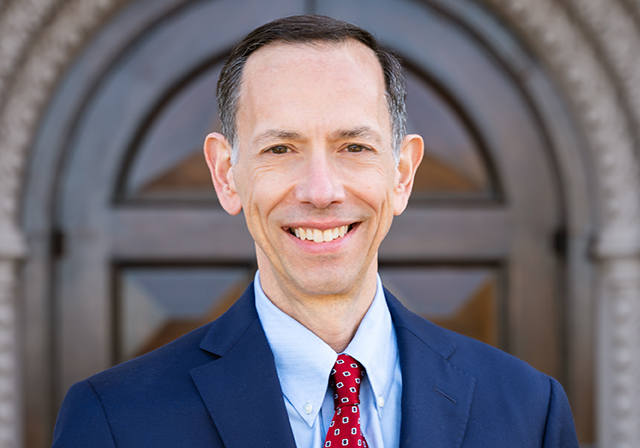 March Dean's Message
Dear USD School of Law Alumni,
The USD School of Law community continues to inspire me. Since being welcomed into Warren Hall three months ago, and even before, I have been privileged to meet with many alumni over Zoom and by phone. You are generous with your counsel, advice, history, and introductions.
Promoting Student and Alumni Success
From my first introduction to the law school, I knew that student and alumni success would be a high priority of my tenure as dean. USD School of Law provides an environment that fosters student success – including supporting the transition to a graduate's first job, while building the foundation for a long and satisfying career. In recognition of this transition, we celebrated our October Bar passers at a virtual Bar Swearing-In Ceremony in February. Bar passers were especially grateful for the participation of San Diego County Superior Court Presiding Judge Lorna Alksne, '92 (JD, and U.S. District Court, Southern District of California Senior Judge and Former Chief Judge Larry Burns, '79 (JD), who administered the state and federal oaths to the graduates.
In keeping with law school efforts to support student success, I asked for your assistance with helping the Class of 2020 in their search for their post-Bar employment, and you answered the call with overwhelming support – thank you! With the California Bar results coming out in January instead of November, graduates had less time to secure employment by March 15 – the deadline for reporting the employment status of our law school's graduates to the American Bar Association (ABA).
I want to extend a special thank you to Law Alumni Board President-Elect Carolina Bravo-Karimi, '08 (JD), for her enthusiasm and steadfast dedication to #HireUSDLaw. Carolina made personal calls to alumni and other members of the legal community to enlist their support, and this outreach directly resulted in our graduates finding jobs. Carolina is a partner at Wilson Turner Kosmo, the largest certified women-owned law firm in San Diego.
Celebrating Lunar New Year
February brought with it the hope and promise of a healthier campus at USD. On-campus vaccinations are making it possible for faculty, staff, and students to feel more comfortable with the notion of returning to in person instruction when guidelines and restrictions allow. In the spirit of Lunar New Year celebrations, here and around the world, marked by Spring Festival observances February 12 - 26, we welcomed the Year of the Ox – symbolizing diligence, persistence, and honesty. I hope the Year of the Ox brings forth good fortune for you and your loved ones.
In this season of celebrating the Lunar New Year, I would like to recognize that the Asian and Pacific Islander (API) community recently has been the focus of hate crimes specific to COVID-19. This violence against Asian Americans comes at a time of an alarming increase in hate crimes in the U.S. With the celebration of Black History Month in February, it was also important to note that anti-Black violence continues to plague our society.
Recognizing the Distinction of Black History
The law school community expressed its support for Black History Month in February when we were honored to feature programming open both to the university community and to the public. The Student Bar Association (SBA) hosted a dynamic event titled, "Injustice, Inequality, and the Legacy of the Baldwin-Buckley Debate on Race in America," which featured Nicholas Buccola, a political scientist and award-winning author of the book, The Fire is Upon Us. This intellectually engaging session included a streaming of the 1965 debate between James Baldwin and William F. Buckley Jr., a conversation with the author, and a virtual social. The discussion explored how the injustices and inequities of our country's complex racial history continue to influence our systems and institutions.
Roy L. Brooks, Warren Distinguished Professor of Law/University Professor, presented "Systemic Racism in Law," as part of the Humanities Center's Baked In: Systemic Racism Around and Within Us Series. I invite you to watch Professor Brook's presentation.
I would like to note that alumni joined in our diversity efforts by helping USD School of Law to establish the Advancing Black Leadership and Scholarship in the Law Fund on June 19, 2020. The establishment of this scholarship effort coincided with the 155th anniversary of Juneteenth – the oldest nationally celebrated commemoration of the ending of slavery in the United States. Law students who have demonstrated leadership in fighting against racism, racial injustice, and prejudice and in promoting equal access to justice and education, especially for Black communities, are eligible to receive this scholarship.
Reflecting on Women's History at USD
In March, we welcomed Women's History Month. Reflecting on our own history, we recall that USD School of Law graduated its first class of seven men in 1958. The following year, the first female graduate, Mary Eleanor Harvey, joined six male graduates at our second commencement. In Fall 1959, the law school added a full-time day program; it was only then, four years after Mary Harvey entered law school, that the second woman matriculated, Betty Evans Boone, '64 (JD). By 2020, 55% of USD School of Law students are women. USD School of Law established the Women's Clinic in 2019, serving the family law needs of survivors of human trafficking in matters including domestic violence restraining orders, child custody, and dissolution.
Honoring Women's History month, the Asian Pacific American Law Students Association (APALSA) and the Women's Law Caucus (WLC) co-sponsored a Judicial Panel featuring Judges Selena Dong Epley, Judy Bae, '02 (JD), Jinsook Ohta, Margie Gunthardt Woods, '80 (JD), and Associate Justice Truc T. Do – the first Asian American woman justice to serve on the Fourth District Court of Appeals. The Women's Law Caucus will continue this work by hosting a discussion panel moderated by Professor Miranda McGowan, featuring Former Congresswoman, Lynn Schenk, '70 (JD), and President of San Diego Lawyer's Club, Yahairah Aristy, titled "Progression of Women in the Legal Profession" on the evening of April 9.
An Invitation to Alumni
Moving forward, the Spring Semester is rich in programming, and I invite you to be our guest at the Big Give Bash on April 6. I also hope you will join me in participating in the Big Give on April 7 & 8 – a 36-hour online fundraising campaign to fund key initiatives, strengthen academic programs, and support USD School of Law.
Thank you for so warmly welcoming me into the USD School of Law community and for your dedication to maintaining your connection to your alma mater, our newest alumni, and each other. I invite you to reach out directly to me at any time. I look forward to the day when we can meet in person.
Robert Schapiro
Dean and Professor of Law
University of San Diego School of Law
About the University of San Diego School of Law
Each year, USD educates approximately 800 Juris Doctor and graduate law students from throughout the United States and around the world. The law school is best known for its offerings in the areas of business and corporate law, constitutional law, intellectual property, international and comparative law, public interest law and taxation.
USD School of Law is one of the 84 law schools elected to the Order of the Coif, a national honor society for law school graduates. The law school's faculty is a strong group of outstanding scholars and teachers with national and international reputations and currently ranks 36th nationally among U.S. law faculties in scholarly impact and 22nd nationally in past-year faculty downloads on the Social Sciences Research Network (SSRN). The school is accredited by the American Bar Association and is a member of the Association of American Law Schools. Founded in 1954, the law school is part of the University of San Diego, a private, independent, Roman Catholic university chartered in 1949.