A Determined Trailblazer: Woman of Impact Maddie Orcutt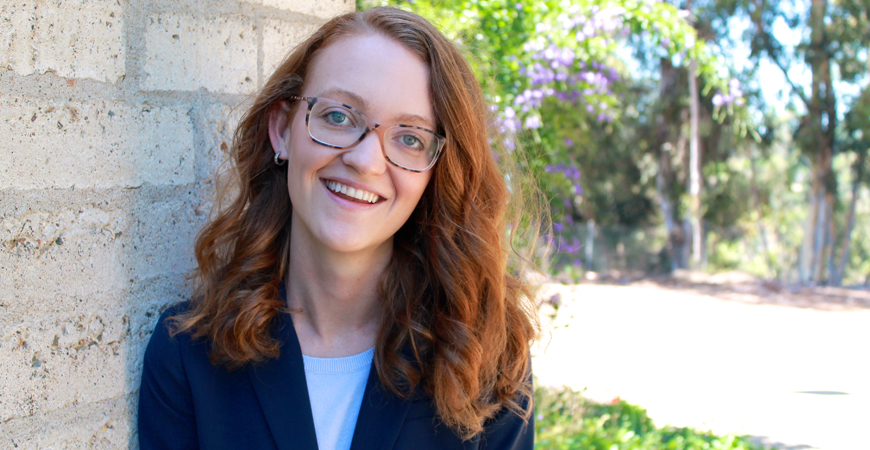 In honor of Women's History Month, the USD News Center will highlight the Women of Impact recipients in a month-long series that shares their stories with the campus community.
A determined problem-solver, Maddie Orcutt '21 (JD candidate) sees her career in the law profession as a way to build relationships. As the 2020 Women of Impact graduate student award recipient, Orcutt was one of five University of San Diego women celebrated in February for contributions to the community.
Honored to be nominated by colleagues in the USD School of Law, Orcutt is quick to share the credit, noting her work is a team effort with contributions from many campus and community partners.
A third-year law student, Orcutt has held numerous leadership positions, including her role as the 2020 president of Pride Law and her involvement on the University Senate and Associated Students Government Joint Taskforce on Campus Climate: Hate Crimes, Acts of Intolerance, Bullying, and Harassment.
Orcutt currently serves as the co-chair of the Name and Gender-Marker Change Clinic. The clinic, which was founded in 2018 by Robert Gleason '98 (JD) and Ashley Fasano '18 (JD), was developed to assist transgender and nonbinary individuals with name and gender-marker changes through the San Diego County court system. Orcutt credits the "strong legacy of leadership at the clinic" for establishing it as the supportive community it has become.
"I inherited this beautiful project," says Orcutt. "It means so much to me. It is my journey in making change at USD."
Before the COVID-19 pandemic, the clinic operated through in-person events. With the transition to a remote environment, Orcutt was tasked with moving a primarily "pen and paper" operation online.
The clinic suspended operations for the spring 2020 semester due to the pandemic, but Orcutt worked diligently with her team to ensure it was up and running by the next school year. "The clinic was going to continue even in the face of the pandemic," says Orcutt.
Adapting training materials and growing her team to assist with the ever-changing environment, Orcutt worked to ensure a virtual clinic still provided clinic participants with a relational experience, one reflective of its mission.
For Orcutt, this experience has reinforced her commitment to a career in the law profession. "Law is a very relational practice and sometimes we forget that," she says. "I'm lucky to have learned the practice of law as the practice of human relationships." Adds Orcutt, "It's life-giving."
As this woman of impact looks ahead to new opportunities, it's clear a commitment to social justice and community relationships will continue to drive her work.
"[I'm] using my career to make a difference, one way or another."
— Allyson Meyer '16 (BA), '21 (MBA)