USD Alumna Erin Bosman '94 (BBA), '99 (JD) Joins Class Action Law Forum as Defense Litigation Co-Chair
Erin Bosman '94 (BBA), '99 (JD) Joins Class Action Law Forum as Defense Litigation Co-Chair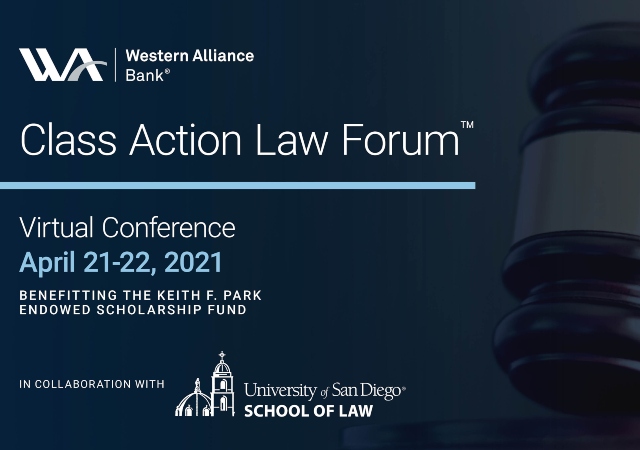 SAN DIEGO (March 3, 2021) – University of San Diego alumna, Erin Bosman, '94 (BBA), '99 (JD), Co-Chair of Morrison & Foerster's Class Actions and Mass Torts Practice Group and founder and Co-Head of the Artificial Intelligence Group, recently joined the impressive team presenting USD's Class Action Law Forum as Co-Chair for Defense Litigation.
Erin Bosman, MoFo Partner and Joshua A. Jessen, '02 (JD), Partner with Gibson, Dunn and Crutcher and member of the firm's Litigation Department practicing in the Privacy, Cybersecurity, and Consumer Protection Group will oversee Defense panels for the conference. David S. Casey, Jr., '74 (JD), and his law partner, Gayle Blatt, of CaseyGerry are leading the Plaintiff's side of the conference. In addition to lending his legal expertise and trial experience to the conference, Mr. Casey is also reaching out to members of the bench and bar to participate in this year's conference. In the past two years, the conference has successfully attracted the attention of an impressive array of federal court judges, leading practitioners, legal scholars and other subject matter experts in an educational discourse and rousing discussion on the most dynamic aspects of this important area of the law. Panelists, from throughout the nation, will be weighing in to share strategy, "lessons learned" and their own experiences litigating in this complex legal area of class action law and multi-district litigation.
USD is proud to be collaborating with Western Alliance Bank Settlement Services in the presentation of the third annual Class Action Law Forum, taking place this year in a virtual format on April 21-22, 2021. Speakers and panelists are keenly interested in exploring the following areas:
Privacy and Data Breach
COVID-19 Litigation and Business Interruption
Multi-District Litigation Trends
Consumer Class Actions
Future of Remote Hearings/Best Practices—A Judicial Roundtable Discussion
Appellate Process
Quick Hit Sessions: Employment, Securities, Antitrust, Round Up Litigation, SCOTUS Decisions
In addition to content-rich panel discussions, the conference has also earned a stellar reputation for the keynote speakers who have been featured, including , Theodore "Ted" J. Boutrous '87 (JD), Partner at Gibson Dunn and Crutcher, LLP—Global Co-Chair of the firm's Litigation Group and previous lead for the firm's Appellate, Crisis Management, Transnational Litigation and Media groups. Kenneth Feinberg, Special Master of the U. S. government's September 11th Victim Compensation Fund. Judge Anthony J. Battaglia, United States District Court for the Southern District of California.
The importance and controversial nature of this area of law cannot be overstated. Michael Devitt, Professor of Law at USD School of Law, Director of Summer Law Programs Abroad, is looking forward to the opportunity to engage with conference presenters and USD students who will be working closely with judicial panelists to produce scholarly detailed articles drawing from the conference topics and discussions. Student papers will be available for review and download following the conference on the law school's website.
Robert A. Schapiro, Dean and Professor of Law at USD School of Law is looking forward to sharing this academic and experiential program in collaboration with Western Alliance Bank, which specializes in banking for attorneys and law firms and settlement distribution agencies and claims administrators. This year's Class Action Law Forum registration fees and sponsorship proceeds will directly benefit student scholarships at USD School of Law, specifically, the Keith F. Park Endowed Scholarship in honor of Keith Park and his family. Keith Farmer Park practiced law with Robbins Geller Rudman & Dowd LLP in San Diego. Park earned an outstanding reputation as a Securities Class Action lawyer while practicing with Robbins Geller. Prior to his death, Mr. Park generously supported student scholars at USD School of Law and his family and friends continue his legacy of support and generosity. It is a distinct privilege to honor Keith Park and the entire Park family through the Class Action Law Forum, annually. For more information about scholarship opportunities at USD School of Law, please contact Debbie Rider, Director of Development at (619) 260-5955 or djrider@sandiego.edu.
About the University of San Diego School of Law
Each year, USD educates approximately 800 Juris Doctor and graduate law students from throughout the United States and around the world. The law school is best known for its offerings in the areas of business and corporate law, constitutional law, intellectual property, international and comparative law, public interest law and taxation.
USD School of Law is one of the 84 law schools elected to the Order of the Coif, a national honor society for law school graduates. The law school's faculty is a strong group of outstanding scholars and teachers with national and international reputations and currently ranks 36th nationally among U.S. law faculties in scholarly impact and 22nd nationally in past-year faculty downloads on the Social Sciences Research Network (SSRN). The school is accredited by the American Bar Association and is a member of the Association of American Law Schools. Founded in 1954, the law school is part of the University of San Diego, a private, independent, Roman Catholic university chartered in 1949.