USD School of Law Students Finish as Semi-Finalists in American Bar Association's 2020-2021 Law Student Tax Challenge
Law Students Finish as Semi-Finalists in American Bar Association's 2020-2021 Law Student Tax Challenge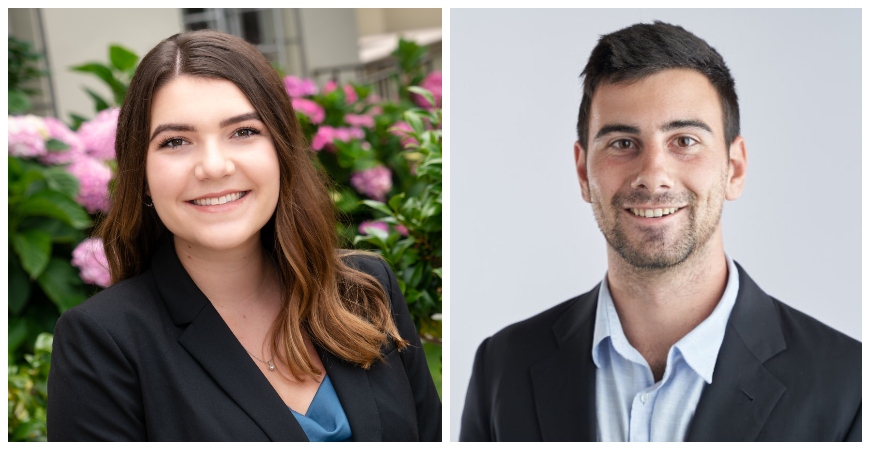 SAN DIEGO (February 8, 2021) – University of San Diego (USD) School of Law students Baylee Beeman, 3L, and Kit Ryan, 3L, recently finished as a semi-finalist team in the American Bar Association (ABA) 2020-2021 Law Student Tax Challenge. This the first time USD School of Law students have advanced this far in the competition, becoming one of only six teams to present their memo orally in the semi-final round. "With 70 teams competing, being chosen to present their memo and varied tax knowledge to the judges is an extraordinary achievement," said Vice Dean Margaret A. Dalton. "This ABA event is an excellent training experience for students hoping to practice in the tax field."
Held virtually this year, the oral round of the competition included expert judges from the IRS and attorneys from top global tax firms. While the memo round polishes written legal skills, the semi-final oral round allows students to take it to the next level by demonstrating how they would inform clients about complex tax liabilities. Said Beeman about this process of explaining complicated tax issues to clients, "It's learning how to frame the issue so a client will understand you."
To learn more about the ABA 2020-2021 Law Student Tax Challenge, please click here.
About the University of San Diego School of Law
Each year, USD educates approximately 800 Juris Doctor and graduate law students from throughout the United States and around the world. The law school is best known for its offerings in the areas of business and corporate law, constitutional law, intellectual property, international and comparative law, public interest law and taxation.
USD School of Law is one of the 84 law schools elected to the Order of the Coif, a national honor society for law school graduates. The law school's faculty is a strong group of outstanding scholars and teachers with national and international reputations and currently ranks 36th nationally among U.S. law faculties in scholarly impact and 22nd nationally in past-year faculty downloads on the Social Sciences Research Network (SSRN). The school is accredited by the American Bar Association and is a member of the Association of American Law Schools. Founded in 1954, the law school is part of the University of San Diego, a private, independent, Roman Catholic university chartered in 1949.