Five USD School of Law Students Receive CEB Awards for Excellence in Legal Research and Writing
Law Students Receive CEB Award for Excellence in Legal Research and Writing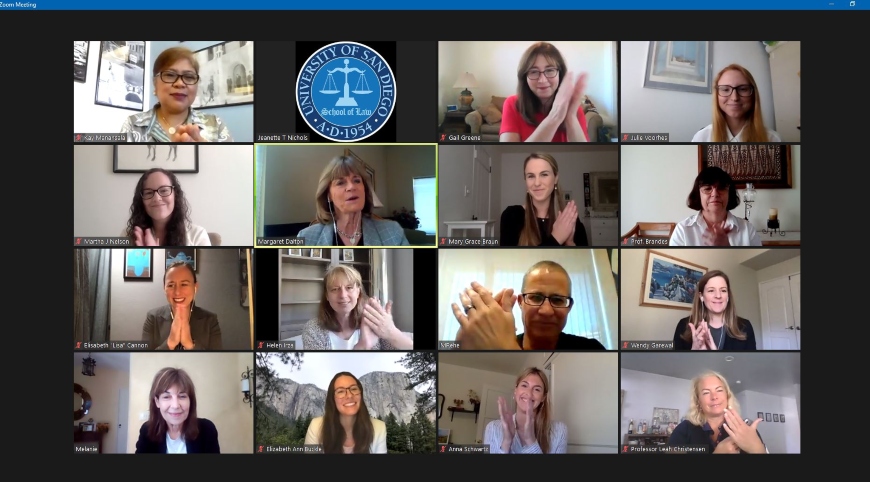 SAN DIEGO (February 5, 2021) – Five University of San Diego (USD) School of Law students received a 2020 Continuing Education of the Bar (CEB®) Award for Excellence in Legal Research and Writing. The award honors USD School of Law 1L students who demonstrate outstanding performance in a written brief. The Spring 2020 brief topic was a Fourth Amendment issue concerning whether deputies had sufficient reasonable suspicion for stopping the defendant after receiving an anonymous online tip. Congratulations to Martha J. Nelson (2L), who won first place; Mary Grace E. Braun (2L) and Julie M. Voorhes (2L), who tied for the second place award; and finalists Elizabeth Buckle (2L) and Anna Schwartz (2L). First and second place awardees receive a financial stipend, and all awardees received a certificate acknowledging their outstanding briefs.
The CEB panel of judges included USD School of law alumni, Helen Irza, '97 (JD), Staff Attorney at Appellate Defenders, along with Melanie Gold, Lead Appellate Attorney at the Court of Appeals and Mark Rehe, Assistant US Attorney.
CEB is a nonprofit program funded by the University of California and the California State Bar created to help returning World War II veterans return to the practice of law. CEB continues its commitment to education, legal research and public service. CEB created this award program 13 years ago to recognize outstanding briefs written by first year students. A ceremony was held on Zoom in November to honor the winners.
About the University of San Diego School of Law
Each year, USD educates approximately 800 Juris Doctor and graduate law students from throughout the United States and around the world. The law school is best known for its offerings in the areas of business and corporate law, constitutional law, intellectual property, international and comparative law, public interest law and taxation.
USD School of Law is one of the 84 law schools elected to the Order of the Coif, a national honor society for law school graduates. The law school's faculty is a strong group of outstanding scholars and teachers with national and international reputations and currently ranks 36th nationally among U.S. law faculties in scholarly impact and 22nd nationally in past-year faculty downloads on the Social Sciences Research Network (SSRN). The school is accredited by the American Bar Association and is a member of the Association of American Law Schools. Founded in 1954, the law school is part of the University of San Diego, a private, independent, Roman Catholic university chartered in 1949.