USD School of Law Presents "The Fire Still Burning" with Author Nicholas Buccola on Feb. 5
USD School of Law Student Bar Association Presents "The Fire Still Burning" with Author Nicholas Buccola on February 5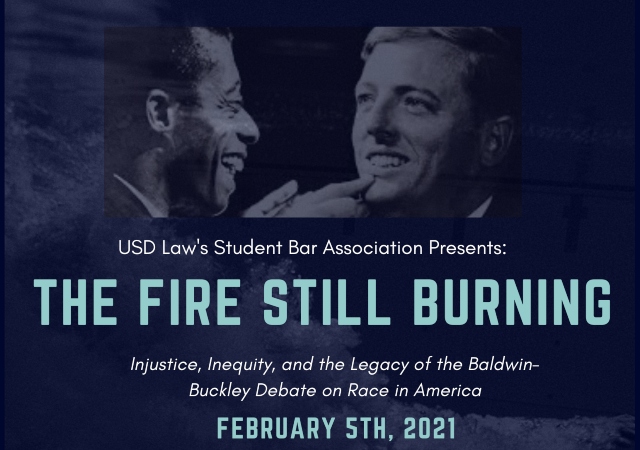 The University of San Diego (USD) School of Law Student Bar Association (SBA) will present "The Fire Still Burning: Injustice, Inequity, and the Legacy of the Baldwin-Buckley Debate on Race in America" on Friday, February 5.
The event will explore the legacy of the Baldwin-Buckley debate with award-winning author and political scientist Nicholas Buccola, writer of The Fire is Upon Us. The book dissects the historic televised debate between James Baldwin and William F. Buckley Jr. on February 18, 1965, at the height of the American civil rights movement. It tells the full story of the event, the radically different paths that led Baldwin and Buckley to participate, the controversies that followed, and how the debate and decades-long clash between the two men continues to illuminate America's racial divide today.
"The Fire Still Burning" will be held virtually via Zoom and is open to the public, USD faculty/administrators, and all undergraduate, graduate, and law students. To support diversity in legal education, attendees are encouraged to donate to the law school's new Advancing Black Leadership and Scholarship in the Law fund when they register.
To learn more about the SBA "The Fire Still Burning" event or register to attend, please click here.