USD School of Law Urges Public Interest Law Alumni to Apply for Loan Repayment Assistance Program
USD School of Law Urges Public Interest Law Alumni to Apply for Loan Repayment Assistance Program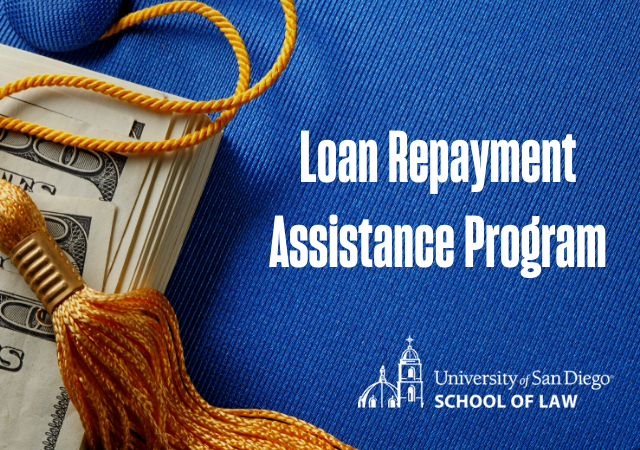 SAN DIEGO (February 2, 2021) – The University of San Diego (USD) School of Law recognizes that there are many needs worthy of protection and that public interest lawyers ensure that underrepresented or unrepresented clients receive appropriate legal counsel. That many USD alumni are called to become legal advocates for low-income individuals, the environment, children, and many other varied issues, whether through legal services or nonprofit organizations, is inspiring and the definition of what it means to be a leader and Changemaker in the San Diego community.
To support the selfless work of these USD School of Law alumni, the Loan Repayment Assistance Program (LRAP) Endowment provides law debt repayment assistance to alumni if they have worked for a minimum of one year with a 501(c)(3) nonprofit. Eligible alumni can request up to five years of funding from LRAP.
USD School of Law students train to practice public interest law through existing civil, criminal, and immigration Legal Clinics and the Center for Public Interest Law. Students indicate their intent and support for public interest advocacy through membership in the Public Interest Law Foundation and Pro Bono Legal Advocates. This hands-on legal training and supportive community at USD prepares students to be thoughtful, well-trained advocates for vulnerable causes and people in need.
Click here to learn more about LRAP and fill out an LRAP Application Form and Employer Certification Form. The deadline to apply for this year's funding is Monday, May 10, 2021.
About the University of San Diego School of Law
Each year, USD educates approximately 800 Juris Doctor and graduate law students from throughout the United States and around the world. The law school is best known for its offerings in the areas of business and corporate law, constitutional law, intellectual property, international and comparative law, public interest law and taxation.
USD School of Law is one of the 84 law schools elected to the Order of the Coif, a national honor society for law school graduates. The law school's faculty is a strong group of outstanding scholars and teachers with national and international reputations and currently ranks 36th nationally among U.S. law faculties in scholarly impact and 22nd nationally in past-year faculty downloads on the Social Sciences Research Network (SSRN). The school is accredited by the American Bar Association and is a member of the Association of American Law Schools. Founded in 1954, the law school is part of the University of San Diego, a private, independent, Roman Catholic university chartered in 1949.