USD School of Law 3L Student Preston Chaffee Awarded 2021 Winner of The Closer National Transactional Law Tournament
3L Student Preston Chaffee Awarded 2021 Winner of The Closer National Transactional Law Tournament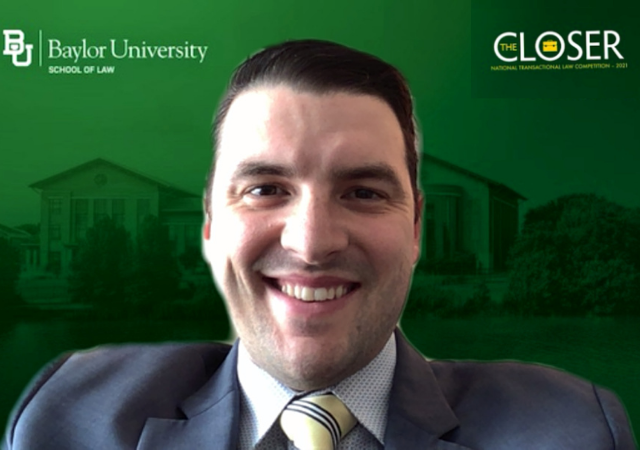 SAN DIEGO (January 29, 2021) – University of San Diego (USD) School of Law student Preston Chaffee, 3L, was recently named one of two winners in Baylor Law's 2021 The Closer National Transactional Law Tournament, securing half of the available $10,000 in prize money. One of the nation's premier transactional law competitions, the event was held January 14-17 and is the only entirely virtual transactional law competition of its kind.
Over the five years of this invitation-only competition, USD School of Law students have excelled, finishing in the finals three years in a row and winning two of the past three years. Said coach and Professor of Law Stephen Ferruolo about the team and Chaffee's performance, "We are building a great legacy that is a credit to the great students we have been attracting to the Transactional Law Team. Preston was remarkable and performed exceptionally well." Rajdeep Roger Bains, '19 (JD), a 2019 competition winner, has since gone on to represent companies in similar matters as an associate at Cooley LLP.
To learn more about The Closer National Transactional Law Tournament, please click here.
About the USD Transactional Law Team
The Transactional Law Team provides a forum for students to hone their corporate and transactional law skills, learn transactional research and drafting, and further develop negotiation techniques. Team members compete in various transactional meets and become familiar with the details of a corporate transaction or deal, polishing skills used by corporate or transactional law attorneys.
About the University of San Diego School of Law
Each year, USD educates approximately 800 Juris Doctor and graduate law students from throughout the United States and around the world. The law school is best known for its offerings in the areas of business and corporate law, constitutional law, intellectual property, international and comparative law, public interest law and taxation.
USD School of Law is one of the 84 law schools elected to the Order of the Coif, a national honor society for law school graduates. The law school's faculty is a strong group of outstanding scholars and teachers with national and international reputations and currently ranks 36th nationally among U.S. law faculties in scholarly impact and 22nd nationally in past-year faculty downloads on the Social Sciences Research Network (SSRN). The school is accredited by the American Bar Association and is a member of the Association of American Law Schools. Founded in 1954, the law school is part of the University of San Diego, a private, independent, Roman Catholic university chartered in 1949.