USD School of Law Student Bar Association Presents "The Fire Still Burning" with Author Nicholas Buccola on February 5
USD School of Law Student Bar Association Presents "The Fire Still Burning" with Author Nicholas Buccola on February 5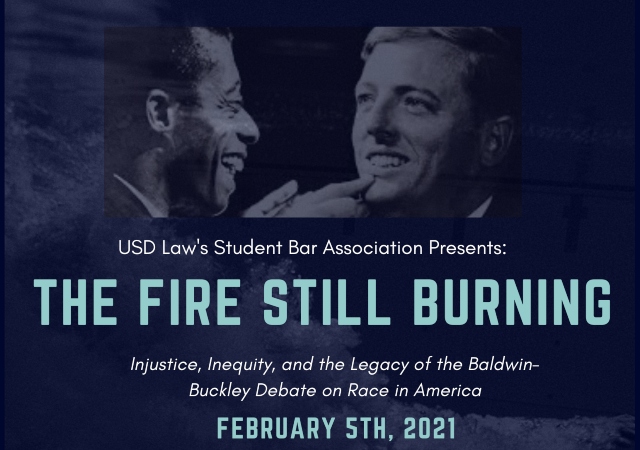 SAN DIEGO (January 28, 2021) – The University of San Diego (USD) School of Law Student Bar Association (SBA) will present "The Fire Still Burning: Injustice, Inequity, and the Legacy of the Baldwin-Buckley Debate on Race in America" on Friday, February 5.
The event will explore the legacy of the Baldwin-Buckley debate with award-winning author and political scientist Nicholas Buccola, writer of The Fire is Upon Us. The book dissects the historic televised debate between James Baldwin and William F. Buckley Jr. on February 18, 1965, at the height of the American civil rights movement. It tells the full story of the event, the radically different paths that led Baldwin and Buckley to participate, the controversies that followed, and how the debate and decades-long clash between the two men continues to illuminate America's racial divide today.
"The Fire Still Burning" will be held virtually via Zoom and is open to the public, USD faculty/administrators, and all undergraduate, graduate, and law students. To support diversity in legal education, attendees are encouraged to donate to the law school's new Advancing Black Leadership and Scholarship in the Law fund when they register.
To learn more about the SBA "The Fire Still Burning" event or register to attend, please click here.
About the USD Student Bar Association
The Student Bar Association (SBA) is the student government at USD School of Law, which includes student leadership and elected representatives from all class years and registered student groups. SBA representatives act as official student delegates by advocating for varied student interests and ensuring that law students are represented at USD.
About the University of San Diego School of Law
Each year, USD educates approximately 800 Juris Doctor and graduate law students from throughout the United States and around the world. The law school is best known for its offerings in the areas of business and corporate law, constitutional law, intellectual property, international and comparative law, public interest law and taxation.
USD School of Law is one of the 84 law schools elected to the Order of the Coif, a national honor society for law school graduates. The law school's faculty is a strong group of outstanding scholars and teachers with national and international reputations and currently ranks 36th nationally among U.S. law faculties in scholarly impact and 22nd nationally in past-year faculty downloads on the Social Sciences Research Network (SSRN). The school is accredited by the American Bar Association and is a member of the Association of American Law Schools. Founded in 1954, the law school is part of the University of San Diego, a private, independent, Roman Catholic university chartered in 1949.