USD School of Law Students and Recent Alumna Awarded 2020 Earl B. Gilliam Bar Foundation Scholarships
USD Students and Recent Alumna Awarded 2020 Earl B. Gilliam Bar Foundation Scholarships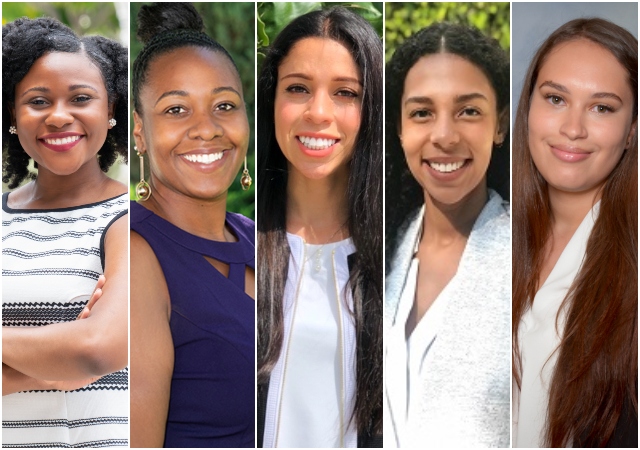 SAN DIEGO (January 8, 2021) – Several University of San Diego (USD) School of Law students and one recent alumna were recently awarded 2020 scholarships by the Earl B. Gilliam Bar Foundation (EBGBF), a charitable organization that represents the interests of the African American legal community in San Diego County. The organization's name honors the first African American man to serve on San Diego's bench, The Honorable Earl B. Gilliam.
The USD students and alumna were honored with the scholarships at this year's EBGBF 44th Annual Scholarship & Awards Virtual Celebration, held in November. Congratulations to Alexandria Pritchett (3L), who won the Hon. Elizabeth A. Riggs Scholarship; Monet McCord, '20 (JD), who won the 3L Diversity Scholarship; and Megan Divine (3L), Adrielli Ferrer (2L), and Kendall McKee (2L), who were each awarded General Scholarships.
To learn more about the history and mission of the Earl B. Gilliam Bar Foundation, please click here. To visit the virtual event photo gallery, please click here.
About the University of San Diego School of Law
Each year, USD educates approximately 800 Juris Doctor and graduate law students from throughout the United States and around the world. The law school is best known for its offerings in the areas of business and corporate law, constitutional law, intellectual property, international and comparative law, public interest law and taxation.
USD School of Law is one of the 84 law schools elected to the Order of the Coif, a national honor society for law school graduates. The law school's faculty is a strong group of outstanding scholars and teachers with national and international reputations and currently ranks 36th nationally among U.S. law faculties in scholarly impact and 22nd nationally in past-year faculty downloads on the Social Sciences Research Network (SSRN). The school is accredited by the American Bar Association and is a member of the Association of American Law Schools. Founded in 1954, the law school is part of the University of San Diego, a private, independent, Roman Catholic university chartered in 1949.