New Year, New Resolution to Join USD's Law Firm Challenge
Jump In & Get Involved Today!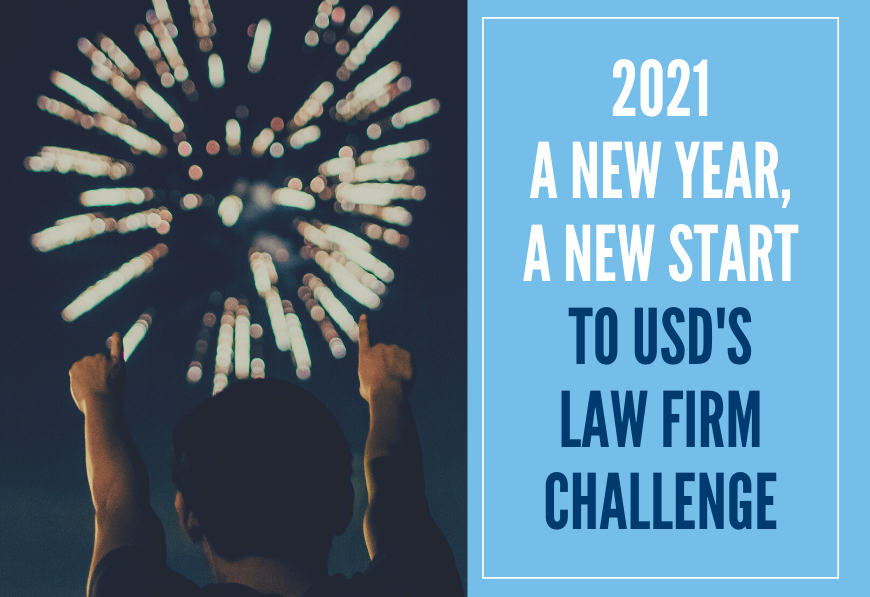 SAN DIEGO (January 4, 2020) – Kick-off the New Year by signing up for University of San Diego (USD) School of Law's Law Firm Challenge!
What is the Law Firm Challenge (LFC)?
If you work with two or more USD School of Law alumni, you are the perfect candidate to join 56 firms, agencies, and offices who are currently making a collective impact through their participation in the Law Firm Challenge.
Benefits of Involvement
You may be asking yourself how the Law Firm Challenge at USD School of Law benefits your firm while also serving the most critical needs of law students:
Hiring and Staffing: Easy access to our interns and graduates for hiring, development of clerkship/externship experiences, corporate networking
Alumni Engagement: Networking opportunities through chapter/campus events, engagement with fellow LFC captains, relationship building with fellow alumni at your firm
Branding & Visibility: Firm and individual recognition, including your firm's Named Scholarships
Sponsorship Funding: 130+ events per year with many sponsorship opportunities
Your Collaboration and Support
The most important reason to be involved in the Law Firm Challenge—the way you feel knowing that you made a difference at USD School of Law!
It's easy to sign up to participate as a Law Firm Challenge Team—just let us know that you want to reserve your place in this year's Challenge.
Sign-up your firm today!
The University of San Diego School of Law
Each year, USD educates approximately 800 Juris Doctor and graduate law students from throughout the United States and around the world. The law school is best known for its offerings in the areas of business and corporate law, constitutional law, intellectual property, international and comparative law, public interest law and taxation.
USD School of Law is one of the 84 law schools elected to the Order of the Coif, a national honor society for law school graduates. The law school's faculty is a strong group of outstanding scholars and teachers with national and international reputations and currently ranks 36th nationally among U.S. law faculties in scholarly impact and 22nd nationally in past-year faculty downloads on the Social Sciences Research Network (SSRN). The school is accredited by the American Bar Association and is a member of the Association of American Law Schools. Founded in 1954, the law school is part of the University of San Diego, a private, independent, Roman Catholic university chartered in 1949.