USD School of Law Honors Distinguished Alumni at First-Ever Virtual Ceremony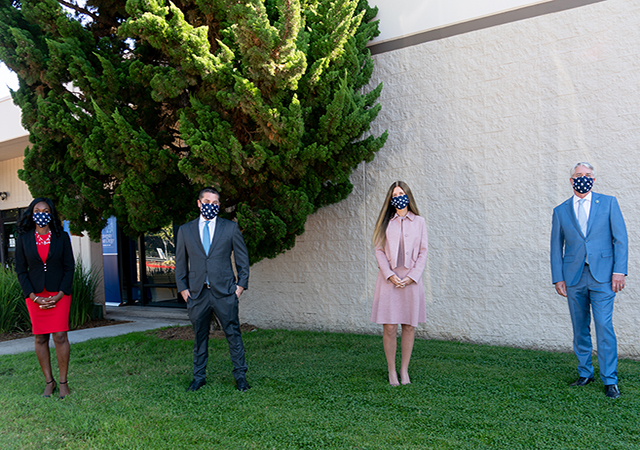 San Diego (November 19, 2020) – The University of San Diego (USD) School of Law celebrated the 42nd Annual Distinguished Alumni Awards Ceremony as a virtual event on Friday, November 13, 2020. More than 200 guests joined the live broadcast. The live virtual event included a digital program, digital slideshow, virtual photo booth, and the option to have lunch delivered by Champagne Bakery.
USD School of Law and the Law Alumni Board has presented the Distinguished Alumni Award since 1977. Steven J. Cologne, '84 (JD), Managing Partner, Higgs Fletcher & Mack, LLP; and Kimberly M. Koro, '86 (JD), Senior Vice President, Qualcomm Technologies, Inc. & Division President, Qualcomm Government Technologies, are welcomed into a prestigious group of now 85 Distinguished Alumni Award recipients. 2020 is the 10th anniversary of the Rising Star Award—Ben J. Coughlan, '12 (JD), Co-Founder & Partner, Coughlan & Vinel LLP; and Joy Utomi Hartmann, '11 (JD), Deputy Attorney General, Office of the Attorney General, California Department of Justice, join an inspirational group of 20 Rising Star Recent Alumni Award recipients.
2020 Distinguished Alumni Award Honorees
The Distinguished Alumni Award is given to those who have excelled either in the legal field or their chosen profession, and "embody the high ethical standards and commitment to community service USD School of Law seeks to instill in its graduates."
2020 Rising Star Recent Alumni Award Honorees
The Rising Star Recent Alumni award is given to alumni who have graduated within the past ten years and have had significant achievements in the legal profession or their chosen field, while also demonstrating a high level of community involvement.
The virtual ceremony kicked off with a campus flyover and interior glimpses of Warren Hall and the Pardee Legal Research Center. Law Alumni Board President Megan L. Donohue, '09 (JD), presided over the virtual event as the Ceremony Emcee.
In tradition with the annual Distinguished Alumni Awards Ceremony, Donohue opened the event with a prayer. Donohue delivered a prayer adapted from the combined prose of Saint Thomas More and the National Association of Catholic Chaplains with a video of USD's Founders Chapel playing in the background.
USD President James T. Harris III, DEd, welcomed guests on behalf of the university and announced that the 11th Dean of USD School of Law—Dean Robert A. Schapiro—will be joining the university in January 2021 after an extensive national search.
President Harris highlighted the accomplishments for our 2020 Distinguished and Rising Star Honorees, stating that, "Together, they are a force with which to be reckoned."
"They are consistently named among the '50 Influential Leaders' in San Diego, recognized in the Best Lawyers in America, chosen as 'Top-10 Attorneys', lauded among the region's 'Top 40 Under 40', and are known as Super Lawyers. These lawyers, these distinguished alumni, have supported or established scholarships and fought for those who are going through the toughest times of their lives. They have prosecuted sexually violent predators, represented whistleblowers, supported the homeland security of the United States, championed diversity efforts throughout the San Diego legal community and earned recognition for their pro bono service," said President Harris.
President Harris concluded, "Today, we celebrate their professional achievements, but we also celebrate the fact that they have brought USD's vision to life. They have proven that it's more than just a lofty goal. They have shown us that we can be Changemakers. We can confront humanity's urgent challenges. We can make a difference. We can change the world."
| | | |
| --- | --- | --- |
| | | |
| View Virtual Ceremony | Password: Law | Browse the Gallery |
Vice President and Provost Gail F. Baker, PhD, paid tribute to the 2020 honorees, describing them as "alumni who have distinguished themselves in the legal field at an exemplary level, blazing trails for future generations, working to advance justice, making an indelible mark on our communities, and a difference in our world."
Dr. Baker introduced new USD School of Law Dean Robert A. Schapiro—a distinguished scholar, administrator, and teacher. Dean Schapiro comes to USD from Emory University in Atlanta, Georgia. At Emory, Dean Schapiro was the Asa Griggs Candler Professor of Law and co-director of Emory Law's Center on Federalism and Intersystemic Governance. He served as Dean of Emory School of Law from 2012 to 2017, and Interim Dean from 2011 to 2012. Dean Schapiro was previously Associate Vice Provost for Academic Affairs for Emory University. He served as Emory Law's Associate Dean of Faculty from 2006 to 2008, and as Associate Faculty Director for Emory's Halle Institute for Global Learning from 2008 to 2010.
"Dean Schapiro is an award-winning educator—recognized for his devotion to and engagement with his students," said Dr. Baker. He received the Emory Williams Distinguished Teaching Award in 2009, the Ben F. Johnson Faculty Excellence Award in 2004, the Most Outstanding Professor Award—as voted on by Emory Law's graduating class—for the 2000–01 academic year, and the Professor of the Year Award from the Black Law Students Association in 2001.
A graduate of Yale Law School, Dean Schapiro was Editor-in-Chief of the Yale Law Journal. He served as a clerk for Judge Pierre N. Leval, then of the U.S. District Court for the Southern District of New York, and for Justice John Paul Stevens of the U.S. Supreme Court. He worked with the law firm of Sidley & Austin in Washington, D.C., where he practiced general and appellate litigation.
Incoming Dean Robert Schapiro thanked guests for attending and extended congratulations to the honorees and shared, "One of the great strengths of USD Law is the exceptional dedication and loyalty of our alumni."
"I am very excited to be joining this extraordinary community. I have long admired USD for its superb faculty and students, and for its strong sense of mission. My wife Lillian and I are looking forward to meeting you in person—or at an appropriate distance—when my term begins in January," said Dean Schapiro.
Interim Dean and Professor of Law Margaret A. Dalton, '94 (JD), followed Dean Schapiro and shared, "The Distinguished Alumni Awards Ceremony is particularly meaningful to alumni—including myself— who are active here in the San Diego legal community. I have attended many of these events in my 25 years working here at USD, and they are always special."
"I am proud to say that USD alumni will continue to serve the greatest needs of the 21st century with compassion, intelligence, and foresight. Each of today's honorees are, in their own distinct way, making a genuine difference in our community and in society by applying what they learned in the classrooms of Warren Hall. It is such a privilege to share in their celebration here with you today," said Dean Dalton.
In addition to honoring the 2020 Distinguished and Rising Star recipients, 2014 Distinguished Alumni Award Recipient and Board of Visitors member Todd F. Stevens, '88 (JD), presented the Inaugural Distinguished Alumni Award Endowed Scholarship to Robert "Robbie" Ponce, '21 (JD)—the current Student Bar Association (SBA) President. View Robbie's acceptance speech.
The Distinguished Alumni Award Endowed Scholarship was established in 2017, reached the initial endowment level in 2019, and now stands at $64,000—building toward the goal of being fully financed within the next few years. Stevens said, "We are committed to increasing the level of support to $125,000 to ensure that the endowment will generate a full $5,000 annual student scholarship as a lasting legacy to law school graduates who distinguish themselves through practice, service, community involvement and leadership."
Event registration was complimentary and guests were encouraged to donate the Distinguished Alumni Award Endowed Scholarship in lieu of registration fees this year. Honor Distinguished Alumni in your life by making a gift.
2020 Sponsorships
Platinum
Special thanks to Bartell Hotels for their Platinum Sponsorship for ten consecutive years. Bartell Hotels is owned by USD School of Law Board of Visitors member Richard M. Bartell, '75 (JD).
Silver
About the University of San Diego School of Law
Each year, USD educates approximately 800 Juris Doctor and graduate law students from throughout the United States and around the world. The law school is best known for its offerings in the areas of business and corporate law, constitutional law, intellectual property, international and comparative law, public interest law and taxation.
USD School of Law is one of the 84 law schools elected to the Order of the Coif, a national honor society for law school graduates. The law school's faculty is a strong group of outstanding scholars and teachers with national and international reputations and currently ranks 36th nationally among U.S. law faculties in scholarly impact and 22nd nationally in past-year faculty downloads on the Social Sciences Research Network (SSRN). The school is accredited by the American Bar Association and is a member of the Association of American Law Schools. Founded in 1954, the law school is part of the University of San Diego, a private, independent, Roman Catholic university chartered in 1949.