USD School of Law Appellate Moot Court Competes in Intramural Tournament, Prepares to Host National Virtual Tournament
Appellate Moot Court Competes in Intramural Tournament, Prepares to Host National Virtual Tournament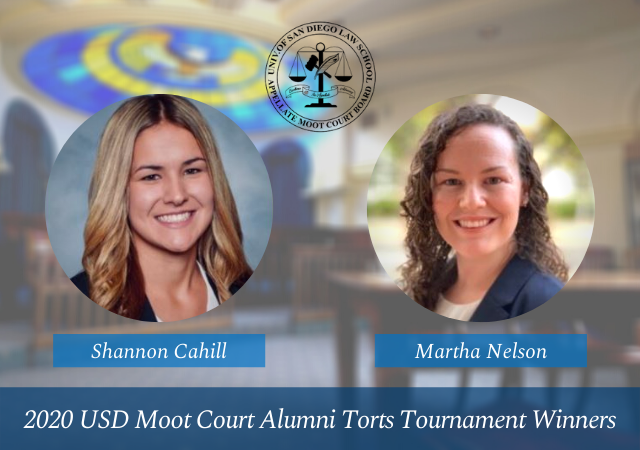 SAN DIEGO (November 3, 2020) – The University of San Diego (USD) School of Law Appellate Moot Court Executive Board is off to a busy start in 2020. They recently hosted the intramural Alumni Torts Tournament virtually in late September and are now preparing to host the National Criminal Procedure Tournament on Zoom in early November.
The Alumni Torts Tournament, held on September 18-20 of this year, is the first court tournament where USD law students are eligible to compete. The competition is open to 2L students and above, tasking each participant with preparing a brief in two weeks, being knowledgeable and able to debate both sides of a problem, and arguing before two to three judges. The winners of this year's event were Martha Nelson (2L) and Shannon Cahill (2L), with Individual Oralist Awards given to Kiana Ajir (2L) in first place, Alaina Lynch (2L) in second place, and Kelsie Russell (2L) and Nick Fennell (2L), who tied for third. The top Team Brief Award went to Nick Fennell (2L) and Timothy Aram (2L), with Kelsie Russell (2L) and Chole Casciola (2L) in second place, and Alana Mellgren (2L) and Michael Nunez (2L) in third.
The upcoming National Criminal Procedure Tournament will be held November 6-8 and includes 30 participating teams from various law schools from all parts of the country. Organized by the 2020-2021 Moot Court Executive Board Chair Maryam Atty, Vice Chair of Tournaments Natalie Annunziata, and Vice Chair of National Teams Anastasia Zaharoff, the event is a challenging logistical undertaking with 15 Zoom rooms running simultaneously over multiple days. The tournament gives students the ability to present oral arguments in a simulated online environment, which is close to reality, given that appellate arguments continue to be held virtually to protect public health during the Covid pandemic. Feedback at the event is provided by competition judges, who volunteer their time at the event and are professional jurists and attorneys.
Judges are still needed for the tournament, and organizers are asking for additional help from the legal community in providing these valuable evaluations. Legal professionals interested in participating in the event, click here to learn about becoming a volunteer judge for the National Criminal Procedure Tournament on November 6-8, 2020.
Click here to learn more about the Appellate Moot Court at USD School of Law.
About the University of San Diego School of Law
Each year, USD educates approximately 800 Juris Doctor and graduate law students from throughout the United States and around the world. The law school is best known for its offerings in the areas of business and corporate law, constitutional law, intellectual property, international and comparative law, public interest law and taxation.
USD School of Law is one of the 84 law schools elected to the Order of the Coif, a national honor society for law school graduates. The law school's faculty is a strong group of outstanding scholars and teachers with national and international reputations and currently ranks 36th nationally among U.S. law faculties in scholarly impact and 22nd nationally in past-year faculty downloads on the Social Sciences Research Network (SSRN). The school is accredited by the American Bar Association and is a member of the Association of American Law Schools. Founded in 1954, the law school is part of the University of San Diego, a private, independent, Roman Catholic university chartered in 1949.