Law School Alumni "Knock it Outta the Park" on Torero Tuesday!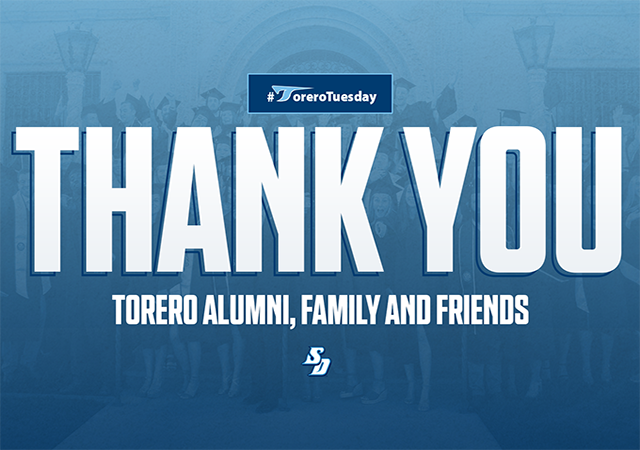 SAN DIEGO (October 27, 2020) – With enthusiastic support, University of San Diego (USD) School of Law Alumni surpassed the law school's goal of $100,000—raising more than $150,292. Alumni ambassadors spread the word on Facebook and Instagram. Ninety-four contributors on October 13, 2020, pushed the law school into first place in total dollars raised amongst the Academic Programs at USD! Yep, 1st Place!
Law school alumni enjoy the competitive spirit of Torero Tuesday—USD's university-wide day of giving held on Tuesday, October 13, 2020. Never fear, if you have not yet had a chance to join the "Day of Giving Fun and Frenzy" you have another opportunity on April 7-8, 2021, when USD School of Law hosts its annual BIG GIVE Fundraising Campaign.
The law school shares in your sense of Alumni Pride as we take stock of the amazing alumni support of Law Student Scholarships, Law Student's in Need Fund, Public Interest Law Student Fellowships, and the Advancing Black Leadership and Scholarship in the Law Fund since classes resumed in August. Again, the students, faculty, and fellow alumni can't thank you all enough for your generous contributions and enthusiastic support of USD!
Way to Go! USD School of Law Alumni!
About the University of San Diego School of Law
Each year, USD educates approximately 800 Juris Doctor and graduate law students from throughout the United States and around the world. The law school is best known for its offerings in the areas of business and corporate law, constitutional law, intellectual property, international and comparative law, public interest law and taxation.
USD School of Law is one of the 84 law schools elected to the Order of the Coif, a national honor society for law school graduates. The law school's faculty is a strong group of outstanding scholars and teachers with national and international reputations and currently ranks 36th nationally among U.S. law faculties in scholarly impact and 22nd nationally in past-year faculty downloads on the Social Sciences Research Network (SSRN). The school is accredited by the American Bar Association and is a member of the Association of American Law Schools. Founded in 1954, the law school is part of the University of San Diego, a private, independent, Roman Catholic university chartered in 1949.