USD School of Law Alumna Joy Utomi Hartmann '11 (JD) Chosen as Featured Speaker in Torero Talks
Joy Utomi Hartmann '11 (JD) Chosen as Featured Speaker in Torero Talks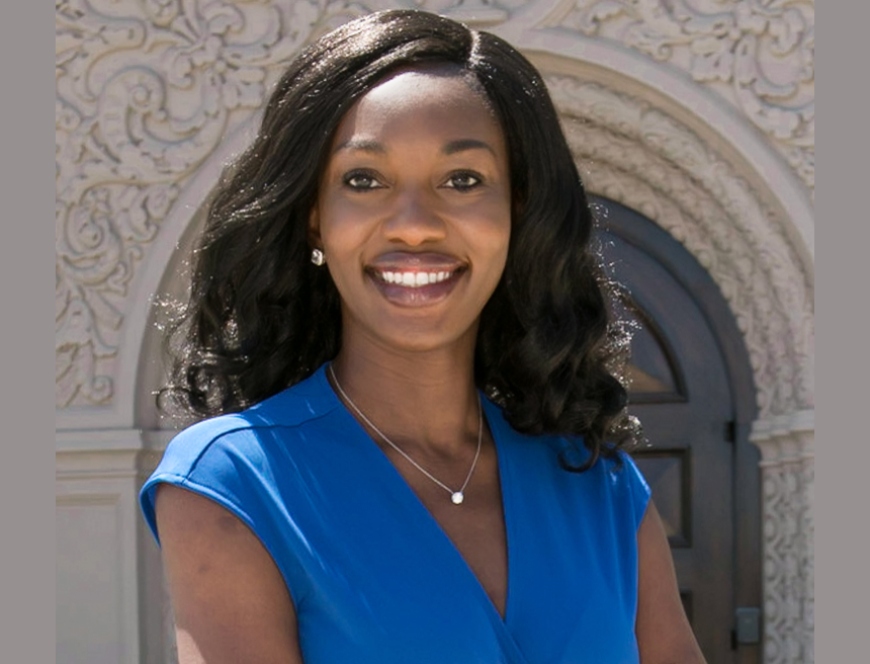 SAN DIEGO (October 15, 2020) – University of San Diego (USD) School of Law alumna Joy Utomi Hartmann, '11 (JD) was selected as one of four featured speakers in USD's Torero Talks—Beyond the Limits: Stories of Success and Opportunity. The special program was a part of this year's Homecoming and Family Week.
Centered around a theme of uplifting storytelling, Hartmann's tale is rooted in family. Hartmann was born in Nigeria and moved to America with her family when she was a young child. The middle child of five siblings, and a quiet, The Baby-Sitters Club book-loving kid, Hartmann looked up to the shining example of her mother, Stella. Her mother was a force of tenacity, confidence, and resilience who showed Hartmann how to achieve justice and fight for the oppressed.
Hartmann's time as a USD law student was a spring board to discover opportunities to learn about community and engage in leadership roles. Law school taught Hartmann how to speak with authority and fight for causes. Naturally, her job at the Attorney General's Office provides the opportunity to fight for causes and the enforcement of all laws fairly and justly. Hartmann is a Deputy Attorney General in the Criminal Appeals, Writs, and Trials section of the California Attorney General's Office. As a criminal prosecutor for the People of the State of California, she handles felony appeals and habeas corpus petitions in both state and federal courts, and specializes in prosecuting civil commitment cases involving sexually violent predators and mentally disordered offenders. Hartmann has argued successfully before the California Supreme Court, California Court of Appeal, and the United States Court of Appeals for the Ninth Circuit. She has also prosecuted misdemeanor jury trials in the San Diego Superior Court while on special assignment with the San Diego County District Attorney's Office.
At the opening of her remarks, Hartmann poses the question, "What is success?" She concludes that she doesn't have the answer, "everyone has to find the answer to success within themselves."
Hartmann is dedicated to supporting diversity efforts throughout the San Diego legal community. She recently completed her service as a board member of the Earl B. Gilliam Bar Foundation, where she also served as president in 2016. A member of the Law Alumni Association Board of Directors since 2016, Hartmann is a co-chair of the Diversity & Inclusion Committee and a co-founder of USD School of Law's Advancing Black Leadership & Scholarship in the Law scholarship fund to address this historically underrepresented population in law school and in the legal community.
Additionally, Hartmann is also being recognized as a 2020 recipient of the Rising Star Recent Alumni Award. The Rising Star Recent Alumni Award is presented to alumni who have graduated within the past ten years and have made significant achievements in the legal profession, or chosen field, and demonstrated a high level of community involvement. This year's awards will be presented on November 13, at a first-of-its-kind virtual ceremony.
Hartmann's final piece of Torero Talks advice? "Live authentically."
About the University of San Diego School of Law
Each year, USD educates approximately 800 Juris Doctor and graduate law students from throughout the United States and around the world. The law school is best known for its offerings in the areas of business and corporate law, constitutional law, intellectual property, international and comparative law, public interest law and taxation.
USD School of Law is one of the 84 law schools elected to the Order of the Coif, a national honor society for law school graduates. The law school's faculty is a strong group of outstanding scholars and teachers with national and international reputations and currently ranks 36th nationally among U.S. law faculties in scholarly impact and 22nd nationally in past-year faculty downloads on the Social Sciences Research Network (SSRN). The school is accredited by the American Bar Association and is a member of the Association of American Law Schools. Founded in 1954, the law school is part of the University of San Diego, a private, independent, Roman Catholic university chartered in 1949.