Virtual Homecoming and Family Week (Oct. 13-18): 'Toreros Together at Home' Events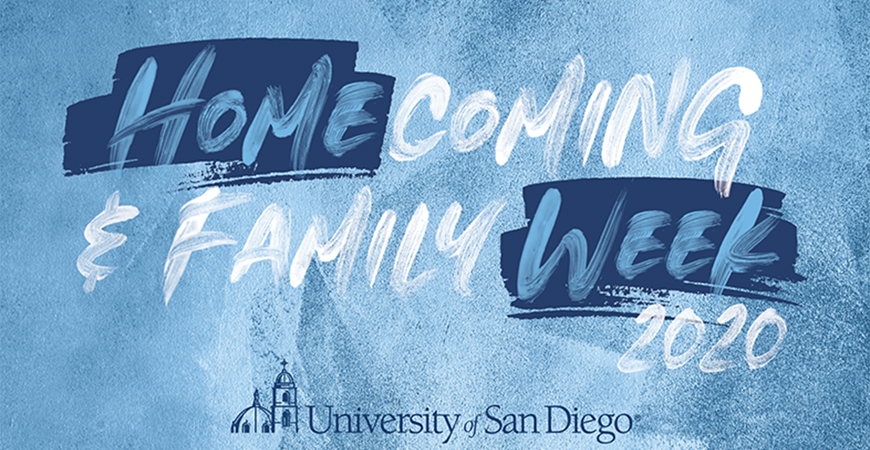 The University of San Diego will celebrate Homecoming and Family Week, Oct. 13-18, with a lineup that includes a virtual ceremony to recognize its graduating class of 2020 (#usdgrad20), new programming events, several favorites and a community service project partnership with Meals on Wheels.
While the COVID-19 pandemic has forced the university to adjust and make all events virtual, there's still many ways for Torero alumni, families and current students to celebrate and show their USD pride around the theme of "Toreros Together at Home."
Signature virtual events this week:
Torero Tuesday (Oct. 13): A one-day opportunity for USD alumni, parents and friends from across the globe to raise funds to enhance student scholarships, academic programs, athletics and more. You can donate to specific needs, the greatest need and you can also support campus entities that will increase the impact of your donation through one of many different creative challenges throughout this day of giving. Visit the Torero Tuesday website.
State of the University Address (Oct. 14): USD President James T. Harris will share how USD is experiencing a defining moment and detail how the university plans to deepen its commitment to its institutional mission. Event starts at 4 p.m. Event is free, but registration is required.
Torero Talks (Oct. 15): Meet a panel of USD alumni speakers — Kecia Brown '00 (MA), Salvador "Chava" Mercado-Cano '06 (BA), Joy Utomi Hartmann '11 (JD) and Deena Drake ('13 MSN, '19 PhD) — as they share their inspirational stories of going "Beyond the Limits" to reach success and opportunity. The words of these four alumni in carefully prepared talks seek to provoke conversation and showcase what it means to be limitless in all aspects of your life. Event begins at 12:30 p.m. Event is complimentary, but registration is required.
Fabulous Torero Casino Night (Oct. 16): USD's Parent Association and Office of Parent and Family Relations host a virtual fundraising event benefiting the Parent Partnership Fund in support of at-risk students. Experience a one-of-a-kind Party with a Purpose to include interactive games, music, an unforgettable magic show, and a fun-filled silent and live auction. Event begins at 6 p.m. Purchase Single Party Boxes for Two ($50), Family Party Boxes for Four ($75) and learn how registering for the event or purchasing a party box can earn you more entries into a drawing for exciting prize, including one Grand Prize. Event is free, but registration is required. Learn more about this big event on its website.
Class of 2020 Virtual Commencement Ceremony (Oct. 17): Congratulations to the University of San Diego Class of 2020! We recognize and honor your dedication, focus and resilience in the face of unprecedented adversity, and look forward with great anticipation to celebrate your tremendous accomplishments. The event starts at 1 p.m. View a special website celebrating USD's Class of 2020.
Torero Big Blue Bash (Oct. 17): The entire USD community is invited to show your Torero pride with fellow alumni, families, students, and friends! This spirited event will include games, contests, and entertainment with special appearances. The Bash starts at 4 p.m. During the live broadcast, USD will be giving away exciting prizes and one grand prize at the end of the broadcast. Torero Big Blue Bash registration and/or Spirit Box purchases automatically enters you into the Torero Big Blue Bash Participation Drawing. Event is free, but registration is required. Learn more at the Big Blue Bash website.
Alumni and Family Mass (Oct. 18): Come together virtually with your Torero family to close Homecoming and Family Week with the annual Alumni and Family Mass. Mass is shown virtually beginning at 10:30 a.m. Event is free, but registration is required.
Additional aspects of the Homecoming and Family Week festivities can be found on the main website, including an online marketplace with USD-affiliated wineries, restaurants and retail stores, businesses offering discounts and special pricing to guests and also donating a portion of their sales back to USD; a kids zone and a virtual photo booth.
Community Service Project: USD, Meals on Wheels
There is a community service project ongoing for Toreros — current students, faculty, staff, administrators, alumni and friends — to get connected to with Meals on Wheels.
The Meals on Wheels program faces unprecedented challenges as it works to serve a growing number of high-risk older Americans who are at the greatest risk during the COVID-19 pandemic. In partnership with USD, community service project opportunities right now include sending a hand-written card, sending a "we care" package, making a monetary donation to Meals on Wheels or getting involved and volunteering to support and serve seniors through meal delivery, phone call check-ins and office support. Visit the website to learn more.
As everyone affiliated with USD can see, there's no better way to be than by sharing in the experience of being Toreros Together.
— USD News Center