Tipping Our Hats with Gratitude to the 2019-2020 Law Firm Challenge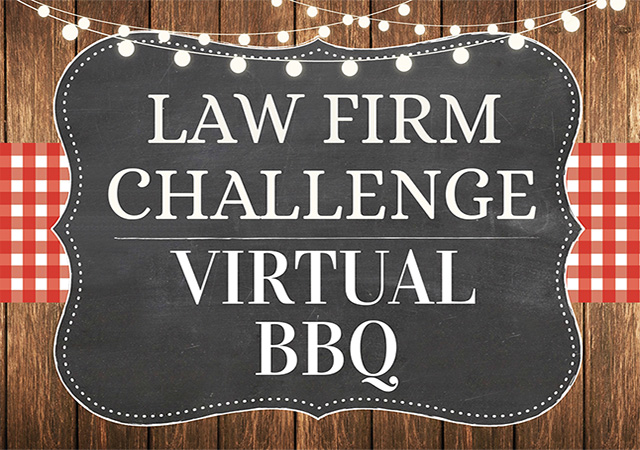 SAN DIEGO (September 3, 2020) – On Thursday, September 3, University of San Diego (USD) School of Law celebrated the 2019-20 Law Firm Challenge Results with a virtual Meat & Greet BBQ accompanied by an exclusive cooking demonstration with USD Executive Chef John Miller who recently competed on the Food Network's Chopped. Winning firms were recognized and honored at the event. View digital program.
Chef John has been cooking up award-winning cuisine for 30 years and his style combines some of the very best cuisines, described as "foundational French, infused with the freshness of Japanese, the spiciness and richness of Mexican, and fun, passionate, Southern California cuisine." His extensive culinary experience includes roles at Roy's Hawaiian Fusion and the Ritz-Carlton. He is a 2012 medalist at the International Culinary Olympics.
The Office of Development and Alumni Relations drove their stagecoaches across town to personally deliver Grill & Go boxes to more than 50 Law Firm Challenge Captains and framed certificates to the 2019-20 winners. Browse through photos of the happy recipients receiving their boxes. More than 675 alumni are part of the Law Firm Challenge. View participating firms and Captains.
Participants were provided with a selection of virtual western-themed backgrounds and recipes as part of the event. Chef John's recipes included Carolina Gold and Central Texas BBQ sauces, Season All BBQ Rub, Country-Style Cole Slaw, and Pulled BBQ Chicken Sandwich.
Most guests dressed the part and saddled up in western attire for the complimentary virtual photo booth. Check out the event photos, password "Law".
Interim Dean Margaret Dalton, '94 (JD), kicked-off the event by thanking Law Firm Challenge alumni for actively supporting all aspects of the law school—from scholarships, fellowships, internships, clerkships, Careers in the Law, Student Orientation, and Campus Visit Days. And, for hiring our graduates! Dean Dalton lauded the role that each Law Firm Challenge member plays in promoting USD School of Law in the legal community, and professional arenas as it enhances the reputation of our law school. Your hard work paves the way for graduates to be highly qualified attorneys, successful entrepreneurs, and critical members of corporate leadership.
Director of Development Debbie Rider, '84 (JD), highlighted ways that firms can make the greatest impact:
Set a Goal of 100% Participation for your Firm/Office!
Share your firm/offices upcoming events with USD
Open Law Firm Challenge (LFC) Newsletters
Forward the newsletter to your USD alumni colleagues
Participate in alumni activities as much as you can
Rally your alumni colleagues to support USD in much the same way as you do
Talk about the things that you read about in your LFC Newsletter & USD news
SHARE, ENCOURAGE and SUPPORT!
Alexandria Pritchett, '21 (JD), concluded the event, thanking alumni for their support and the direct impact they make on her and other students' law school experience. Pritchett is Turner Diversity Scholarship Recipient and President of Black Law Students Association (BLSA).
The August edition of Attorney Journals San Diego magazine features USD Law Firm Challenge Winners. Congratulations and we can't wait to celebrate your individual and firm successes in 2020-21!
Not a part of the Law Firm Challenge? Sign-up your firm!
The University of San Diego School of Law
Each year, USD educates approximately 800 Juris Doctor and graduate law students from throughout the United States and around the world. The law school is best known for its offerings in the areas of business and corporate law, constitutional law, intellectual property, international and comparative law, public interest law and taxation.
USD School of Law is one of the 84 law schools elected to the Order of the Coif, a national honor society for law school graduates. The law school's faculty is a strong group of outstanding scholars and teachers with national and international reputations and currently ranks 36th nationally among U.S. law faculties in scholarly impact and 22nd nationally in past-year faculty downloads on the Social Sciences Research Network (SSRN). The school is accredited by the American Bar Association and is a member of the Association of American Law Schools. Founded in 1954, the law school is part of the University of San Diego, a private, independent, Roman Catholic university chartered in 1949.