Lifelong Commitment to Protecting the Environment: USD Honors Stanley W. Legro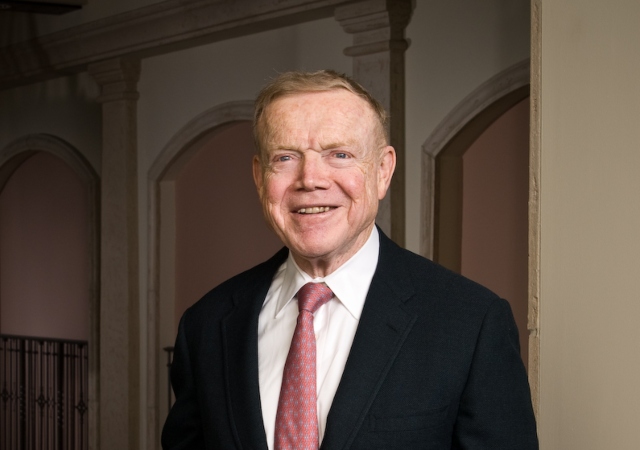 San Diego (September 4, 2020) – The nation, as a whole, University of San Diego (USD) and the law school, in particular, lost an ardent supporter of the environment and an ordered system of Environmental Law on August 20, 2020, when Stanley "Stan" W. Legro passed away.
After graduating first in his class from the U.S. Naval Academy, Legro served in the U.S. Marine Corps before earning his Juris Doctor degree in law from Harvard University in 1966. Legro immediately began his long and storied career defending the environment. In 1968, he joined forces with USD, ultimately funding the Stanley W. Legro Professor-in-Residence in Environmental Law. He taught as an Adjunct Professor of Law at USD, joined the Board of Visitors in 2001, and the Board of Trustees in 2011. Stan was a fixture at University Commencement Ceremonies, supporting the accomplishments of undergraduate and law graduates alike.
In 1975, Legro became the Assistant Administrator for Enforcement for the U.S. Environmental Protection Agency (EPA), where he worked on preserving the environment and solving pollution issues. Legro said in an EPA Journal at the time, "It is critical that we plan now for future maintenance of environmental quality rather than reacting, often with limited options, to environmental crises as they occur."
Owing to Stan Legro's legacy of service on both the law school's Board of Visitors and USD's Board of Trustees, President James T. Harris sent a personal message to USD Board of Trustee members inviting them to "honor Stan's memory and his impact in environmental law, gifts may be made to the Stanley W. Legro Professorship in Environmental Law Fund or to the Law Student Aid Scholarship Fund."
About the University of San Diego School of Law
Each year, USD educates approximately 800 Juris Doctor and graduate law students from throughout the United States and around the world. The law school is best known for its offerings in the areas of business and corporate law, constitutional law, intellectual property, international and comparative law, public interest law and taxation.
USD School of Law is one of the 84 law schools elected to the Order of the Coif, a national honor society for law school graduates. The law school's faculty is a strong group of outstanding scholars and teachers with national and international reputations and currently ranks 36th nationally among U.S. law faculties in scholarly impact and 22nd nationally in past-year faculty downloads on the Social Sciences Research
Network (SSRN). The school is accredited by the American Bar Association and is a member of the Association of American Law Schools. Founded in 1954, the law school is part of the University of San Diego, a private, independent, Roman Catholic university chartered in 1949.