USD Board of Trustees Member, School of Law Board of Visitors Member and Former Adjunct Faculty Member Stanley Legro Passes Away
USD Board of Trustees Member, School of Law Board of Visitors Member and Former Adjunct Faculty Member Stanley Legro Passes Away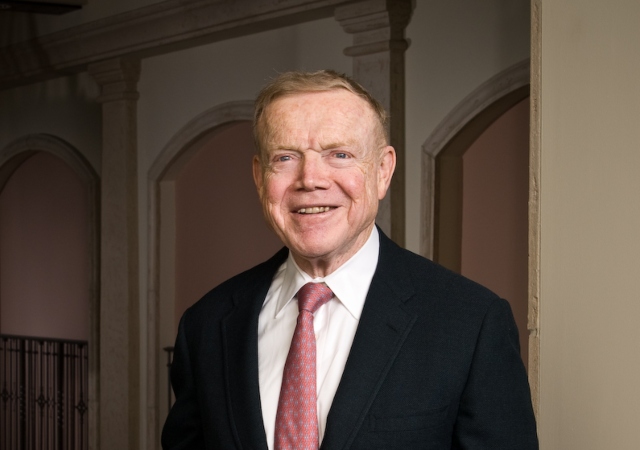 San Diego (August 27, 2020) –University of San Diego (USD) Board of Trustees member, School of Law Board of Visitors member and former adjunct faculty member Stanley Legro, age 84, passed away on Monday, August 17, 2020, due to illness.
Legro was born in Muskogee, Oklahoma, on July 3, 1936. He graduated first in his class from the United States Naval Academy in 1959 with a degree in Engineering and received his Juris Doctor at Harvard University in 1966. Legro served as an officer in the US Marine Corps from 1959 to 1963 before transitioning to a successful environmental law career in San Diego after law school. He joined the USD School of Law faculty as an Adjunct Professor in 1968 and later became a member of the San Diego Planning Commission. He was named San Diego's Outstanding Young Man of 1971.
In 1975, Legro became the Assistant Administrator for Enforcement for the United States Environmental Protection Agency (EPA), where he worked on preserving the environment and solving pollution issues. Legro said in an EPA Journal at the time, "It is critical that we plan now for future maintenance of environmental quality rather than reacting, often with limited options, to environmental crises as they occur."
Ronald Reagan appointed Legro to the National Advisory Committee on Oceans and Atmosphere (NACOA) in 1985 in recognition of his dedication to environmental issues. After serving his post, he returned to academia in 1989 as an Adjunct Fellow at the Center for Strategic and International Studies in Washington D.C. Legro joined the firm of Piper Rudnick (now DLA Piper) in 2002 and engaged in private practice in both San Diego and Washington D.C. during his lengthy career.
Though he left the Navy in 1959, it never left him. Legro continued to remain active in the Naval community by supporting the Political Science Department of the United States Naval Academy with a yearly award to the most outstanding midshipman on the Naval Academy Debate Team. He also supported the Naval Academy Foreign Affairs Conference (NAFAC) for more than fifty years through the establishment of an endowment.
Legro remained committed to his academic ties throughout the years. He served as the national secretary of the Harvard University Alumni Association from 1977 to 1980 and was an active member of various USD School of Law boards and committees since 2001, in addition to supporting an environmental law visiting professorship. At his time of passing, Legro was a University of San Diego School of Law Board of Visitors member, having also served on the Board of Trustees for USD, and Chairman of Pacific Action Resources for the Environmental Law Institute.
Service and burial to be held, pending arrangement, at the United States Naval Academy in Annapolis, Maryland.
About the University of San Diego School of Law
Each year, USD educates approximately 800 Juris Doctor and graduate law students from throughout the United States and around the world. The law school is best known for its offerings in the areas of business and corporate law, constitutional law, intellectual property, international and comparative law, public interest law and taxation.
USD School of Law is one of the 84 law schools elected to the Order of the Coif, a national honor society for law school graduates. The law school's faculty is a strong group of outstanding scholars and teachers with national and international reputations and currently ranks 36th nationally among U.S. law faculties in scholarly impact and 22nd nationally in past-year faculty downloads on the Social Sciences Research
Network (SSRN). The school is accredited by the American Bar Association and is a member of the Association of American Law Schools. Founded in 1954, the law school is part of the University of San Diego, a private, independent, Roman Catholic university chartered in 1949.