USD School of Law Alumni Allain '18, Champine '18, Hambly '16, Jester '18, and Sandler '16 Co-Host SDCBA Panel on Civility in the Law
Mary Allain '18 (JD), Christopher Champine '18 (JD), Kevin Hambly '16 (JD), and Stephanie Sandler '16 (JD) Co-Host SDCBA Panel on Civility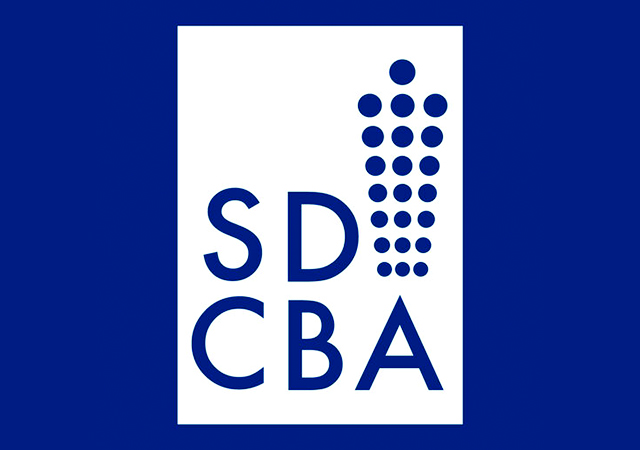 SAN DIEGO (July 22, 2020) – San Diego County Bar Association (SDCBA)'s New Lawyer Division Chair and University of San Diego (USD) School of Law alumna Stephanie A. Sandler, '16 (JD), and Division Member USD law alumni Mary E. Allain, '18 (JD), Christopher M. Champine, '18 (JD), Kevin B. Hambly, '16 (JD), and Michaela Jester, '18 (LLM), are co-hosting a panel for the Jay Wheeler Civility Lecture: Civility in the Practice of Law-Upholding Professional Standards with Opposing Counsel on:
Tuesday, July 28
12 - 1 p.m. PST
Via Zoom
This event is free for SDCBA members/current law students and $25 for non-members. Read more and register online.

While attorneys may have an obligation to act as zealous advocates for their clients, the need to act with integrity and basic decency has never been more important. Despite the current environment of stay-at-home orders, a global shutdown, and civil unrest, attorneys are best served by keeping their focus on civility.
Join our panel speakers for insights and key take-aways:
What it means to be professional in matters with opposing counsel, including exercising professional judgment and extending courtesies to avoid unnecessarily exacerbating this already difficult situation;
Tools to help attorneys identify and set boundaries of acceptable behavior;
Tips to effectively communicate with uncooperative and unruly opposing counsel, and maintain professionalism independent of opposing counsel's behavior;
Perspective of the Bench regarding best practices, including when it is reasonable in the eyes of the Court for counsel to address the incivility of opposing counsel before the Bench
About the University of San Diego School of Law
Each year, USD educates approximately 800 Juris Doctor and graduate law students from throughout the United States and around the world. The law school is best known for its offerings in the areas of business and corporate law, constitutional law, intellectual property, international and comparative law, public interest law and taxation.
USD School of Law is one of the 84 law schools elected to the Order of the Coif, a national honor society for law school graduates. The law school's faculty is a strong group of outstanding scholars and teachers with national and international reputations and currently ranks 36th nationally among U.S. law faculties in scholarly impact and 22nd nationally in past-year faculty downloads on the Social Sciences Research Network (SSRN). The school is accredited by the American Bar Association and is a member of the Association of American Law Schools. Founded in 1954, the law school is part of the University of San Diego, a private, independent, Roman Catholic university chartered in 1949.