USD Asst. Dean Meredith D'Angelo '04 (BA), '09 (JD) Appointed to Exe. Board of the National Association of Law Student Affairs Professionals
Asst. Dean Meredith D'Angelo '04 (BA), '09 (JD) Appointed to Executive Board of National Association of Law Student Affairs Professionals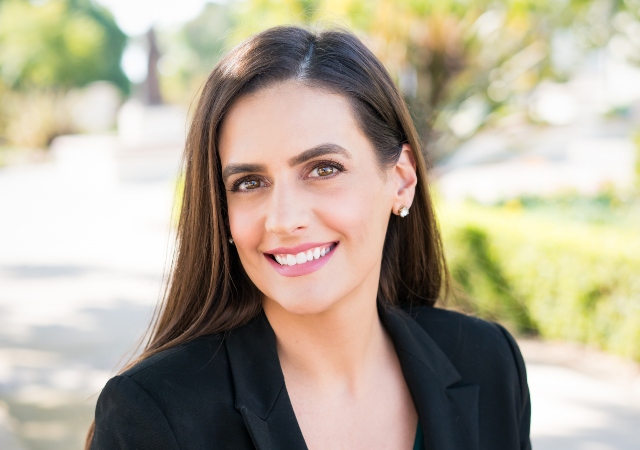 SAN DIEGO (July 22, 2020) – University of San Diego (USD) School of Law Assistant Dean for Law Student Affairs Meredith D'Angelo was recently appointed as an Executive Board Member of the National Association of Law Student Affairs Professionals (NALSAP), where she will serve as treasurer for 2020 to 2021. She joined NALSAP in 2017 as the West Region Representative Board Member, served as the co-chair of the organization's annual conference, and has been a finance committee member.
At USD School of Law, Assistant Dean D'Angelo currently oversees the Office for Law Student Affairs and the Office of Academic Success and Bar Programs. She was previously the director of the Office of Graduate and International Programs and the administrative director of USD's global summer study abroad and semester exchange programs. Prior to joining USD, D'Angelo worked at a law firm in San Diego that specializes in business, real estate and bankruptcy law, civil litigation and alternative dispute resolution. D'Angelo is a member of the State Bar of California, and she earned both her BA and JD from USD.
Click here to learn more about Meredith D'Angelo.
Click here to learn more about NALSAP.
About the University of San Diego School of Law
Each year, USD educates approximately 800 Juris Doctor and graduate law students from throughout the United States and around the world. The law school is best known for its offerings in the areas of business and corporate law, constitutional law, intellectual property, international and comparative law, public interest law and taxation.
USD School of Law is one of the 84 law schools elected to the Order of the Coif, a national honor society for law school graduates. The law school's faculty is a strong group of outstanding scholars and teachers with national and international reputations and currently ranks 36th nationally among U.S. law faculties in scholarly impact and 22nd nationally in past-year faculty downloads on the Social Sciences Research Network (SSRN). The school is accredited by the American Bar Association and is a member of the Association of American Law Schools. Founded in 1954, the law school is part of the University of San Diego, a private, independent, Roman Catholic university chartered in 1949.